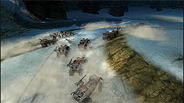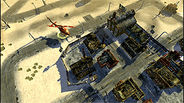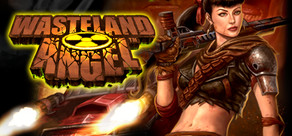 Wasteland Angel is a throw-back to the era of vintage arcade shooters, where players fend off waves of enemies and ultimately face-off against epic end-level bosses.
Julkaisupäivä: 1 Syyskuu 2011
Katso kaikki 2 traileria
Arvostelut
"…Wasteland Angel on vienyt sydämeni. Huusin ilosta kun pääsin näkemään tuhon ihan oman käden kautta…"
– GamersDailyNews
"Pelistä löytyy iso kasa mutantteja ja muita hulluja räjäytettäväksi, ja Wasteland Angel mahdollistaa sen monella hauskalla eri tavalla."
– GameFront
"Wasteland Angel is one of those games you want on your games list, even if it's just for a quick adrenaline fuelled warband killing romp. You will always come back to it when you have some time to kill, or whenever some punk has topped your score. GREAT!" EGamer
"Wasteland Angel is a good amount of game for a great price. Any fan of oldschool shmups will be pleased, and newer gamers will have a ton of fun with game that is easy to jump in to and blow stuff up." Grade B - The Multitap
Tietoja pelistä
No perhana! Kolmas maailmansota alkoi ja tappoi suurimman osan maailman väestöstä. Ja tuuria oli heillä, jotka eivät selvinneet. Selviytyjät elävät jatkuvassa pelossa, että heidät tulee murhaamaan tai orjuuttamaan väkivaltaiset jengit, kapinalliset sotilaat tai, totta kai; mutantit.

Mukanaan hyvin panssaroitu auto, loputtomasti tulivoimaa ja kostonhimo, sankarittaremme – Wasteland Angel kulkee radioaktiivisia joutomaita pitkin, matkaten Jumalan selän takana olevasta kaupungista toiseen, puolustaen selviytyjiä orjuuttamiselta. Hänen tehtävänään on puolustaa niitä, jotka eivät siihen itse pysty.

Wasteland Angel on matka menneisyyteen, takaisin klassisiin arcade-räiskintöihin, joissa pelaajat niittävät jatkuvia aaltoja vihollisia ja lopulta tapasivat eeppisen, tason lopussa olevan pääpahiksen. Pelaajat ohjaavat Wasteland Angelin ylivoimaista kulkuneuvoa yläkulmasta, tuhoten kaikkea eteen tulevaa auton tuplakonekivääreillä. Pärjätäkseen mitä vain vastaan, mitä jengit, mutantit tai kapinalliset ovat hänen päänsä menoksi keksineet, Wasteland Angelilla on kehitettävät aseet ja ammukset, jotka repivät viholliset tästä elämästä ja heittävät suoraan seuraavaan.
Avainominaisuudet:
24 nopeatemposta toimintatasoa, jotka sijoittuvat 6 tuhotulle ympäristölle
3 vihollisryhmää, sisältäen jengit, kapinalliset ja mutantit
4 vaikeustasoa, aloittelijasta itsemurhaan
Erilaisia tehtävätyyppejä, suojelemisesta suoraan räiskintään
Superaseet tehostavat tuhoa, sisältäen: miinat, napalmi, EMP ja ydinpommit
Valtavia pomotaisteluja jotka testaavat taitojasi ja kestävyyttäsi
Bonustasoja, jotka sisältävät ajelua ja ammuskelua ensimmäisestä persoonasta
Pistetaulukot netissä jokaiselle vaikeustasolle
Tähtiarvostelut jokaiselle tasolle ja 40 saavutusta täydelliseen suoritukseen pyrkijöille
Järjestelmävaatimukset
Käyttöjärjestelmä:Windows® XP/Vista/7
Prosessori: Intel® 2.0GHz:n prosessori
Muisti: 2Gt
Kiintolevy: 4Gt
Video: 256Mt videomuistia ja tuki Pixel Shader 3.0:lle. (nVidia 8600 tai vastaava)
Ääni: DirectX 9.0c -yhteensopiva äänikortti
DirectX®: 9.0c
2011 © Meridian4. All rights reserved. Wasteland Angel is a trademark of Octane Games. All rights reserved. All other trademarks and copyrights are the properties of their respective owners.
Hyödylliset arvostelut
Nimi:
Wasteland Angel
Lajityyppi:
Toiminta
,
Indie
Kehittäjä:
Octane Games
,
Meridian4
Julkaisija:
Meridian4
Julkaisupäivä:
1 Syyskuu 2011
Kielet:
| | Käyttöliittymä | Puhe | Tekstitykset |
| --- | --- | --- | --- |
| englanti | | | |
| ranska | | | |
| saksa | | | |
| venäjä | | | |