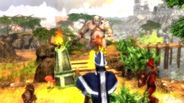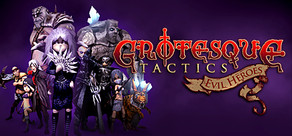 Grotesque Tactics est un Jeu de Rôle tactique extrêmement addictif, combinant des éléments de Jeux de Rôles console populaires chez les Occidentaux et les Asiatiques.
Date de parution: 15 oct 2010
Visionner la vidéo HD
Acheter Grotesque Tactics: Evil Heroes
Packages qui comprennent ce jeu
Acheter Grotesque Tactics Complete Pack
Inclut les 3 articles suivants : Grotesque Tactics: Evil Heroes , Grotesque Tactics 2 – Dungeons and Donuts, Holy Avatar vs. Maidens of the Dead
21 février 2014
We're excited to announce the official Steam release of the latest entry in the Grotesque Tactics series: Holy Avatar vs. Maidens of the Dead!

If you're a fan of the great parody RPG style writing and gameplay of the series, this newest adventure is sure to thrill you! If you're fond of killing zombies, the novelty is fresh in your mind, fresh as a corpse hell-bent on recruiting you to their undead ranks, then that fondness will follow you here.

Wait no longer, pick up your copy today, 50% off for one week only! And don't forget to join the official steam group and lure...I mean invite more of your friends to try and talk about the game!
0 commentaires
Lire la suite
Articles
"Une explosion de rire et d'humour qui tombe toujours bien."
80% – GAMING XP
"Un humour rafraîchissant dans le genre tactique. L'organisation des combats rapides est sublime."
81% – DemoNews
"Du sang, des larmes et la sueur ainsi qu'un excellent humour se rencontrent dans le Kingdom of Glory."
80% – Spieletester.com
"Grotesque Tactics est une perle produit par le genre indépendant. Malin, original et attirant."
75% – Gamestar
Mise à jour
NOUVEAU & AMÉLIORÉ !
MAINTENANT AVEC SUCCÈS STEAM !
À propos du jeu
Grotesque Tactics allie caractéristiques et clichés des jeux de rôle asiatiques et occidentaux tels que Final Fantasy Tactics ou Fire Emblem, vous délivrant un jeu très addictif et divertissant qui vous changera des jeux de rôle sérieux habituels. Ce jeu a pour objectif d'exploiter la passion du genre RPG stratégique tout en développant une histoire amusante et des dialogues tordants, parodiant amicalement les jeux du genre les plus populaires, d'Oblivion à Final Fantasy, en passant par Le Seigneur des Anneaux.
Afin de protéger le royaume du culte sans merci "The Dark Church", qui a assassiné tous les héros et chevaliers du royaume, vous devrez enrôler des soldats douteux et sauver de jeunes filles jalouses qui se battront à vos côtés, telles des groupies. Une dizaine de héros pourra être déployée dans des combats tactiques visant à vaincre les membres du culte "The Dark Church" et leurs mystérieuses capacités spéciales.
Caractéristiques
Des combats tactiques en tour par tour parsemés d'animations amusantes atypiques d'un jeu de rôle
Une équipe composée de personnages avec leur caractère propre, tel que l'arrogant Holy Avatar, Vampire Solitaire l'assoiffé de sang, l'adorable mais colérique Angel Angelina et plein d'autres
De somptueux paysages et villages ainsi que donjons sombres et sinistres
Des jeunes filles légèrement habillées à libérer des griffes de monstres impitoyables
Des boss de fin énormes, finement détaillés et plutôt furieux...
Des éléments typiques de tout jeu de rôle qui se respecte : quêtes, trésors, commerce, niveaux d'expérience, équipement et personnalisation d'un groupe de héros uniques
Des dialogues à choix multiples sympathiques dans la lignée des jeux d'aventure classiques tels Monkey Island ou Maniac Mansion
*Aux échecs, un Grotesque est un problème ou une étude qui met en place une situation souvent fantaisiste dans laquelle, typiquement, quelques pièces blanches doivent faire face à une armée de pièces noires (on parle plutôt d'«échecs féériques» en français). Ces situations sont généralement censées être humoristiques.
Configuration requise
Système d'exploitation : Windows® XP / Vista™ / Windows® 7
Processeur : 2.0 GHz
Mémoire vive : 1 Go de RAM
Carte graphique : (nVidia GeForce 5/FX/ATI Radeon 9500 Series/ATI X700 ou meilleure) compatible DirectX 9.0c avec le support shader model 2.0
DirectX® : DirectX® 9.0c
Disque dur : 700 Mo d'espace disque
Son : Carte son supportant DirectX 9.0c
2010 © Meridian4. All rights reserved. Grotesque Tactics – Evil Heroes is a trademark of Headup Games. All rights reserved. All other trademarks and copyrights are the properties of their respective owners.
Évaluations intéressantes des utilisateurs