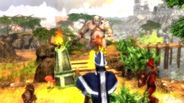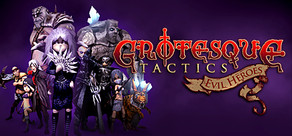 Grotesque Tactics is a highly addictive tactical RPG combining elements of popular Western and Asian console RPGs.
リリース日: 2010年10月15日
高画質版を見る
このゲームが含まれるパッケージ
レビュー
"This game is an explosion of humor with a knowing wink in all the right places."
80% – GAMING XP
"The humor is quite refreshing in this normally dead-serious fantasy and tactic genre, and the sophisticated quick combat scenarios are without a doubt sublime."
81% – DemoNews
"With much blood, sweat and tears and even more humor the player is drawn into the world of the Kingdom of Glory and captured within it."
80% – Spieletester.com
"Grotesque Tactics is a textbook example indie-gem. [it] has virtues of many blockbuster games: charm, wit and originality."
75% – Gamestar
更新されました
NEW & IMPROVED!
NOW WITH STEAM ACHIEVEMENTS!
ゲームについて
Grotesque Tactics is a story driven, satirical RPG with a strategic combat system. A party of 10 anti-heroes are fighting in a grotesque world that combines the features and clichés of Western and Asian Strategy RPGs like Final Fantasy Tactics, Heroes of Might & Magic and Fire Emblem.
Grotesque Tactics weaves a humorous storyline and plenty of amusing dialogue, poking fun at some of the most successful RPGs, such as Oblivion, Gothic and Lord of the Rings.
To protect the kingdom from the merciless cult "The Dark Church" which has murdered all of the kingdom's heroes and knights, you will have to hire dubious soldiers and rescue jealous maidens who will follow you into combat as your groupies.
Features
Turn based tactical battles with humorous animations not seen in any RPG
Distinctive party members such as the arrogant Holy Avatar, the blood thirsty Vampire Solitaire, the sweet but hot-tempered Angel Angelina and many more
Gorgeous village landscapes and dark, sinister dungeons
Scantily dressed maidens to be freed from the grasp of merciless monsters
Enormous, highly detailed and very angry end bosses
Classical RPG elements: quests, treasures, trade, leveling up and out¬fitting a party of unique heroes
Enjoyable multiple choice dialogues and conversation puzzles in the style of classic adventure games, such as Monkey Island or Maniac Mansion
*In chess, a Grotesque is a problem or endgame study which features a particularly unlikely initial position, especially one in which White fights with a very small force against a much larger black army. Grotesques are generally intended to be humorous.
システム要件
OS: Windows® XP / Vista™ / Windows® 7
Processor: 2.0 GHz CPU
Memory: 1GB
Graphics: Direct X 9.0c compatible with shader model 2.0 (nVidia GeForce 5/FX/ATI Radeon 9500 Series/ATI X700 or better)
DirectX®: DirectX® 9.0c
Hard Drive: 700MB
Sound: Sound card with DirectX 9.0c support
2010 © Meridian4. All rights reserved. Grotesque Tactics – Evil Heroes is a trademark of Headup Games. All rights reserved. All other trademarks and copyrights are the properties of their respective owners.
参考になったカスタマーレビュー