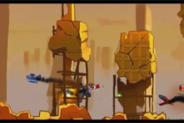 Τώρα διαθέσιμο σε PC, Mac και Linux!
Ημερομηνία κυκλοφορίας: 4 Δεκ, 2009
Δείτε βίντεο υψηλής ευκρίνειας
5 Σεπτεμβρίου
Altitude is now completely free. There is no full version to purchase: new players will automatically gain access to all of Altitude's planes and perks as they level up.

Widescreen Support: Altitude's native resolution has been updated from 4:3 to 16:9 (widescreen). Players can now see 25% farther ahead of their plane horizontally and about 6% less far vertically.

Expanded custom server support:

Server Console Commands:
modifyTournament <player> <team> - for adjusting tournament participants while a tournament is in progress (-1=not part of tournament, 0=left team, 1=right team)
overrideBallScore <leftScore> <rightScore> - for manually adjusting scores in ball mode
overrideSpawnPoint <player> <x> <y> <angle> - for dynamic spawn positions in custom game modes
* any spawn attempts by the playerId associated with <player> will use x/y/angle instead of a normal spawning location
* pass x=0,y=0,angle=0 to clear the override and resume normal spawning rules for a target player, otherwise overrides are cleared on map change (after "mapLoading" but before "mapChange") and on player disconnection

Servers can now disallow (or enforce) the use of random plane configurations via a disallowedPlaneRandomTypes block. Edit launcher_config.xml and just before the line starting with "<mapList..." add a block like this (note: this example blocks all random and non-random configurations, effectively preventing any spawning):
Code:

<disallowedPlaneRandomTypes>
<PlaneRandomType name="non_random" />
<PlaneRandomType name="custom_random" />
<PlaneRandomType name="full_random" />
</disallowedPlaneRandomTypes>

Server JSON log message updates:
"kill" now includes "victimPositionX","victimPositionY","victimVelocit yX","victimVelocityY"
"powerupPickup" now includes the powerup's "velocityX","velocityY" at time of pickup

Clients will now automatically leave a server after 5 minutes of idle time only if the server is full (for non-full servers, clients will leave after 60 idle minutes).

1DE (objective) game mode timers have been updated to encourage team play:
* Increased bomb plant time from 1.5 seconds to 3 seconds
* Increased bomb defuse time from 3 seconds to 4 seconds
* Increased bomb detonate time from 14 seconds to 22 seconds
40 σχόλια
Περισσότερα
Σχετικά με το παιχνίδι
Blast your way across the cartoon skies in this fast-paced game of aerial combat. Nimbly Games has crafted an instantly accessible, rewardingly deep, and ravishingly fun multiplayer action game. The sirens have sounded, bogies are coming in hot…
Jump into the fast and agile Loopy and drop your enemies from the sky with a tactical EMP blast - but hit your afteburners before your Biplane support tears them to pieces with 20mm cannons blazing! Barrel roll through the enemy minefield and arm your nuke as you enter the drop zone. There it is - the enemy base - but two Mirandas just warped in with lasers hot and an Explodet is lumbering into position over their hangar decks — will you carry your team to victory?
Multiplayer Done Right: Altitude combines Call-of-Duty style perks with the gameplay variety of Team Fortress 2 in a fresh multiplayer experience. Carefully refined controls, netcode, and balance make for hundreds of hours of deep, rewarding gameplay.
Seven Engaging Game Modes:
Plane Ball's constant action makes it a favorite among new and casual players while team-based tactical maneuvers like passing and blocking provide a fun challenge for veterans.

Team Base Destruction offers an intense, competitive experience where coordinated pushes and strategic loadout decisions turn the tide. Try a friendly pickup game or join a clan and play in the "Altitude ProLeague" - a competitive tournament scene run by hardcore gamers from the Starcraft and Counter-Strike communities.

For the ultimate test of dogfighting skills try 1-life Deathmatch or compete in Demolition for a more tactical, objective-based experience.

Or enjoy classic game modes like Free For All and Team Deathmatch.

Απαιτήσεις συστήματος PC
OS: Windows® 7 / Vista / Vista64 / XP

Processor: 1.0 Ghz

Memory: 256 MB

Graphics: 64 MB VRAM

Hard Drive: 300 MB of free space

Απαιτήσεις συστήματος Mac
OS: OS X version Leopard 10.5.8, Snow Leopard 10.6.3, or later.

Processor: 1.0 Ghz

Memory: 256 MB

Graphics: 64 MB VRAM

Hard Drive: 300 MB of free space

Other Requirements:

Απαιτήσεις συστήματος Linux
Processor: 1.0 Ghz

Memory: 256 MB

Graphics: 64 MB VRAM

Hard Drive: 300 MB of free space

Other Requirements:
Χρήσιμες κριτικές χρηστών