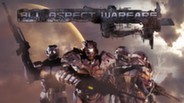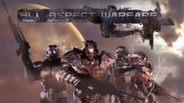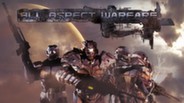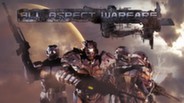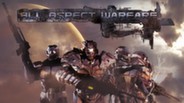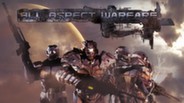 All Aspect Warfare is a thrilling planetary combat game featuring first person, vehicular and air combat over vast terrain.
Data di rilascio: 17 ago 2009
Guarda tutti e 6 i trailer
Acquista All Aspect Warfare
Pacchetti che includono questo gioco
Acquista All Aspect War Pack
Include 2 oggetti: All Aspect Warfare, Angle of Attack
Recensioni
"It's a welcome change from shooters-on-rails that feed you ammunition just before fights against improbable bosses, or military games where the biggest challenge comes from deciding whether or not to "game" the AI by picking it off from range." - Armchair General
"Bluntly put: if you want a game which will kill you regularly, which will force you to think and plan, and which will force you to learn the often confusing ways it works - but is incredibly rewarding when you pull things off and when you really start getting the hang of it - you will absolutely love this." - Inc Gamers
"And any player who's not stimulated by a challenge should stick to their favorite PopCap games." - The Adrenaline Vault
"While the level of difficulty might reserve All Aspect Warfare for the elite player, there is still a lot to like about the game for fans of both flight simulators and action games." - Out Of Eight
Informazioni sul gioco
Una squadra d'assalto d'elite — con un'arma termonucleare. Bloccati. Su un pianeta ostile e quasi desolato. Abbandonati. Cos'altro potrebbe andare storto?
I Terrestri sono stati in guerra con la razza Gammulan per anni. Dispiegato in un territorio distante all'altra parte della galassia il Terran Galactic Command (GALCOM) ha subito ripetute sconfitte e perdite senza precedenti. Nel tentativo di cambiare le sorti della guerra e portare la battaglia dal nemico il GALCOM ha lanciato un attacco su vasta scala contro tutti i pianeti originari dei Gammulan.
Dopo un intensa battaglia, una nave GALCOM gravemente danneggiata che trasporta un devastante "uccisore di mondi" si schianta su un pianeta Gammulan ostile. I sopravvissuti allo schianto, un gruppo di combattenti veterani, devono combattere il nemico nel tentativo di localizzare e disarmare l'arma catastrofica - nome in codice R.A.N.D.O.M. (Random Access Nuclear Destruction of Obsolete Matter) - o fuggire dal pianeta prima che esploda.
ELEMENTI DI GIOCO PRINCIPALI
Campagna coinvolgente e diverse missioni in azioni istantanee

Sei classi di personaggi giocabili con diversi punti di forza, debolezze e restrizioni.

Oltre 24 armi in prima persona che variano da pistole e fucili da cecchino a mitragliatrici e granate.

Inventario in prima persona vario e avanzato — oggetti come dispositivi di occultamento, potenziamenti per lo scudo, disturbatori di sensori, ecc così come vari elementi dispiegabili come torrette mitragliatrici e lanciarazzi.

Oltre trenta unità giocabili compresi veicoli elicotteri, caccia, navette e unità navali. Tutte le unità supportate in multiplayer con posizioni multiuso (ad esempio guidatore, mitragliere, passeggero).

Crea le tue unità di gioco come veicoli e aerei basati su Punti Esperienza, grado e altri fattori.

Vola in missioni di combattimento aereo, sostenendo truppe di terra. Scegli tra missioni di scorta, SAD, SEAD e CAP.

Completo comando dei membri della squadra di NPC con ordini e sistema di interfaccia intuitivi.

Supporto per 32 giocatori e cinque modalità multiplayer tra cui PVP deathmatch, team deathmatch e co-op a quattro giocatori contro forze Gammulan aggressive. Ospita e unisciti ad una partita con una singola istanza oppure ospita un console server multiplayer dedicato ed invita i tuoi amici.

Supporta la game lobby e la chat vocale GSC. Maggiori informazioni sono disponibili all'indirizzo http://getgsc.com/

Server ufficiali classificati da 64 giocatori con monitoraggio delle statistiche, lobby integrata e altro ancora.

Visualizzatore in-game di documenti completamente integrato con rapido accesso ai comandi di gioco, al manuale ed ai documenti tutorial.
Requisiti di sistema
Minimum:


OS: Windows XP or Windows Vista

Processor: Dual Core CPU (Intel Pentium 4 3.4Ghz, AMD Athlon 64 X2 3.0GHz or faster

Memory: 1GB

Graphics: 256MB GPU with Shader Model 3 (nVidia GeForce 7900 / ATI Radeon X1300 or faster)

DirectX®: DirectX 9.0 March 2009 Runtime

Hard Drive: 600MB

Sound: DirectX 9.0c compatible (on-board or add-in)

Recommended:


OS: Windows XP or Windows Vista

Processor: Intel Core 2 Duo E6320 / AMD X2 6000 or faster

Memory: 2GB

Graphics:512MB GPU with Shader Model 3 (nVidia GeForce 8600 GTS / Radeon HD2900 XT or faster)

DirectX®: DirectX 9.0 March 2009 Runtime

Hard Drive: 1 GB

Sound: DirectX 9.0c compatible (on-board or add-in)

All Aspect Warfare © 2009, 3000AD, Inc
Recensioni utili dai clienti
Titolo:
All Aspect Warfare
Genere:
Azione
,
Simulazione
Sviluppatore:
3000AD
Editore:
3000AD
Data di rilascio:
17 ago 2009
Lingue:
| | Interfaccia | Audio completo | Sottotitoli |
| --- | --- | --- | --- |
| Inglese | | | |