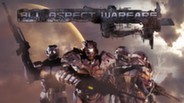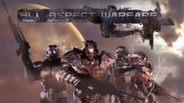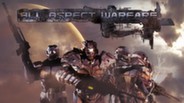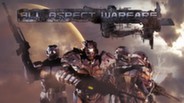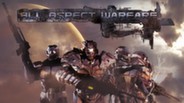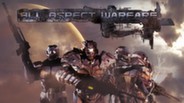 All Aspect Warfare is a thrilling planetary combat game featuring first person, vehicular and air combat over vast terrain.
Veröffentlichung: 17. Aug. 2009
Alle 6 Trailer ansehen
All Aspect Warfare kaufen
Pakete, die dieses Spiel enthalten
All Aspect War Pack kaufen
Enthält 2 Artikel: All Aspect Warfare, Angle of Attack
Reviews
"It's a welcome change from shooters-on-rails that feed you ammunition just before fights against improbable bosses, or military games where the biggest challenge comes from deciding whether or not to "game" the AI by picking it off from range." - Armchair General
"Bluntly put: if you want a game which will kill you regularly, which will force you to think and plan, and which will force you to learn the often confusing ways it works - but is incredibly rewarding when you pull things off and when you really start getting the hang of it - you will absolutely love this." - Inc Gamers
"And any player who's not stimulated by a challenge should stick to their favorite PopCap games." - The Adrenaline Vault
"While the level of difficulty might reserve All Aspect Warfare for the elite player, there is still a lot to like about the game for fans of both flight simulators and action games." - Out Of Eight
Über das Spiel
Ein Eliteteam mit einer thermonuklearen Waffe ist auf einem feindlichen und fast komplett verwüsteten Planeten gestrandet. Das Team wurde seinem Schicksal überlassen und keine Hilfe ist in Sicht. Kann es etwa noch schlimmer kommen?
Die Terrans sind schon seit Jahren im Krieg mit den Gammulan. Das Terran Galactic Kommando (GALCOM) wurde in einer entfernten Gegend am anderen Ende der Galaxie eingesetzt und musste viele Niederlagen mit beispiellosen Einbußen einstecken. Als letzte Hoffnung, das Kriegsgeschehen doch noch in die eigene Hand zu nehmen, hat die GALCOM einen Angriff auf das feindliche Hauptquartier der Gammulan begonnen.
Nach einer harten Schlacht landete ein schwerbeschädigtes GALCOM Schiff mit einer verheerenden Waffe auf dem feindlichen Planeten Gammulan. Die Überlebenden des Crashs sind eine Gruppe von Kampfveteranen. Sie müssen den Feind bekämpfen und gleichzeitig die katastrophale Waffe finden und entschärfen. Die Waffe hat den Codenamen R.A.N.D.O.M. (Random Access Nuclear Destruction of Obsolete Matter) und falls es der Gruppe nicht gelingt, diese zu finden, müssen sie schnellstmöglich vom Planeten verschwinden bevor sie detoniert.
SPIELE HIGHLIGHTS
Verbindet Geschichtshandlung in den Kampagnen mit verschiedenen schnellen Actionmissionen.

Sechs spielbare Klassen an Charakteren mit verschiedenen Stärken, Schwächen und Einschränkungen.

Mehr als 24 Waffen inklusive Pistolen, Scharfschützengewehren, Maschinenpistolen und Granaten.

Verschiedenes Inventar mit Gegenständen, die unsichtbar machen sowie bessere Abwehrmechanismen und viele einsetzbare Zusätze wie Geschütz- und Raketentürme.

Über 30 spielbare Einheiten inklusive Fahrzeugen, Kriegsschiffen, Kampfjägern und Marineeinheiten. Alle Einheiten werden auch im Mehrspieler Modus mit Mehrzweckpositionen wie Fahrer, Heckschütze und Passagieren unterstützt.

Je nach Erfahrungspunkten, Rang und anderen Faktoren können Sie Ihre eigenen Spieleeinheiten wie Fahrzeuge und Kämpfer erstellen.

Fliegen Sie Luftkampfmissionen und unterstützen Sie auch Ihre Bodentruppen. Wählen Sie selbst Ihre Missionen aus.

Komplettes Kommando über NPC Teammitglieder mit einem intuitiven Interface Befehlssystem.

32 Spielesupport Modi sowie 5 Mehrspieler Modi inklusive PVP Deathmatch und Team Deathmatch sowie einem vier Spieler Co-op Modus gegen aggressive Gammulantruppen. Veranstalten Sie ein Einzelspiel oder auch einen dedizierten Konsole Mehrspielerserver und laden Sie Ihre Freunde ein.

Unterstützt die GSC Spielelobby und Chatfunktion. Für mehr Informationen dazu folgen Sie diesem Link: http://getgsc.com/

64 offizielle Spieleserver mit Statistikfunktion, integrierter Lobby und vielem mehr.

Komplett integrierter Dokumentanzeiger im Spiel mit schnellem Zugang zu Spielbefehlen und manuellen und Anleitungsdokumenten.
Systemvoraussetzungen
Minimum:


Betriebssystem: Windows XP oder Windows Vista

Prozessor: Dualcore CPU (Intel Pentium 4 3.4Ghz, AMD Athlon 64 X2 3.0GHz oder schneller

Speicher: 1GB

Grafik: 256MB GPU mit Shadermodel 3 (nVidia GeForce 7900 / ATI Radeon X1300 oder schneller)

DirectX®: DirectX 9.0 Version März 2009

Festplatte: 600MB

Sound: DirectX 9.0c kompatibel (on-board oder add-in)
Empfohlen:


Betriebssystem: Windows XP oder Windows Vista

Prozessor: Intel Core 2 Duo E6320 / AMD X2 6000 oder schneller

Speicher: 2GB

Grafik:512MB GPU mit Shadermodel 3 (nVidia GeForce 8600 GTS / Radeon HD2900 XT oder schneller)

DirectX®: DirectX 9.0 Version März 2009

Festplatte: 1 GB

Sound: DirectX 9.0c kompatibel (on-board oder add-in)
All Aspect Warfare © 2009, 3000AD, Inc
Hilfreiche Kundenreviews
Titel:
All Aspect Warfare
Genre:
Action
,
Simulation
Entwickler:
3000AD
Publisher:
3000AD
Veröffentlichung:
17. Aug. 2009
Sprachen:
| | Oberfläche | Ton | Untertitel |
| --- | --- | --- | --- |
| Englisch | | | |