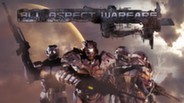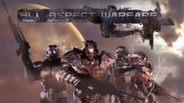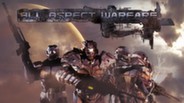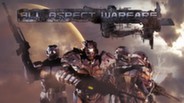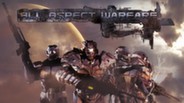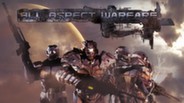 All Aspect Warfare is a thrilling planetary combat game featuring first person, vehicular and air combat over vast terrain.
Releasedatum: 17 aug 2009
Alle 6 trailers bekijken
Pakketten die deze game bevatten
All Aspect War Pack kopen
Bevat 2 items: All Aspect Warfare, Angle of Attack
Recensies
"It's a welcome change from shooters-on-rails that feed you ammunition just before fights against improbable bosses, or military games where the biggest challenge comes from deciding whether or not to "game" the AI by picking it off from range." - Armchair General
"Bluntly put: if you want a game which will kill you regularly, which will force you to think and plan, and which will force you to learn the often confusing ways it works - but is incredibly rewarding when you pull things off and when you really start getting the hang of it - you will absolutely love this." - Inc Gamers
"And any player who's not stimulated by a challenge should stick to their favorite PopCap games." - The Adrenaline Vault
"While the level of difficulty might reserve All Aspect Warfare for the elite player, there is still a lot to like about the game for fans of both flight simulators and action games." - Out Of Eight
Info over het spel
An elite strike team — with a thermo-nuclear weapon. Stranded. On a hostile and near desolate planet. Left for dead. What else could possibly go wrong?
The Terrans have been at war with the Gammulan race for years. Deployed in a distant territory on the other side of the galaxy the Terran Galactic Command (GALCOM) has suffered repeated defeats and unprecedented losses. In an attempt to change the tide of war and take the battle to the enemy GALCOM has launched an all out attack on the Gammulan homeworlds.
After an intense battle, a badly damaged GALCOM ship carrying a devastating 'planet killer' weapon crash landed on a hostile Gammulan planet. The crash survivors, a group of combat veterans, must fight off the enemy while trying to locate and disarm the catastrophic weapon - code named R.A.N.D.O.M. (Random Access Nuclear Destruction of Obsolete Matter) - or get off the planet before it detonates.
GAMEPLAY HIGHLIGHTS
Engaging campaign storyline and several instant action missions.

Six playable character classes with various strengths, weaknesses and restrictions.

Over twenty-four first person weapons varying from pistols and sniper rifles to machine guns and grenades.

Various advanced first person inventory — items such as cloaking devices, shield enhancements, sensor jammers etc as well as various deployable assets such as gun and rocket turrets.

Over thirty playable units including vehicles, gunships, fighters, shuttles and naval units. All units supported in multiplayer with multiuse positions (e.g. driver, gunner, passengers).

Build your own game units such as vehicles and fighters based on Experience Points, rank and other factors.

Fly aerial combat missions while supporting ground troops. Choose among escort, SAD, SEAD and CAP missions.

Full squad command of NPC team members with an intuitive orders interface system.

32 player support and five multiplayer modes including PVP deathmatch and team deathmatch as well as four player co-op against aggressive Gammulan forces. Host and join a game using a single instance or host a dedicated console multiplayer server and invite your friends.

Supports GSC game lobby and voice chat. More information is available at http://getgsc.com/

64 player official ranked servers with stats tracking, integrated lobby and more.

Fully integrated in-game document viewer with quick access to game commands, manual and tutorial documents.

Systeemeisen
Minimum:


OS: Windows XP or Windows Vista

Processor: Dual Core CPU (Intel Pentium 4 3.4Ghz, AMD Athlon 64 X2 3.0GHz or faster

Memory: 1GB

Graphics: 256MB GPU with Shader Model 3 (nVidia GeForce 7900 / ATI Radeon X1300 or faster)

DirectX®: DirectX 9.0 March 2009 Runtime

Hard Drive: 600MB

Sound: DirectX 9.0c compatible (on-board or add-in)

Recommended:


OS: Windows XP or Windows Vista

Processor: Intel Core 2 Duo E6320 / AMD X2 6000 or faster

Memory: 2GB

Graphics:512MB GPU with Shader Model 3 (nVidia GeForce 8600 GTS / Radeon HD2900 XT or faster)

DirectX®: DirectX 9.0 March 2009 Runtime

Hard Drive: 1 GB

Sound: DirectX 9.0c compatible (on-board or add-in)

All Aspect Warfare © 2009, 3000AD, Inc
Nuttige klantrecensies
Titel:
All Aspect Warfare
Genre:
Actie
,
Simulatie
Ontwikkelaar:
3000AD
Uitgever:
3000AD
Releasedatum:
17 aug 2009
Talen:
| | Interface | Spraak | Ondertiteling |
| --- | --- | --- | --- |
| Engels | | | |