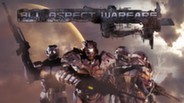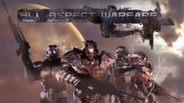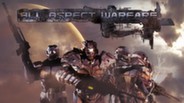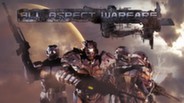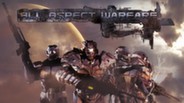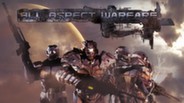 All Aspect Warfare is a thrilling planetary combat game featuring first person, vehicular and air combat over vast terrain.
Fecha de lanzamiento: 17 Ago 2009
Ver los 6 trailers
Comprar All Aspect Warfare
Paquetes que incluyen este juego
Comprar All Aspect War Pack
Incluye 2 artículos: All Aspect Warfare, Angle of Attack
9 marzo 2014
As previously advised, we have now updated this game to the latest version and should already be automatically pushed to your Steam client if you have it installed.

Enjoy!
0 comentarios
Leer más
Análisis
"Es un cambio que se agradece respecto a los típicos shooters sobre raíles que te cargan de munición justo antes de las luchas contra jefes improbables, o los juegos militares en los que el mayor desafío consiste en decidir si "juegas" o no con la IA atacando a distancia." - Armchair General
"Francamente: si quieres un juego que te matará con regularidad, que te forzará a pensar y planificar, y que te obligará a aprender la confusa forma en que funciona - pero es increíblemente satisfactorio cuando le coges el truco y empiezas a saborearlo - lo adorarás sin lugar a dudas." - Inc Gamers
"Y cualquier jugador que no se sienta estimulado ante los desafíos debería seguir con sus juegos favoritos de PopCap." - The Adrenaline Vault
"Aunque el nivel de dificultad puede reservar All Aspect Warfare a los jugadores de élite, queda mucho que disfrutar en este juego para los fans tanto de los simuladores de vuelo como de los juegos de acción." - Out Of Eight
Acerca del juego
Un equipo de asalto de élite con un arma termonuclear. Varados. En un planeta hostil y casi desolado. Una muerte segura. ¿Qué mas puede salir mal?
Los Terran han estado en guerra con la raza Gammulan desde hace años. Desplegada en un territorio distante en la otra parte de la galaxia, la Terran Galactic Command (GALCOM) ha sufrido numerosas derrotas sin precedente. En un intento de cambiar las tornas de la guerra y contraatacar al enemigo, la GALCOM ha lanzado un ataque sobre la tierra natal de los Gammulan.
Después de una intensa batalla, la dañada nave GALCOM que transportaba una devastadora arma ha realizado un aterrizaje forzoso en tierras de los Gammulan. Los supervivientes del aterrizaje, un grupo de veteranos de combate, deben luchar contra el enemigo mientras intentan localizar y desarmar esa catastrófica arma, de nombre R.A.N.D.O.M. (Random Access Nuclear Destruction of Obsolete Matter - Destrucción Nuclear de Materia Obsoleta de Acceso Aleatorio) - o abandonar el planeta antes de que se detone.
CARACTERÍSTICAS DEL JUEGO
Atractiva historia del modo campaña y muchas misiones llenas de acción.

Seis clases de personaje jugables, cada una con sus fuerzas, debilidades y restricciones.

Más de veinticuatro armas en primera persona, desde pistolas y rifles de francotirador hasta metralletas y granadas.

Varios objetos avanzados en primera persona, como dispositivos de camuflaje, potenciadores de escudos y aparatos de interferencias para sensores. También hay varios recursos desplegables, como torretas con cohetes o ametralladoras.

Más de treinta unidades jugables incluyendo vehículos, naves de combate, cazas, lanzaderas y unidades navales. Todas las unidades pueden ser usadas en el modo multijugador con posiciones multiusos (p.ej. conductor, ametrallador, pasajero).

Construye tus propias unidades como por ejemplo, vehículos y cazas, usando tus puntos de experiencia, rango y otros factores.

Disfruta de misiones de combate aéreo mientras ofreces apoyo a las tropas terrestres. Elige entre misiones de escolta, buscar y destruir, etc...

Da órdenes a tus miembros del equipo contrlados por la IA con un intuitivo sistema de órdenes.

Soporte para 32 jugadores y cinco modos multijugador, incluyendo partida a muerte, por equipos, o modo cooperativo para cuatro jugadores contra las agresivas fuerzas de Gammulan. Organiza una partida y únete a ella usando un mismo ordenador, o crea un servidor multijugador dedicado e invita a tus amigos.

Soporta sala de juego GSC y chat de voz. Hay más información disponible en http://getgsc.com/

Servidores con puntuación oficial para 64 jugadores, con registro de los resultados, sala integrada y más.

Documentación completamente integrada en el juego con rápido acceso a los comandos de juego, manual y tutoriales.

Requisitos del sistema
Mínimo:


Sistema operativo: Windows XP o Windows Vista

Procesador: Dual Core CPU (Intel Pentium 4 a 3.4Ghz, AMD Athlon 64 X2 a 3.0GHz o mejor)

Memoria: 1GB

Gráficos: GPU de 256MB con Shader Model 3 (nVidia GeForce 7900 / ATI Radeon X1300 ó mejor)

DirectX®: Versión de DirectX 9.0 a fecha de marzo de 2009

Disco duro: 600MB

Sonido: Tarjeta de sonido compatible con DirectX 9.0c (integrada o no)

Recomendado:


Sistema operativo: Windows XP o Windows Vista

Procesador: Intel Core 2 Duo E6320 / AMD X2 6000 ó mejor

Memoria: 2GB

Gráficos: GPU de 512MB con Shader Model 3 (nVidia GeForce 8600 GTS / Radeon HD2900 XT o mejor)

DirectX®: Versión de DirectX 9.0 a fecha de marzo de 2009

Disco duro: 1 GB

Sonido: Tarjeta de sonido compatible con DirectX 9.0c (integrada o no)

All Aspect Warfare © 2009, 3000AD, Inc
Análisis útiles de usuarios
Título:
All Aspect Warfare
Género:
Acción
,
Simuladores
Desarrollador:
3000AD
Editor:
3000AD
Fecha de lanzamiento:
17 Ago 2009
Idiomas:
| | Interfaz | Voces | Subtítulos |
| --- | --- | --- | --- |
| Inglés | | | |