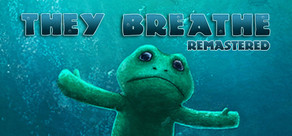 They Breathe is a short journey into the depths of a forest filled with water. As you swim deeper, it's up to you to figure out the rules of an insidious ecosystem where nothing is as it first seems, and where everyone is after the same precious resource – oxygen!
Release Date: May 23, 2014
Watch HD video
August 5
Yes! The Working Parts' second (first, actually) game Residue is now available on Steam, alongside They Breathe!
Right now, there's a -20% release sale up until 8th August!

http://store.steampowered.com/app/265790/

Hope all of you They Breathe fans get a chance to check it out!

Short info about Residue
Up-tempo adventuring and family drama ensue when the survivors of a disastrous charity project return to the dead ships in the former Aral Sea in Uzbekistan. Residue tells a personal story by letting you explore a larger-than-life, ridiculously detailed rendition of one of our world's most fascinating (and horrifying) locations.
0 comments
Read more
July 9
http://theworkingparts.bandcamp.com/releases

The full soundtrack for They Breathe is now available on Band Camp. For free and up! Hearing this without the all-too-familiar context of the game we spent months in, we're starting to get why people get so creeped out...
2 comments
Read more
About the Game
CAN YOU SEE IT?
In the first game by The Working Parts, a lone frog descends into the depths of a flooded forest, not yet knowing the full extent of its tragedy. To survive in a brutal, oxygen-obsessed ecosystem, you must help it see the patterns and hidden truths that make up the rules of the forest - horrible as they may be.
They Breathe is a critically acclaimed indie gem risen from the depths of Xbox Live Indie Games. In thirty short minutes, the game leaves it up to you to figure out every part of its increasingly bizarre universe, in order to survive the onslaught of unexpected creatures and ultimately comprehend their true nature. No matter how your descent to the bottom of the forest takes shape, it is guaranteed to give you the chills without a single word of dialog.
Keep your eyes open, for there is darkness beneath the surface. And you're not at the bottom yet.
Features
Surreal atmosphere

No hand-holding

Hand-drawn HD art

A story told through gameplay

''Making of'' feature
What people say
This game is only 2$, but I feel like this experience is scarring me for life - Markiplier

"The scariest game on earth" - GameGrumps

"I approached They Breathe as a game, but it ended as an experience" - Whatsyourtagblog.com

''They Breathe is deceptively creepy [...] disturbing in all the right ways'' - Destructoid

''Some games evoke such a strange feeling that you can't help but be sucked in. They Breathe is one of those games.'' - XBLIG Silver Award, NeoGAF

''The atmosphere that The Working Parts has managed to create is praiseworthy.'' - Indiegamemag.com
''a journey of discovery that is both rewarding and surprisingly horrifying'' - Plus10Damage
System Requirements
Minimum:


OS: Windows XP

Processor: Single Core 500 MHz

Memory: 1 GB RAM

Graphics: 512 MB RAM

DirectX: Version 9.0c

Hard Drive: 512 MB available space
Helpful customer reviews
Title:
They Breathe
Genre:
Action
,
Adventure
,
Indie
Developer:
The Working Parts
Publisher:
The Working Parts
Release Date:
May 23, 2014
Languages:
| | Interface | Full audio | Subtitles |
| --- | --- | --- | --- |
| English | | | |
Awards
- Editor's Pick Game of the Month May 2014 - Steamgames.ro 10/10
- Editor's Pick May 2014 - GhostVolta.com 9/10
- Headline game for Xbox Live Indie Games "Indie Legends" promotion
- Exhibited at FILE festival in São Paolo