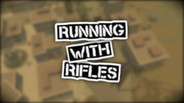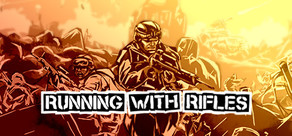 RUNNING WITH RIFLES is a top-down tactical shooter with open world RPG elements. In RWR, you join the ranks of an army as a common soldier, just like the thousands around you.
Release Date: Mar 13, 2014
Watch HD video
Early Access Game
Get instant access and start playing; get involved with this game as it develops.
Note: This Early Access game may or may not change significantly over the course of development. If you are not excited to play this game in its current state, then you may want to wait until the game progresses further in development. Learn more
What the developers have to say:
"RUNNING WITH RIFLES is currently in beta. To be honest, it's been in beta for the past 2.5 years, so it seems we're on our way to make RWR 1 with sequels 2 and 3 all in one game! This, my friends, happens when the developer keeps listening to the player feedback! Thanks guys, we love you!
By now, the game comes with lots of content, vehicles, deployable elements, sick amount of AI logic, multiplayer and dedicated servers, multifaction battles and a campaign. You might think we're on the final stretch here and you're right, we sort of are! Nevertheless, we still think Steam Early Access is the right place for RWR right now, as we still anticipate about 6 months of hard work ahead of us to utilize the most of the potential in the underlying game system, and, you can still affect what goes in the game!
It's also not absolutely set in stone that we wouldn't deviate from the current plans completely if things required it. For example, it'll be interesting to see how Steam Early Access will affect the player counts in RWR online, we're hoping it will!
Check the bottom of the Steam page for the upcoming stuff. We hope you have fun time running around in the game, and come say hello on our IRC channel #rwr at quakenet.
Remember to try the demo before throwing your money at us, it's common sense. We'll have the demo available in Steam soon, but in the meantime you can find it on our website
http://www.runningwithrifles.com
.
Cheers!"
Read more
Buy RUNNING WITH RIFLES 4-Pack
Buy the four-pack to get one copy for yourself and three copies to give away to friends!
July 10th, 2014
Changelog:

* maps: ninth map, Black Gold Estuary, added

* general: removed anti-air from quick matches; can't know which faction is to have the AA as only one can have

* character: wounded now falls down properly when crawling over an edge

* character: character now visually says spotting of a target

* menu: campaign menu clean up

* menu: added confirmation for save game deletion

* menu: added loading screen and menu soundtrack

* menu: possibility to reconnect without going to lobby first

* inventory: inventory UI made to support scaling better

* mapview: chatting in mapview now works again

* usability: when control helpers are enabled, pickup key is shown with on-ground items

* usability: deploying sandbags and weapons now automatically align placement with overlapping elements in front

* usability: mod key + pickup key puts an item straight to backpack

* campaign: unlockable items now stay in stock for 4x longer time

* campaign: armories accept bringing in enemy weapons, 5th will make the weapon available in the armory

* campaign: map specific AI-player compensation parameter added,
Moorland Trenches made tiny bit easier this way - mostly affects heavily populated online

* campaign: hidden vehicles added, can be delivered to armories for a reward

* weapons: rare flashbang launcher added

* online: fixed respawning on reconnection without a weapon in hands recreating the previous weapon regardless if it was rare

* online: "-character now allowed in server name

* config: config now offers choosing which monitor to play in, Windows only

* hotkeys: pressing hotkey picks up a player id when pointing at a player

* Steam: Steam integration work began; player's public SteamID is shared in online, friends IDs are queried; can be used for tagging in 0.98
15 comments
Read more
June 5th, 2014
Changelog:

*campaign: added ability to play with any faction
*campaign: enemy faction order is randomized
*campaign: added campaign mod support and list
*ai: added ability to use cover deployment items
*mapview: player and vehicle movement made smoother, troops distribution is now visualized as clouds rather than numbers
*mapview: squad driver command marker added
*mapview: base alert markers are now bigger and centerized
*mapview: items are no longer inspected on ground at mouse cursor when in *mapview
*mapview: AI chat is no longer shown when in mapview, nearby player chat gets redirected to radio message list
*scoretable: scroller added
*awards: old badge awards are no longer counted, but the notifications are still *shown; campaign comes with ranked medals & titles granted by reaching given goals
*stats: some new stats added
*weapons: added rare/unlock weapons AA-12, Desert Eagle (+gold), Claymore mine
*weapons: physical recoil of the deployable minigun and MG set to 0.0 to avoid wandering on shooting
*targets: added AA weapons emplacement in campaign for enemies, denies air drops for other factions until destroyed
*targets: water tank, mortar ammunition crates added
*vehicles: minor bullet exposure reduction of soldiers sitting in a jeep (raised the top of the collision mesh by 0.2)
*vehicles: mass of the dumpster raised
*special crates: removed ability to spot them
*chat log: visual improvements
*calls: calls now support spawning soldiers from specific soldier groups; paratrooper calls ensure one medic
*elite soldiers: accuracy and sight range increased
*maps: several minor tweaks and fixes
*sounds: a few reworked weapon sounds
*particles: slightly reworked particle effects with textured explosion debris
*general: larger horizontal panning factor for less wide than 16:9 aspect ratio resolutions
*general: a few crashes fixed, mostly related to servers
*modding: some ai parameters exposed
*modding: grenade based items can be spawned non-activated now
*modding: overlay mods can now be declared to take over campaign script handling, enabling overloading campaign with custom logic or other overlays
*modding: generic xml command result class added
*modding: faction resources command result class added
11 comments
Read more
Reviews
"Average community rating"
9.5/10 – Desura

"Running with Rifles is the kind of game that you think you know how to play, but after you die a dozen times in a row you'll realize it's not actually about running around with rifles. [...] This ain't no arcade game!"
Co-Optimus

"This game stands out as a truly iconic shooter. With the vast range of gameplay aspects as well as the addictive style and pace, this game is truly one of a kind. War games have been done before, but never to such a free and open extent."
10/10 – TheSmilingArsonist @ Desura

About the Game
RUNNING WITH RIFLES is a top-down tactical shooter with open-world RPG elements.
In RWR, you join the ranks of an army as a common soldier, just like the thousands around you. To your superiors, you're nothing but cannon fodder...
The open world approach lets you define your own path and story in the campaign. Push back the enemy with your comrades or go deep behind enemy lines to sabotage their efforts and loot valuable items.
As you gain experience, you are promoted with higher command over soldiers and equipment. Call in artillery fire missions or paratrooper reinforcements when the situation gets tight! Use your squad to man armed boats, tanks and APC's, or, become the expert lone wolf you always aspired to be - it's up to you!
STEAM GREENLIGHT
KEY FEATURES
hundreds of locations to explore from trenches to towns, deserts to snowy valleys

emergent AI that will question if you're as smart as you think you are

realistic cover system

dozens of different weapons, support and cover items, radio calls, vehicles

40+ multiplayer support, dedicated servers, coop, PvP, PvPvE

speech bubbles!

deaths and fails, a lot of them, including your own!

...and of course, mods!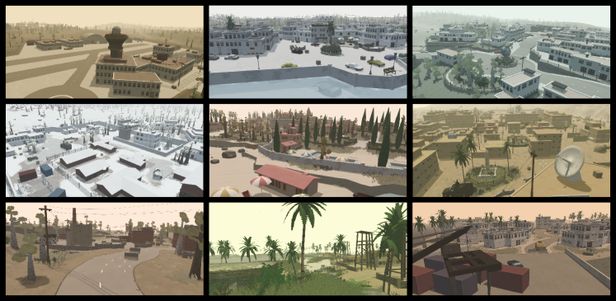 MORE STUFF COMING
Boss battles - when a faction is completely defeated, it's time for a boss battle. These maps will be something different from the usual campaign maps, possibly placing the player against overly powerful enemy units, on a special stealth mission or a frontal assault against the remaining enemy forces - we don't know, help us decide!

More maps - with 9 maps already in the game, we are still working on at least 3 new maps

New side objectives - we have comms truck and radio tower sabotage objectives, cargo truck and item theft missions, spotting, and more is in the works: there will be prisoners to set free, strategic structures to destroy, treasure to hunt - we're open to ideas too!

AI improvements - the players know the crux of RWR is the AI, but we're not quite done there yet: would be great to see the AI building defenses with sandbag cover, for example

More online game modes - What mode would you want to play? It would be possible to add e.g. Capture the flag (or vehicle), survival, bomb planting - the modes are scripts so they can be modded too

Usability - we know certain things are a bit in the dark for newcomers so more attention needs to be directed on discoverability of features, possibly by providing special maps to function as training grounds

Badges, ranks, medals, ribbons - we're overhauling the award system

Writing - we've barely started to bring forth the background and setting of the game

Steam Integration - achievements, server lists, Workshop

Mac port!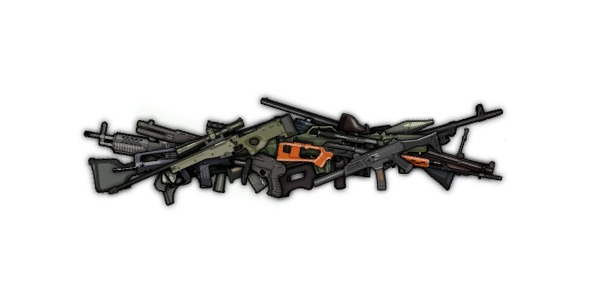 PC System Requirements
Minimum:


OS: Windows XP

Processor: 1.6 GHz Dual Core

Memory: 1 GB RAM

Graphics: NVidia Geforce 6600, ATI x800, Intel HD3000 or equivalent with 256MB VRAM

DirectX: Version 9.0c

Hard Drive: 400 MB available space

Additional Notes: Try out the latest demo to see if the game will run fine for you.
Recommended:


OS: Windows 8.1/8/7/Vista

Processor: 2.4 GHz Dual Core

Memory: 2 GB RAM

Network: Broadband Internet connection
Linux System Requirements
Minimum:


Processor: 1.6 GHz Dual Core

Memory: 2 GB RAM

Graphics: NVidia Geforce 6800, ATI x800, Intel HD3000 or equivalent with 256MB VRAM - please note that the game is not playable with ATI/AMD proprietary drivers!

Hard Drive: 400 MB available space

Additional Notes: Try out the latest demo to see if the game will run fine for you.
Recommended:


Processor: 2.4 GHz Dual Core

Memory: 2 GB RAM

Network: Broadband Internet connection
Helpful customer reviews
Title:
RUNNING WITH RIFLES
Genre:
Action
,
Early Access
,
Indie
Developer:
Modulaatio Games
Publisher:
Modulaatio Games
Release Date:
Mar 13, 2014
Languages:
| | Interface | Full audio | Subtitles |
| --- | --- | --- | --- |
| English | | | |