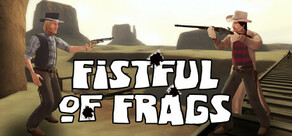 Multiplayer based, first person enabled, action packed and skill demanding shooter set in the Wild West times. A unique combination of non stop action and slow but powerful weaponry.
Release Date: May 9, 2014
Watch HD video
Play Fistful of Frags
Free Game
August 19th, 2014
Howdy! Today I release a few important fixes, specially for Linux and OSX versions. Please let me know if you still experience some related issue. Also note this is a client only update, dedicated servers do not require it.

Fixed:
- some weapon viewmodels not visible or using wrong angles [Linux/OSX]
- loadout selection panel not showing [Linux/OSX] The items purchased through this panel may not be correct though, this feature still requires further fixes.
- weapon selection panel cannot be clicked sometimes
11 comments
Read more
August 18th, 2014
Fixed:
- bullet penetration in glass was partially broken, did not take effect when bullets hit an specific side of breakable glass entity
- knife hit sound not playing sometimes
- wrong first person sleeve texture while in spectator mode

Changed:
- weapon pickup now follows this logic: left or right-handed players always get a new gun in their choice hand by default, unless that specific gun is already in their inventory. Ambidextrous players get new guns in the hand holding no gun, as is now. Fixed a case where a new gun would be picked up as left-handed despite having no revolver assigned to right hand
- weapon selection and loadout panels can be closed by pressing 'b' key again
6 comments
Read more
About the Game
Fistful of Frags born years ago as a Wild West themed modification for Source engine. It has been completely renewed for its Steam release, paying special attention to combat mechanics. Please note that current build lacks certain features and maps from past versions, as we are hoping to continue the work once the community grows.
Also note this is a completely *free* standalone mod, no micro-transactions exist, no registration required. Just install and play.
Features
Classic death-match and up to 4 teams death-match: non stop, all around action

Detailed dual wield system: double dynamic crosshair, weapon flip for extra accuracy options, drop or throw your handguns as projectile attack

Advanced multiplayer bots for off-line practice

Historical black gunpowder based weapons as Colt Peacemaker/Navy/Walker, S&W Schofield, Volcanic pistol, Deringer, Smith Carbine, Sharps rifle or Henry Rifle

Customization options: choose primary/secondary weapons and special perks

Skill based scoring system: the more skill required to accomplish an attack, the higher score is

Source Engine 2013: community managed dedicated servers, LAN support, 3rd party level design and user customization allowed
PC System Requirements
Minimum:


OS: Windows® Vista

Processor: Pentium 4 3.0GHz or equivalent

Memory: 1500 MB RAM

Graphics: ATI Radeon 9600 or nVidia GeForce 6 series

DirectX: Version 9.0c

Network: Broadband Internet connection

Hard Drive: 3 GB available space

Sound Card: DirectX 8.1 compatible sound
Recommended:


OS: Windows® 7 or Windows® 8

Processor: Intel Core 2 Duo 2.4GHz or equivalent

Memory: 4 GB RAM

Graphics: ATI X1600 or nVidia GeForce 9 or higher

DirectX: Version 9.0c

Network: Broadband Internet connection

Hard Drive: 4 GB available space

Sound Card: DirectX 9.0c compatible sound
Mac System Requirements
Minimum:


OS: MacOS X 10.7.x (10.6.8 seems to throw a client library error)

Memory: 1 GB RAM

Graphics: NVIDIA GeForce 8 or higher, ATI X1600 or higher, or Intel HD 3000 or higher

Network: Broadband Internet connection

Hard Drive: 3 GB available space

Additional Notes: Mouse, Keyboard, Internet Connection
Recommended:


OS: MacOS X 10.9.2 or higher

Processor: Dual core Intel processor, 2GHz or better

Memory: 2 GB RAM

Network: Broadband Internet connection

Hard Drive: 4 GB available space

Additional Notes: Mouse, Keyboard, Internet Connection
Linux System Requirements
Minimum:


OS: Ubuntu 12.04

Processor: Dual core from Intel or AMD at 2.8 GHz

Memory: 2 GB RAM

Graphics: nVidia GeForce 8 series or better, ATI/AMD Radeaon HD2600/3600 (Graphic Drivers: nVidia 310, AMD 12.11), OpenGL 2.1

Network: Broadband Internet connection

Hard Drive: 3 GB available space

Sound Card: OpenAL Compatible Sound Card
Helpful customer reviews
Title:
Fistful of Frags
Genre:
Action
,
Free to Play
,
Indie
Developer:
Fistful of Frags Team
Publisher:
Fistful of Frags Team
Release Date:
May 9, 2014
Languages:
| | Interface | Full audio | Subtitles |
| --- | --- | --- | --- |
| English | | | |
| Spanish | | | |
| French | | | |
| Russian | | | |
| German | | | |
| Czech | | | |
| Hungarian | | | |
| Polish | | | |
| Portuguese | | | |
| Swedish | | | |
See all 10 supported languages