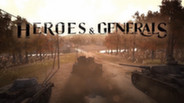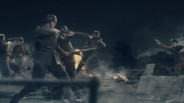 Heroes & Generals is a Free2Play Massive Online FPS with a Strategic Multiplayer Campaign, set in the midst of World War II Europe, where Axis and Allies fight for control.
Release Date: Jul 11, 2014
Watch all 2 trailers
Early Access Game
Get instant access and start playing; get involved with this game as it develops.
Note: This Early Access game may or may not change significantly over the course of development. If you are not excited to play this game in its current state, then you may want to wait until the game progresses further in development. Learn more
What the developers have to say:
Why Early Access?
"When we started developing Heroes & Generals it was with the intention of creating a game for the gamers as much as for ourselves. The games we have been creating in the past (back in the IO Interactive days) have all been shrouded in secrecy until they were released and therefore always carried a number of things that players did not like but we were unable to change. Because it is the players that in the end
plays
the game we think they should have greater influence on the development.
Since the very early days of the project in 2011 (pre-alpha stage), we invited players in to play the game and have involved our community in the making of Heroes & Generals and listened to the feedback from them. So it's a natural extension of the way we develop Heroes & Generals, to also include the Steam Community, by going Early Access."
How long will this game be in Early Access?
"We're approaching the end of our Open Beta/Early Access phase, but it's still too soon for us to put a date on
when
we'll launch."
How is the full version planned to differ from the Early Access version?
"We're still tweaking, fixing bugs and adding new features to Heroes & Generals, and even though we feel that the game is now fun and quite stable, we still wish to get all things 'just right' before we call it 'launched'.
We do
not
plan to do a full server reset when the game launches."
What is the current state of the Early Access version?
"We're in the end of our Open Beta phase, preparing for launch."
Will the game be priced differently during and after Early Access?
"Heroes & Generals is Free2Play. We wish to create a healthy, solid and well-balanced game and community, where you can get a great experience playing the game, no matter how much money you spend! There is already an in-game economy in place, where you earn in-game credits and warfunds for being active in the game, by playing FPS-missions and/or handling Assault Teams.
You can also buy gold, which you can use to buy practically everything, usually it give you the option of buying stuff 'early', so you don't need to grind that much. We also offer a Veteran Membership to accommodate wishes of having an all-inclusive package, where you earn xp, ribbon-xp, in-game credits and warfunds at an increased rate etc.
Prices are regularly being tweaked now in Open Beta/Early Access and we will most likely still tweak prices at and after launch."
How are you planning on involving the Community in your development process?
"We encourage the players to participate in discussions in our forum:
http://forum.heroesandgenerals.com/
When you write feedback about the game, remember to try and explain your reasons. Constructive criticism will help us build a better game for you."
Read more
August 22nd, 2014
Today at 1500 CEST we will do our first live twitch.tv broadcast from Reto-Moto Headquarters where we will talk about features in the upcoming Rommel build AND take questions from the community: http://www.twitch.tv/heroesandgenerals




Asking Questions

If you have a question about the upcoming Rommel build that you like to ask the Game Director here's how to do it:

Just pop into the Twitch.tv channel here AND send your question as a private message to the user 'heroesandgenerals' that owns the channel. We will sort through the questions as they come in and answer as many as we can related to the Rommel build. If you write your question in the subject line and with any extra clarifications in the text below you will have a better chance of getting YOUR question answered ;-)

Who? How? What

For this first episode we have grabbed our Game Director Jacob Andersen (Reto.RedBjarne) and Community Assistant Frédéric Scarfone (Reto.Gargamel) and will throw them in front of the camera, ready to chat about the game, upcoming features and answer questions.

When is this marvelous event taking place?

Today Friday 22 August, 2014 at 1500 CEST
4 comments
Read more
August 14th, 2014
Tired of your bike having a flat just when you were about to bike back to base for supplies? Tired of someone backing their tank into your halftrack when you weren't looking? Or maybe tired of those pesky enemies shooting holes in YOUR precious tank?

Fear no more! In the upcoming build Rommel we have added a new toy for tankers and infantrymen: The adjustable wrench.


GIMME GIMME GIMME!
The wrench unlocks with the Tank Driver Ribbon Rank 5:
and the
Driver Ribbon Rank 9:
The wrench repairs 30 HP pr. second so to
repair a smoking heavy tank to full health takes about 2 minutes
, while a bicycle that just bumped a tree can be fixed in a few seconds.
IF
you are disturbed while repairing, the classical response from mechanics worldwide is, of course, to run after the disturber and hit him repeatedly with the wrench, and my scientific experiments with unwilling coworkers tells me that it hurts about the same as being hit with a shovel :-)
The wrench takes up 2 equipment points and will be available in the store as soon as the Rommel build hits the servers.
113 comments
Read more
Steam Greenlight
About the Game
Heroes & Generals is a Free2Play Massive Online FPS with a Strategic Multiplayer Campaign, set in the midst of World War II Europe, where Axis and Allies fight for control.

The game uniquely merges epic first-person shooter action with a rich strategic layer, where your decisions have the power to turn the tide in an ongoing war among thousands of online players.

Players can choose to play as 'Heroes', fighting in the trenches, flying planes, commanding tanks and other vehicles on the battlefield, or take control of the war as 'Generals', determining the strategic direction and supporting fellow players by managing battlefield assets, army units and reinforcements.

The 'Generals' part of the game is also playable via the companion app 'Heroes & Generals: Mobile Command' which is available for iOS and Android.

As Infantry, Tank Gunner, Fighter Pilot, Recon, Paratrooper or General, your actions can turn the tide of a persistent online war, fought by players across the world!

Wars Aren't Won By Tanks Alone!
System Requirements
Minimum:


OS: Windows XP, Vista, 7 or 8

Processor: 2GHz CPU w. SSE3 instruction set- dual-core

Memory: 2 GB RAM

Graphics: ATI HD 2000/NVIDIA 7900 or above (with >512mb RAM)

DirectX: Version 9.0c

Network: Broadband Internet connection

Hard Drive: 2 GB available space

Sound Card: DirectX compatible
Recommended:


OS: Windows 7 or 8

Processor: Intel i5 processor or higher / AMD Phenom II X6 or higher

Memory: 4 GB RAM

Graphics: NVIDIA GeForce GTX 560 series or higher / AMD HD 6870 or higher

DirectX: Version 11

Network: Broadband Internet connection

Hard Drive: 3 GB available space

Sound Card: DirectX compatible
© Reto-Moto Aps. Reto-Moto and Heroes & Generals are trademarks and/or registered trademarks of Reto-Moto Aps. All rights reserved. All other copyrights and trademarks are the property of their respective owners.
Helpful customer reviews
Title:
Heroes & Generals
Genre:
Action
,
Free to Play
,
Indie
,
Massively Multiplayer
,
Early Access
Developer:
Reto-Moto
Publisher:
Reto-Moto
Release Date:
Jul 11, 2014
Languages:
| | Interface | Full audio | Subtitles |
| --- | --- | --- | --- |
| English | | | |
| French | | | |
| German | | | |
| Spanish | | | |
| Czech | | | |
| Polish | | | |
| Russian | | | |
See all 7 supported languages