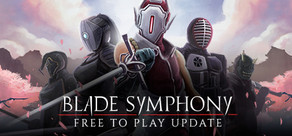 Prove that you are the world's greatest swordsman in Blade Symphony: a slash-em-up featuring a highly detailed and in-depth sword fighting system. Face down other players in skill-based tactical swordplay, in 2vs2 team duels, or participate in sandbox FFA game modes.
Release Date: May 7, 2014
Watch HD video
Early Access Game
Get instant access and start playing; get involved with this game as it develops.
Learn more about Early Access.
What the developers say:
"Blade Symphony is still under development and bugs and imbalances are to be expected. We are constantly updating and changing the game based on played feedback.

The game has no major performance issues and as long you meet the minimum requirements you should suffer no major issues. However some issues may occur due to work in progress development.

Feedback is very important, without it we won't be able to create a balanced and fun game. We read all the feedback given to us by our community. You can choose to post it either on our Steam forums, on our website forums or on our bug tracking system. Wherever you choose to post it we will read it.

What's included in Early Access to Blade Symphony:

There are four characters in the game, each with their own unique fighting style and move set. The characters move-sets are work in progress and are constantly being tuned.

There will be new characters added to the game post-release.

New game modes are still being implemented, such as team deathmatch, last man standing, etc.

"Hero Mode", a one vs all game mode, is still a work in progress and will be finished before our final early access release.

There are five different and unique sword types to choose from, Katana, Jian, Foil, Scimitar and Longsword with more planned post-release.

The Steam Workshop is supported in-game with players already hard at work with their own creations. Detailed documentation and help is available on our website."
Read more
April 12th, 2014


Blade Symphony set to release May 7th, come watch our developer hangout and ask us questions!

Youtube:
http://youtu.be/mTDKA6iaoVU

Twitch:
http://www.twitch.tv/punyhumangames
8 comments
Read more
April 6th, 2014
Hey everybody!

We are holding a screenshot contest over the next two weeks to gather some cool new shots of the latest state of the game. Those are going to be used for promotional purposes, e.g. we may use your best screenshots in our website, official announcements, or news posts -- so make sure to max out your graphics settings when taking them!

Prize
If you submit the best screenshot, you will receive a cape in the next update of the game! Capes can't be obtained through notes in-game, only during special events like this contest. You will get a new, unique cape, that no one else will have.

How to Enter
To submit your screenshot, click here, click on Upload your screenshot and choose the screenshot you want to upload. Everyone with a Steam account can sign in and vote for the existing screenshots. Only the screenshot with the most votes will receive the cape, but we will consider using all of your submissions for promotional uses!

Tips

Try to be original. Capture something that most people haven't seen.

Make sure the screenshot is at least in 1024x768 resolution or higher. Screenshots should not be low-quality or low resolution.

Because these screenshots will be posted on our website, they need to be appropriate for a wide audience. Please avoid anything that might be considered offensive, obscene, or otherwise inappropriate, including but not limited to the list below:


Sexual content or references

Anything disparaging to a group of people in the real world

Smoking / drug use

Suicide

Areas that are off-limits or only accessible by means of an exploit

Graphical bugs

Profanity or otherwise questionable chat content onscreen
Graphics Tips
If your PC allows it, make sure to max out all settings in the graphics options. Also, check out the ambient occlusion and per pixel motion blur settings, maybe you can use them to make your screenshots look even better! Alternatively, there is a also a depth of field effect that you can turn on in the developer console. To do so, enable access to the console in the
Controls
menu, then press F10 to open it. Enter these commands to enable depth of field:
mat_dof_enabled 1
mat_dof_override 1
mat_dof_quality 2
Unfortunately, depth of field does currently not play nicely together with the ambient occlusion and per pixel motion blur effects, so you may have to decide for either one of them.
The submission deadline is
Saturday, April 19th
(in two weeks), the winner will receive the cape right in the next update that we will release. We are looking forward to see what epic battle scenes you can come up with and which scenic places you can find on our maps!
Please help us by casting your votes!
Cast Your Votes Here!
8 comments
Read more
Reviews
"Blade Symphony is primed and ready to help expand the melee combat genre on the PC."
Capsule Computers

"Blade Symphony looks like Chivalry with elegance."
Destructoid


"When it's a Dystopia dev's new otherworldly duelling game, you pay attention. Especially when it's looking quite so beautiful."
RockPaperShotgun
About the Game
Prove that you are the world's greatest swordsman in Blade Symphony: a slash-em-up featuring a highly detailed and in-depth sword fighting system. Face down other players in
skill-based tactical swordplay
, in 2vs2 team duels, or participate in sandbox FFA game modes. Blade Symphony sits on the foundation of Valve's Source Engine with Steam Workshop support.
Choose between four characters each with a unique fighting style suited to how you want to play.
Phalanx, a fencer gladiator hybrid, attacks with long range stabs and a versatile array of side attacks

Judgement, a knight crossed with a samurai, uses hard hitting forward attacks and wide strafing attacks

Ryoku, a vagrant street ninja, attacks with break dance moves and a signature reverse blade style

Pure, an acrobatic wushu style assassin that attacks with flips, cartwheels, extremely mobile
Each character has three combat stances and over forty different attacks.
Pair your character up with a sword type to completely change your way of approaching combat.
Katana, a well balanced, hard hitting and adaptable sword

Longsword, cause massive damage when parrying your opponents

Foil, a piercing, high damage forward thrusting weapon great for parrying

Scimitar, a weapon based on turning and performing as many cuts as possible

Jian, an agile, responsive weapon great for combos
Tactical Sword-Fighting
There are no unlockable advantages in Blade Symphony! All unlockables are cosmetic. You care about proving your skill and so should the game.
Every attack has openings that are determined in real-time and efficacy is entirely up to you. Did you start an attack too early? Turn away and end the attack in a safe location. Did your opponent stupidly use a lighter stance? Go in and punish him! By switching stances mid-combo you can chain attacks into your own flurry of death.
The fighting system is open for your exploration, you can dash, jump, do an air attack, land, swing sideways with a heavy stance, parry with a light stance, then roll away.
Every attack flows from your blade in true three dimensional space. As does your opponents! Swords collide in mid-air and you will need good timing and aim to to defeat your opponent.
System Requirements
Minimum:


OS: Windows Vista, 7, 8

Processor: 3.0 Ghz P4(+), Dual Core 2.0(+) or AMD64X2(+)

Memory: 2 GB RAM

Graphics: DX9.0c Compatible 256MB VRAM, NVIDIA Geforce 7600 Series / ATI x1600 Series

DirectX®: 9.0c

Hard Drive: 3 GB HD space

Sound: DirectX 9.0c Compatible

Other Requirements: Broadband Internet connection
©2005 - 2014 Puny Human Games LLC, Developed By Puny Human Games. All other Trademarks are property of their respective owners.
Helpful customer reviews
Title:
Blade Symphony
Genre:
Action
,
Early Access
,
Indie
Developer:
Puny Human Games
Publisher:
Puny Human Games
Release Date:
May 7, 2014
Languages:
| | Interface | Full audio | Subtitles |
| --- | --- | --- | --- |
| English | | | |