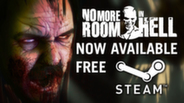 "When there's no more room in hell, the dead will walk the earth." A tribute to the highly acclaimed film series in which the above quote originated from, No More Room in Hell (PC Gamer's Mod of the Year 2011, ModDB's Editor Choice Multiplayer Mod of the Year 2011), is a co-operative realistic first person survival horror...
Release Date: Oct 31, 2011
Watch HD video
Play No More Room in Hell
Half-Life 2 Mod
April 9th, 2014
Note: If you find a severe bug or issue, please report it on our GitHub page. If you crash, please send your .mdmp to use at support@nmrih.com, directions are listed here.

Hi again,

We've just released a small hotfix (50mb) in advance of our upcoming content patch. The following things are changed/fixed:


 
Changelog for 1.07.10
 
General:


Use sv_tags instead of creating custom convar for showing tags in server browser
Fixed various mac/linux crash issues
Removed cheat flags on sv_wave_begin_grace and sv_spawn_grace_objectivecount 
Added various new props and textures for upcoming maps
Fixed a client and server crash caused by the molotov cocktail


nms_favela:


Added highway bridge as a landmark on one side of the map.
Added some rain to have somewhat nicer atmosphere.
Optimized the map a little by removing unnecessary brush-details (mainly doorframes which were wasted anyway in rather dark map).
Tweaked environment lighting to match the skybox better and to have some better visuals.
Tweaked surrounding fog and 3d sky so it blends nicer together.
Removed some health-crates and their locations.
Removed some fema-crates so they're not in the safe zones anymore.
Zombie initial spawn count is now 18.
Zombie increment count is now 11.
Ending wave is now at 10.
Clipped off some areas from players/zombies.
Relocated most of the zombie spawns to edges of the map.
Miscellaneous fixes

 
53 comments
Read more
March 7th, 2014
Note: If you've found a bug, please click on this link. If your game crashes, please click here.

Extra Note: If your sound is glitchy, please head to your SteamApps/common/nmrih/nmrih folder and delete the following files:


modelsounds.cache
nmrih.vpk.sound.cache
sound.cache (this one's located at common/nmrih/nmrih/sound)
Extra Extra Note: Steam will automatically install this update, FYI.
Hi,
1.07.9 is finally out. It introduces a new weapon, a new survival map, a new objective map, and a few dozen fixes. Also, you can now quickly find servers you can start playing right away in. Click "Add common tags..." on the bottom right of the server browser and select "Spawning:Active" to only list servers where there are at least 25 seconds left for spawning.
General:


Levels will now follow the zombie caps set in the overlord_zombie_helper map entity
Zombies will no longer walk to func_safe_zones which have the InputDeactivate flag enabled
Zombies should now all properly freeze in place when the Extraction Cutscene starts
Zombies will now longer spawn in the middle of the Extraction Cutscene
Fixed a crash that involved infection and constant map changing/round resetting
Fixed a bug that caused players to get stuck using Health crates
Tracked zombies have been redefined as zombies who have a specific spawn brush
Wave and func_zombie_spawn.input_zombie_spawn mapper created zombies will now count against the map-based zombie cap.
Disabled the tactical reload functionality for the Mac 10
Added func_nav_blocker entity
Added fa_jae700
Added nmo_junction
Added nms_campblood
Added new achievements for the two new maps
Added new tags in Server Browser to make searching easier
Disabled auto weapon switch on pickup
Fixed a bunch of small things related to crashes and memory corruption
Updated version number to 1.07.9
Made ssba more of a jerkwad

 
Sound:


Fixed sound errors with certain Voice Sets
Hooked in new ambient/tension/evac music files to Dynamic Music System
Added the ability to taunt zombies and other players

 
Art:


Updated the Winchester 1892 ironsight fire animation to be 'less flashy'
Added the JAE700 Sniper Rifle
Added various new textures and props for junction/campblood and future maps
Converted older prop models to prop_static
Removed outdated props with missing textures

Made additional visual tweaks to the zombie player models

Maps:


Recompiled the following maps to properly use the now functioning zombie cap values set in overlord_zombie_helper: nmo_broadway, nmo_chinatown, nmo_cabin, nms_flooded, nms_northway, nms_silence, nms_isolated, nms_ransack
Made minor adjustments in the garage area in nmo_chinatown
Added a new Objective level, Junction.
Added a new Survival level, Campblood.

nms_flooded


Blocked/closed upstairs windows (removed unused hint/skip)
Added tonemap controller to the level (adjusted hdr)
Improvements to some lighting.
Redid the bridge connecting the two houses
Removed Zone B, made the two houses fall under Zone A
Added some lighting.
Added new smoke particles to fire barrels.
Improved some displacements.
Some texture improvements.
Improved functionality to supply drop air_node nav.
Fixed broken outputs wave controller
Changed max zombie count to 70
Changed supply drop from every 5 rounds to every 3 rounds.
Other small improvements.

 
66 comments
Read more
Reviews
"NMRiH is a stand-out take on survival and the scariest multiplayer game we've ever played."
Maximum PC

"No More Room in Hell feels uniquely more like a horror game than an FPS."
PC Gamer

"...it has enough brains under the hood to make the most sated zombie ask for seconds."
GameSpy
Steam Greenlight
About the Game
"When there's no more room in hell, the dead will walk the earth."
A tribute to the highly acclaimed film series in which the above quote originated from, No More Room in Hell (PC Gamer's Mod of the Year 2011, ModDB's Editor Choice Multiplayer Mod of the Year 2011), is a co-operative realistic first person survival horror modification for the Source Engine. Taking inspiration from George Romero's "Of the Dead" series, the mod is set during a time in which the world is on the verge of collapsing into chaos from a disease whose origin is unknown. Many experts and organizations have their theories and ideas on how such a disease emerged and started to systematically destroy our very way of life, but one fact is clear to all. Whoever perishes from the disease gets up and kills, and the people they killed get up and kill.
The chances of you surviving this all out war of society and the undead are slim to none. Already, there are millions of the walking dead shambling about, searching for food to eat. There's no known cure. One bite can possibly end it all for you. However, you aren't alone in this nightmare. There are still a handful of uninfected survivors left in this god forsaken hellhole, and with co-operation and teamwork, you may live long enough to fight your way to salvation.
Features:
Teamwork: Co-operative play with up to eight players.

Voice and Text Communications Limited by Distance: The further you're away the harder it is for other players to hear you. Keep those walkie talkies close!

Dynamic Objective Maps: The next playthrough may not be the same as the last!

Survival Mode: Defend and maintain your shelter against the undead in the hopes of getting extracted to a safe area.

A Realistic Approach: In short, no crosshairs with limited "only when you want it" HUD. In addition, ammo and weapons are extremely scarce. With that in mind, aim down your sights and shoot for the head!

Multitude of Different Opponents: Ranging from the iconic "walking zombie" to the more contemporary "runners", NMRiH will keep you on your toes with a mix of dangerous foes to face down. However, the most dangerous enemy may not always be the walking dead...

Infection: One bite may be what it takes to bring you down. If infected, you must decide if you want to alert your team to rid you of your burden, or to keep quiet in the hopes of finding a cure...

30+ weapons and counting, ranging from the diminutive .22 Target Pistol, to the almighty Chainsaw.

No pay to win items

No ads

100% Free
Planned Features:
National Guard NPCs - Will they help you or see you as just another walker?

Full dismemberment - gibs for arms and legs instead of just the head

More gamemodes including a mode that mixes Survival with Objectives

New and varied zombie types - SWAT/Military zombies with body armor

More playable characters (including females)

Stat tracking along with Steam Achievements - With the possibility of unlockable items

More frequent updates with Steam support

More maps and overall content with Steam support
No More Room in Hell is a Half-Life 2 Zombification. The mod was founded in 2003. It switched hands and a new team took over in 2009. Beta version 1.0 was released on Halloween of 2011. A full list of the No More Room in Hell Team and contributors can be found on the about page of our website: www.nmrih.com.
PC System Requirements
Minimum:


OS:Windows® Vista

Processor: Pentium 4 3.0GHz or equivalent

Memory: 1.5 GB RAM

Graphics: ATI Radeon 9600 or nVidia GeForce 8 series

DirectX®: 9.0c

Hard Drive: 5 GB HD space

Sound: DirectX 8.1 compatible sound

Other Requirements: Broadband Internet connection
Recommended:


OS: Windows® 7 or Windows® 8

Processor: Intel Core 2 Duo 2.4GHz or equivalent

Memory: 4 GB RAM

Graphics: ATI X1600 or nVidia GeForce 9 or higher

DirectX®: 9.0c

Hard Drive: 8 GB HD space

Sound: DirectX 9.0c compatible sound

Other Requirements: Broadband Internet connection
Mac System Requirements
Minimum:


OS: MacOS X Leopard 10.5.8, Snow Leopard 10.6.3

Memory: 1-2GB RAM

Graphics: NVIDIA GeForce 8 or higher, ATI X1600 or higher, or Intel HD 3000 or higher

Other Requirements: Mouse, Keyboard, Internet Connection
Recommended:


OS: MacOS X 10.6.4 or higher

Memory: 4 GB RAM

Processor: Dual core Intel processor, 2GHz or better

Graphics: ATI Radeon 2400 or higher / NVIDIA 8600M or higher / Intel HD Graphics 3000

Other Requirements: Mouse, Keyboard, Internet Connection
Linux System Requirements
OS: Ubuntu 12.04

Processor: Dual core from Intel or AMD at 2.8 GHz

Memory: 2 GB RAM

Graphics: nVidia GeForce 8 series or better, ATI/AMD Radeaon HD2600/3600 (Graphic Drivers: nVidia 310, AMD 12.11), OpenGL 2.1
Network: Broadband Internet connection

Hard Drive: 5 GB HD space

Sound Card: OpenAL Compatible Sound Card
Uses FMOD Sound System, copyright © Firelight Technologies Pty, Ltd., 1994-2013.
© 2013 Lever Games All rights reserved.
Helpful customer reviews
Title:
No More Room in Hell
Genre:
Action
,
Free to Play
,
Indie
Developer:
No More Room in Hell Team
Publisher:
Lever Games
Release Date:
Oct 31, 2011
Languages:
| | Interface | Full audio | Subtitles |
| --- | --- | --- | --- |
| English | | | |
| German | | | |
| French | | | |
| Japanese | | | |
| Greek | | | |
| Italian | | | |
| Spanish | | | |
| Hungarian | | | |
| Russian | | | |
| Swedish | | | |
| Traditional Chinese | | | |
See all 11 supported languages
Awards
Mod of the Year 2011 - PC Gamer
Editor's Choice Multiplayer Mod of the Year 2011 - MOD DB