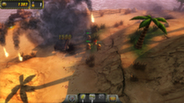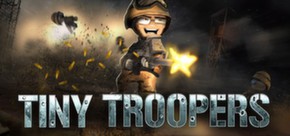 Tiny Troopers puts you in command of a team of small soldiers. War might be hell but this is the funniest way to fight in one!
リリース日: 2012年8月24日
すべてのトレーラーを見る(全 2 本)
New Zombie Mode






The Tiny Troopers zombie mode includes:

Face endless waves of brain-munching zombies, including undead chickens!

Utilise air dropped crates of special weapons to lay devastation on the zombie hordes!

Use all your favorite Special Forces troopers to take down the undead.

Survive as long as you can against unending waves of normal and special zombies!
ゲームについて
Tiny Troopers puts you in command of a team
of small soldiers. Guide them through 30 deadly
missions with varied objectives: destroy enemy
armoured formations, save hostages and eliminate
enemy generals, to name but just a few.
Your troopers will face enemy infantry, snipers,
technicals and even tanks. The casualty rate is going
to be high but there's an endless supply of fresh
recruits to step up and fill the ranks. Those lucky
troopers who survive from mission to mission will be
promoted, and each new stripe they gain makes them
tougher.
To increase your troopers' chances of survival, use
Command Points to give them better equipment,
reinforce their team with a specialist like machine
gunner, medic or delta force and call in support drops
during missions. War might be hell but this is the
funniest way to fight in one!
Features
The safe way to fight in a war: you won't end up in a body bag.

Lead your troopers in 30 deadly missions with varied objectives.

Face enemies from infantry to snipers and tanks.

Reinforce your squad with specialists like machinegunner, medic and delta force.

Keep your troopers alive: they get better after each new rank they gain.
Give War a Chance!
システム要件 (PC)
Minimum:


OS:Windows XP/SP3/ Windows Vista / Windows 7

Processor:Intel Core 2 Duo 1.8 GHz or AMD X2 64 2.0 Ghz

Memory:2 GB RAM

Graphics:256 MB HD 2600 or better \ 256 MB Nvidia 7900 or better

DirectX®:9.0c

Hard Drive:500 MB HD space

Sound:DirectX 9.0c Compatible
システム要件 (Mac)
Minimum:


OS:OS X version Leopard 10.5.8, Snow Leopard 10.6.3, or later.

Processor:Intel Mac

Memory:1 GB RAM

Graphics:OpenGL 2.0 compatible video card with 256 MB shared or dedicated RAM (ATI or NVIDIA)

Hard Drive:500 MB HD space
Tiny Troopers © 2012 Kukouri. Developed by Kukouri. Licensed exclusively worldwide to and published by Iceberg Interactive B.V. All brands, product names, and logos are trademarks or registered trademarks of their respective owners. All rights reserved. Made in Europe.
役立つカスタマーレビュー