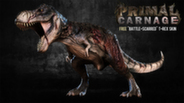 Primal Carnage is an online multiplayer shooter that will immerse its players in skilled PVP combat, team-based strategy and savage class-oriented matches unlike any you've previously experienced; be it an armed human mercenary or a cunning dinosaur, Primal Carnage is sure to unleash the inner beast in anyone who seeks to survive amongst
Release Date: Oct 29, 2012
Watch all 2 trailers
Downloadable Content For This Game
Buy Primal Carnage Skin Bundle
Includes 9 items: Primal Carnage - Dinosaur Skin Pack 1 DLC, Primal Carnage - Pilot Commando DLC, Primal Carnage - Agent Trapper DLC, Primal Carnage - Experimental Dinosaur Skin Pack 2 , Primal Carnage - Dinosaur Skin Pack 3, Primal Carnage - Dinobuster Skin, Primal Carnage - Oviraptor - Premium, Primal Carnage - Tupandactylus - Premium, Primal Carnage - Cryolophosaurus - Premium - 2 Pack
April 4th, 2014
Many of you asked if a real update was coming or whether we had truly spent the last 6 months on an April Fool's joke. Firstly, we want to point out to those critics that laughter is the most important thing all of us at Lukewarm strive to bring you with our work (hopefully with us and not at us).

Today we want to begin offering more information on the elusive "Recode" and what's in store for Primal Carnage very soon. We want to start by introducing Pub Games, an Australian Studio that has become Lukewarm's development partner in working to improve Primal Carnage.

Late in 2013 Lukewarm Media approached Pub Games for assistance accomplishing the following goals:

• Drastically improve both the visuals and performance of the game
• Implement ways to improve the longevity of the game
• Develop better ways to engage and reward the community
• Add a raft of new gameplay features and mechanics to improve the game

Lastly, as with all Primal Carnage updates, players would get these new features for free!

A BUGGY BACKGROUND

The recode was originally started by Lukewarm's Lead Programmer, Jack Morgan, when he came aboard the team last October. He quickly found that the intended improvements and expansions presented a whole lot of challenges. The game was not initially built with a large amount of extensibility in mind. The bugs, fixes, and more bugs many fans may remember in patches 1.2 and 1.3 largely reflected the team bumping into many of the limitations that existed when trying to expand upon the old foundation. Jack's attempts to update small portions of functionality generally resulted in overhauling entire game subsystems.

Ultimately after much discussion between the Pub Games team and Jack, the decision was ultimately made to rebuild the game from the ground up. The upside was that we had a great point of reference in the original game and a solid get of goals on how to improve it, but it was and is still a very heavy task.

That was how this massive update began. Let's look now at where it's brought Primal Carnage.

VISUAL AND PERFORMANCE OVERHAUL

The recode will deliver both aesthetic upgrades and improve performance of the game. In order to create a much more immersive feel for the game, every environment in the game has received an overhaul. Across the board, there has been a major shader update. Everything from full lighting schemes of environments to small details have been improved. Foliage now has light softly scattering through it adding a soft glow to the jungle around you and characters now look like living organic creatures with flesh as opposed to plastic.

One of the major complaints in the past with Primal Carnage has been how easy it's been to get lost in some maps. We've aimed to mitigate this problem, ensuring that locations are identifiable and more distinct. All maps now have key features to distinguish where you are at all times.

For a firsthand look at some of these improvements watch the first development update video on the recode:

GENERAL GAMEPLAY

The biggest challenge with the recode was how to improve Primal while keeping as much of the feel of the game as we can. The changes we've come up with are very broad-spectrum - everything from improving movement of dinosaurs, to collision fixes, and gametype updates. The list is too large to place in this update, so consequently it will be broken down in various news pieces, as every aspect of the game has had an eye cast over it for ways it can be changed for the better. Teamwork is more beneficial. Combat is more visceral. Killing feels more satisfying.

STEAM ECONOMY SYSTEM: DINO-LOOT

Sometime in the last month you may have noticed a strange (and currently empty) section in your Steam inventory. The new version of Primal Carnage fully integrates the Steam Economy system and will bring fans an item and trading system similar to that seen in Team Fortress 2, Counter-Strike: Global Offensive, and DOTA2.

At launch, the economy will contain a variety of weapon skins, dinosaur skins and dinosaur models, but this is just the start. Over the lifetime of the project, Lukewarm and Pub Games plan to expand the economy to include plenty of new and exciting items. Not only will these items be tradeable, but players can also sell them on the Steam Marketplace. Lukewarm Media will also continue to offer new premium paid item that will be available through the in-game store.

HORDE MODE

The last major component of the recode is the introduction of Horde mode to the game. Inspired by invasion-survival game types such as Gear of War's Horde mode, players must survive waves of dinosaurs - building fortifications and completing objectives throughout the game. We think the Horde mode is a great addition to the game brought to us by Pub Games and provides players with another way to enjoy Primal. There will be a future news feature of this gamemode later this month with further details.

THE FUTURE

We're all really excited about what the future holds for Primal Carnage. Over the coming months, we'll be regularly providing more updates in the form of videos, screenshots, and dev diaries. We'll give you a unique look behind the scenes of the development of Primal Carnage with developer interviews. Make sure you follow us on social media for regular updates!


48 comments
Read more
February 27th, 2014
Sorry for the lack of news on the forums, most of our team focusing on our forums that exist on our website. You can find those at forums.primalcarnage.com. We will try and keep these forums more informed as well, but if you want the absolute latest news and information, it will be on those forums. So, just for a quick update, we are doing a complete recode of the game, to hopefully fix many of the problems that exist, and also allow us to do more with the game than before. It will take a while longer, but we are working hard on it. When there are some updates, we will let you know! Thanks for you patience
21 comments
Read more
Reviews
"Primal Carnage is Jurassic Park as directed by Michael Bay."
– 7.6/10 IGN
About the Game
Primal Carnage is an online multiplayer shooter that will immerse its players in skilled PVP combat, team-based strategy and savage class-oriented matches unlike any you've previously experienced; be it an armed human mercenary or a cunning dinosaur, Primal Carnage is sure to unleash the inner beast in anyone who seeks to survive amongst the fittest.
Dispatched to reclaim a remote island from a dinosaur outbreak, a team of battle-hardened mercenaries fight to take control of its abandoned facilities and secure classified objectives.
Mercenary Classes:
Commando

Scientist

Trapper

Pathfinder

Pyro
Dinosaurs possess a keen awareness of the environment and utilize natural abilities from a third-person perspective to continue their existence as unyielding predators.
Dinosaur Classes:
T-Rex

Raptor

Pteranodon

Dilophosaurus

Carnotaurus
It's Man versus Dinosaur in the ultimate fight for dominance...who will emerge victorious and who will become extinct? The new age of Primal Carnage has begun.
Key Features
Multiple maps with large, open environments illustrating the vastness of an overrun remote island

10+ playable classes, each with unique skills and abilities

Play from both first-person (humans) and third-person (dinosaurs) perspective

Achievements, unlockables, and planned DLC
System Requirements
Minimum:


OS:Windows XP, Vista, 7

Processor:Intel Core 2 Duo 2.4 GHz or AMD Athlon X2 4800+

Memory:3 GB RAM

Graphics:ATI 3850HD 512 MB or NVIDIA GeForce 8800 GT 512MB

DirectX®:9.0c

Hard Drive:1.5 GB HD space

Other Requirements:Broadband Internet connection
REVERB PUBLISHING, and the related design logo, are trademarks of Reverb Communications, Inc., in the United States and elsewhere.
Helpful customer reviews