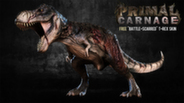 Primal Carnage heeft zojuist een nieuwe, gratis update genaamd "Get to the Chopper" ontvangen!
Releasedatum: 29 okt 2012
Alle 2 trailers bekijken
Downloadbare inhoud voor dit spel
Primal Carnage Skin Bundle kopen
Bevat 9 items: Primal Carnage - Dinosaur Skin Pack 1 DLC, Primal Carnage - Pilot Commando DLC, Primal Carnage - Agent Trapper DLC, Primal Carnage - Experimental Dinosaur Skin Pack 2 , Primal Carnage - Dinosaur Skin Pack 3, Primal Carnage - Dinobuster Skin, Primal Carnage - Oviraptor - Premium, Primal Carnage - Tupandactylus - Premium, Primal Carnage - Cryolophosaurus - Premium - 2 Pack
31 juli 2014
As we get closer to the impending release of Primal Carnage 2.0, we've been working hard lately to show more of the development process. With that in mind, we've got some recordings of our livestreams to whet your appetite. Enjoy!

Some new features showcased in the video are as follows:

New flamethrower effects
New multislot equip system for classes
Optional 3rd person camera for humans
Grenade cooking
New flamethrower effects
Dinosaur tail physics
New dilo spit effects
Spinosaurus added to TDM
Rex added to GTTC
Optional 3d sniper scope
New background scenery
GTTC ending cinematics

Check out the video here: https://www.youtube.com/watch?v=bWWOf9RhFYQ

For all of the information, including timelapse videos of level design, go ahead and head over to our website too: http://primalcarnage.com/website/development-update-streaming-highlights/
60 opmerkingen
Meer informatie
18 juni 2014
Primal Carnage 2.0 is usually what we refer to as the "recode" – a complete make over of the game from its base structure, gameplay systems and visuals. Every inch of the game has been analyzed and scrutinized to the finest of details. One aspect we haven't discussed yet is the User Interface and what role it plays in the development of the recode.

Since all areas of the game are being revised, we took a good look at the current UI for Primal Carnage and ultimately came to the conclusion that it wasn't really working. After some time dissecting its current state our UI Developer – Will, a freelancer from Australia – came up with a list of things missing, or that overall weren't working:

- As it stood there was no Gamepad support in the menus and inconsistent support during gameplay
- The visuals were stylistically inconsistent – one area of the UI would be raster graphics whereas another would be vector graphics
- The branding overall was inconsistent with multiple versions of the Primal Carnage logo in the game, on the Steam store, and on the web
- There were a lot of visually unappealing static elements
- HUD elements were hard to read and conveyed information poorly. For example the health bars were silhouettes of the character class and they drained/filled as the player's health went up/down

Read the full article over on the Primal Carnage website: http://primalcarnage.com/website/ui-overhaul/
21 opmerkingen
Meer informatie
Recensies
"Primal Carnage is Jurassic Park as directed by Michael Bay."
– 7.6/10 IGN
Info over het spel
Primal Carnage is an online multiplayer shooter that will immerse its players in skilled PVP combat, team-based strategy and savage class-oriented matches unlike any you've previously experienced; be it an armed human mercenary or a cunning dinosaur, Primal Carnage is sure to unleash the inner beast in anyone who seeks to survive amongst the fittest.
Dispatched to reclaim a remote island from a dinosaur outbreak, a team of battle-hardened mercenaries fight to take control of its abandoned facilities and secure classified objectives.
Mercenary Classes:
Commando

Scientist

Trapper

Pathfinder

Pyro
Dinosaurs possess a keen awareness of the environment and utilize natural abilities from a third-person perspective to continue their existence as unyielding predators.
Dinosaur Classes:
T-Rex

Raptor

Pteranodon

Dilophosaurus

Carnotaurus
It's Man versus Dinosaur in the ultimate fight for dominance...who will emerge victorious and who will become extinct? The new age of Primal Carnage has begun.
Key Features
Multiple maps with large, open environments illustrating the vastness of an overrun remote island

10+ playable classes, each with unique skills and abilities

Play from both first-person (humans) and third-person (dinosaurs) perspective

Achievements, unlockables, and planned DLC
Systeemeisen
Minimum:


OS:Windows XP, Vista, 7

Processor:Intel Core 2 Duo 2.4 GHz or AMD Athlon X2 4800+

Memory:3 GB RAM

Graphics:ATI 3850HD 512 MB or NVIDIA GeForce 8800 GT 512MB

DirectX®:9.0c

Hard Drive:1.5 GB HD space

Other Requirements:Broadband Internet connection
REVERB PUBLISHING, and the related design logo, are trademarks of Reverb Communications, Inc., in the United States and elsewhere.
Nuttige klantrecensies