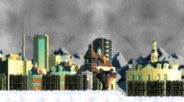 Sie wählen die Art des Spiels, und die Welt von Environ wird sich Ihnen anpassen.
Veröffentlichung: 24 Apr. 2012
Alle 2 Trailer ansehen
Pakete, die dieses Spiel enthalten
A Valley Without Wind 1 and 2 Dual Pack kaufen
Enthält 2 Artikel: A Valley Without Wind, A Valley Without Wind 2
A Valley Without Wind 1 and 2 Dual Pack - Four Pack kaufen
Verschenken Sie die Extrakopien einfach an Ihre Freunde!
Reviews
"Jeder Gedanke wie z.B. "Nur noch fünf Minuten mehr" resultiert in "Moment, wo ist die letzte Stunde hin?""
– Kotaku
Über das Spiel
A 2D sidescroller without a linear path. An action game with tactical combat and citybuilding. An adventure game that lets you free-roam a vast, procedurally-generated world. A Valley Without Wind defies genre stereotypes. Unlike other procedurally-generated games, you also get a logical progression in difficulty, plus helpful tips and checklists to guide your travels (should you need them).
Choose for yourself how to prepare to face the vastly stronger Overlord. Complete a variety of missions to earn new spells, and/or roam the wilds to uncover secret missions and stashes of magical crafting loot. Customize your characters with unique combinations of enchants and spells that change how you move, jump, and fight. Or rescue people and bring them back to your settlement so that they can then be sent on dispatch missions; you don't have to carry the burden of your fledgling civilization alone!
You choose how to play, and the world adapts around you.
Key features:
Travel alone or with friends across an ever-expanding world of dangerous creatures, powerful magic, high technology, and mysteries.

You have choice. The world of Environ is a procedurally generated sandbox, and lets you go anywhere you see -- including right into the overlord's keep at any time. (Good luck with that.)

Environ is endless. When you save one continent from an overlord, a larger and more complex continent appears.

The game adapts to how you play: as you demonstrate your proficiency, monsters and missions upgrade accordingly. Killed 100 bats? Okay, time for... bats on fire!

Crazy amounts of character customization. Combine a multitude of spells, enchants, and equipment to create specialized character builds.

Play as a long line of brave adventurers. It's not a question of IF your character is going to die, but WHEN. Any character that dies is permanently lost, but you keep all your inventory, enchants, and general progress in the game.

Become a community leader. Rescue NPCs for your settlement, construct buildings for them, and improve their skill and mood -- then send them on dispatch missions to help you in return!

Be a clever problem-solver. Challenges have more than one solution, each with its own pros and cons. You get to figure things out rather than just jumping through a set of hoops.

Difficulty levels give exactly the challenge you want, from casual to hardcore on platforming, combat, and citybuilding independently.

All owners of Valley 1 also get the much-improved sequel absolutely free! Valley 2 is out now, and features a different style of more-focused, non-sandbox play. Both games are quite distinct from one another, but you don't have to choose between them -- both are yours for the price of one!

Systemvoraussetzungen (PC)
Betriebssystem: Windows XP SP2 oder besser

Prozessor: 1,6 GHz CPU (mehr empfohlen für Server des Mehrspielermodus')

Speicher: 2 GB RAM

Festplatte: 2 GB RAM

Grafikkarte: 800x600 oder besser, Mindestauflösung (1024x768 empfohlen) Grafikkarte muss 1024x1024 Texturen unterstützen (die meisten 32 MB Grafikkarten und besser).
Systemvoraussetzungen (Mac)
Betriebssystem: OS X Version Leopard 10.5.8 oder besser.

Prozessor: 1,6GHz CPU (mehr empfohlen für Server des Mehrspielermodus')

Speicher: 2 GB RAM

Festplatte: 2 GB RAM

Grafikkarte: 800x600 oder besser, Mindestauflösung (1024x768 empfohlen) Grafikkarte muss 1024x1024 Texturen unterstützen (die meisten 32 MB Grafikkarten und besser
Hilfreiche Kundenreviews