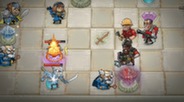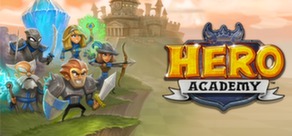 Test your skills in this light-hearted battle between friends! Heroic teams have gathered to engage in friendly contests on the Academy playfields. Will your team emerge triumphant?
Releasedatum: 10 aug 2012
HD-video bekijken
Hero Academy kopen
Bevat de Council- en TF2-teams, 17 Council-avatars, 18 TF2-avatars en een Council-hoed voor Team Fortress 2-spelers!
Hero Academy - 2-Pack kopen
Bevat twee exemplaren van Hero Academy - Stuur het extra exemplaar naar je vriend!
Pakketten die deze game bevatten
Hero Academy - Gold Pack kopen
Bevat 7 items: Hero Academy, Hero Academy - Dark Elves Pack, Hero Academy - Dwarves Pack, Hero Academy - Tribe Pack, Hero Academy - Uniform Colors, Hero Academy - Shaolin Team Pack, Hero Academy - Challenge Pack
Downloadbare inhoud voor dit spel
Recensies
"Het is fantastisch."
9/10 Editor's Choice – IGN
"De game is ongelooflijk leuk en verslavend, zeker de moeite waard."
– PCWorld
Team Fortress 2 Hat
Purchase Hero Academy or any team pack and receive a free Hero Academy themed item in TF2!

Info over het spel
Test je vaardigheden in dit luchtige gevecht tussen vrienden! Heroïsche teams hebben zich verzameld om het tegen elkaar op te nemen in vriendelijke wedstrijden op de Academy-speelvelden. Zal jouw team zegevieren?
Treed een wereld binnen die vol zit met zwaarden en magie, en daag zowel oude als nieuwe vrienden uit voor een wedstrijd van tactiek en vaardigheid. Van de menselijke Council tot de mysterieuze Dark Elves heeft elk team een angstloze aanvoerder nodig om ze naar de overwinning te leiden. Alleen diegenen die gebruik maken van de sterke punten van hun team en de zwaktes van hun tegenstander zullen hun kristal beschermen en overwinnen. De Academy welkomt iedereen – ook al zijn ze al helden, of helden in training!
Daag vrienden op Steam of iOS uit tot asynchrone een op een-gevechten via online multiplayer. Speel een spannende ronde binnen twintig minuten of gedurende een volledige dag, wanneer je maar een paar momenten hebt. Je kunt al je Hero Academy-wedstrijden aan je bureau spelen, op je iPad, of zelfs op pad met je iPhone! Wanneer je het spel op Steam koopt ontgrendel je een exclusief heroïsch team met de huurmoordenaars uit Valve's Team Fortress 2.
Eigenschappen:
Cross-Platform-multiplayer, speel tussen Steam en iOS

Exclusief Team Fortress 2-team ontgrendelbaar op Steam

Hoog toegankelijke turn-based gameplay

Makkelijk te leren – begin meteen met spelen!

Speel met je Steam-vrienden of willekeurige tegenstanders

Kleurrijke, luchtige graphics en geluid

Willekeurige speelvelden houden de gameplay fris!

Begin met de Council- en Team Fortress 2-teams

Breid je rooster uit met aanvullende teams

Pas je team aan

Nodig je Twitter-volgers uit om te spelen!

Chat met je tegenstanders in het spel
Systeemeisen (PC)
OS: Windows XP, Windows Vista, Windows 7
Processor: 2GHz Dual Core
Memory: 2GB RAM
Hard Disk Space: 300MB
Video Card: Graphics: DX11 & DX10 video cards, minimum resolution 1280 x 800
DirectX®: 10

Hero Academy does not officially support Windows Surface
Systeemeisen Linux
Video Card: Any OpenGL 2.1+ capable graphics hardware
Hard Disk Space: 300MB
©2012 Robot Entertainment, Inc. All rights reserved.
Nuttige klantrecensies