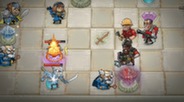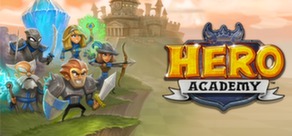 Test your skills in this light-hearted battle between friends! Heroic teams have gathered to engage in friendly contests on the Academy playfields. Will your team emerge triumphant?
Data di rilascio: 10 Ago 2012
Guarda video HD
Acquista Hero Academy
Includes the Council and TF2 teams, 17 Council avatars, 18 TF2 avatars, and a Council hat for Team Fortress 2 players!
Acquista Hero Academy - 2-Pack
Includes two copies of Hero Academy - Send the extra copy to a friend!
Pacchetti che includono questo gioco
Acquista Hero Academy - Gold Pack
Include 7 oggetti: Hero Academy, Hero Academy - Dark Elves Pack, Hero Academy - Dwarves Pack, Hero Academy - Tribe Pack, Hero Academy - Uniform Colors, Hero Academy - Shaolin Team Pack, Hero Academy - Challenge Pack
Contenuti scaricabili per questo gioco
Recensioni
"It's fantastic."
9/10 Editor's Choice – IGN
"The game is incredibly fun and addicting, certainly worth checking out."
– PCWorld
Team Fortress 2 Hat
Purchase Hero Academy or any team pack and receive a free Hero Academy themed item in TF2!

Informazioni sul gioco
Include le squadre del Consiglio e di TF2, 10 avatar per il Consiglio, 18 per TF2 ed un cappello del Consiglio per i giocatori di Team Fortress 2!
Metti alla prova le tue abilità in questa battaglia scanzonata tra amici! Squadre di eroi si sono riunite per competere in gare amichevoli nei campi da gioco dell'Accademia. Sarà la tua squadra a uscire vittoriosa?
Entra in un mondo fatto di spade e magie, e sfida gli amici vecchi e nuovi in un gioco pregnante di tattiche e abilità. Dal Consiglio degli umani ai misteriosi Elfi Oscuri, ciascuna squadra ha bisogno di un indomito capitano per guidarla alla vittoria. Solo coloro che sapranno far leva sulle forze dei propri compagni e sfruttare le debolezze dei loro avversari proteggeranno il loro cristallo e trionferanno. L'Accademia estende un caloroso benvenuto a tutti; che siano già eroi, o ancora aspiranti!
Sfida gli amici su Steam o su iOS in battaglie asincrone uno contro uno tramite il multiplayer online. Gioca una partita intensa di venti minuti o lungo l'intera giornata, nei tuoi momenti liberi. Puoi giocare in tutte le partite dell'Accademia dalla tua scrivania, sul tuo iPad, o in viaggio con l'iPhone! Quando acquisti il gioco su Steam, sbloccherai una squadra di eroi esclusiva caratterizzata dai temibili mercenari di Team Fortress 2 di Valve.
Caratteristiche principali:
Partite multigiocatore multipiattaforma tra Steam e iOS

Esclusiva squadra di Team Fortress 2 sbloccabile su Steam

Gameplay estremamente accessibile basato su turni

Facile da imparare. Salta dentro e gioca!

Gioca coi tuoi amici di Steam o contro avversari casuali

Grafica e sonoro colorati e spensierati

I campi di battaglia casuali mantengono vivo l'interesse!

Comincia subito con le squadre del Consiglio e di Team Fortress 2

Espandi la lista delle squadre con altre aggiuntive!

Personalizza la tua squadra

Invita gli utenti di Twitter che ti seguono a giocare!

Chiacchiera con i tuoi avversari nel gioco
Requisiti di sistema (PC)
OS: Windows XP, Windows Vista, Windows 7
Processor: 2GHz Dual Core
Memory: 2GB RAM
Hard Disk Space: 300MB
Video Card: Graphics: DX11 & DX10 video cards, minimum resolution 1280 x 800
DirectX®: 10

Hero Academy does not officially support Windows Surface
Requisiti di sistema (MAC)
Requisiti di sistema (Linux)
Video Card: Any OpenGL 2.1+ capable graphics hardware
Hard Disk Space: 300MB
©2012 Robot Entertainment, Inc. All rights reserved.
Recensioni utili dai clienti