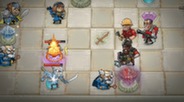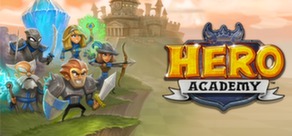 Test your skills in this light-hearted battle between friends! Heroic teams have gathered to engage in friendly contests on the Academy playfields. Will your team emerge triumphant?
Veröffentlichung: 10 Aug. 2012
HD-Video ansehen
Hero Academy kaufen
Includes the Council and TF2 teams, 17 Council avatars, 18 TF2 avatars, and a Council hat for Team Fortress 2 players!
Hero Academy - 2-Pack kaufen
Beinhaltet zwei Kopien von Hero Academy - Verschenken Sie die Extrakopie an einen Freund!
Pakete, die dieses Spiel enthalten
Hero Academy - Gold Pack kaufen
Enthält 7 Artikel: Hero Academy, Hero Academy - Dark Elves Pack, Hero Academy - Dwarves Pack, Hero Academy - Tribe Pack, Hero Academy - Uniform Colors, Hero Academy - Shaolin Team Pack, Hero Academy - Challenge Pack
Inhalte zum Herunterladen für dieses Spiel
Reviews
"Es ist fantastisch."
9/10 Editor's Choice – IGN
"Das Spiel ist unglaublich spaßig und macht süchtig, zweifellos wert es zu testen."
– PCWorld
Team Fortress 2 Hat
Purchase Hero Academy or any team pack and receive a free Hero Academy themed item in TF2!

Über das Spiel
Beinhaltet Council und TF2 Teams, 17 Council Avatare, 18 TF2 Avatare und einen Council Hut für Team Fortress 2 Spieler!
Testen Sie Ihre Fähigkeiten in dieser leichtherzigen Schlacht zwischen Freunden! Heldenhafte Teams treten zusammen, um in freundschaftlichen Wettbewerben auf den Spielwiesen der Akademie anzutreten. Wird Ihr Team triumphieren?
Willkommen in einer Welt voller Magie und Schwerter, in der Sie alte und neue Freunde zu einem taktischen Wettkampf herausfordern können. Vom menschlichen Konzil bis zu den mysteriösen dunklen Elfen bedarf jedes Team eines furchtlosen Kapitäns, um das Team zum Sieg zu führen. Nur jene, die die Stärken ihres Teams geschickt anwenden und die Schwächen der Gegner zu ihrem Vorteil ausnutzen, werden ihre Kristalle schützen können, um am Ende des Tages siegreich heimzukehren. Die Akademie heißt Sie herzlich willkommen – ob Sie schon ein Held sind, oder sich noch in der Ausbildung befinden!
Fordern Sie Ihre Freunde auf Steam oder iOS zu asynchronen 1-gegen-1-Schlachten im Online-Mehrspielermodus heraus. Spielen Sie eine hitzige Runde in zwanzig Minuten oder über den ganzen Tag verteilt, wann immer Sie ein paar Minuten Zeit haben. Sie können sämtliche Partien in Hero Academy von Ihrem Schreibtisch aus, auf Ihrem iPad, oder unterwegs mit Ihrem iPhone spielen! Wenn Sie das Spiel auf Steam erwerben, dann schalten Sie ein exklusives Heldenteam mit den Söldnern aus Valves Team Fortress 2 frei.
Hauptmerkmale:
Plattformunabhängige Mehrspieler-Partien über Steam und iOS

Exklusives Team Fortress 2-Team freischaltbar auf Steam

Zugängliches, rundenbasiertes Spielgeschehen

Leicht zu erlernen – einfach starten und spielen!

Spielen Sie mit Ihren Steam-Freunden oder zufälligen Gegnern

Farbenfrohe Grafik und leichtfüßige Musik

Zufällige Spielfelder sorgen für abwechslungsreiche Schlachten!

Steigen Sie mit dem Rat und Team Fortress 2-Teams ins Spiel ein

Erweitern Sie Ihren Kader mit zusätzlichen Teams!

Individualisieren Sie Ihr Team

Laden Sie Ihre Twitter Follower ein!

Chatten Sie mit Ihren Gegnern im Spiel
Systemvoraussetzungen (PC)
OS: Windows XP, Windows Vista, Windows 7
Processor: 2GHz Dual Core
Memory: 2GB RAM
Hard Disk Space: 300MB
Video Card: Graphics: DX11 & DX10 video cards, minimum resolution 1280 x 800
DirectX®: 10

Hero Academy does not officially support Windows Surface
Systemvoraussetzungen (Mac)
Betriebssystem: Snow Leopard
Systemvoraussetzungen (Linux)
Video Card: Any OpenGL 2.1+ capable graphics hardware
Hard Disk Space: 300MB
©2012 Robot Entertainment, Inc. All rights reserved.
Hilfreiche Kundenreviews