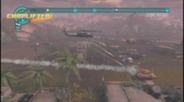 Bank, hover, touch-down & sometimes even shake zombies from their chopper during lift-off in order to make your rescue & complete your mission.
Data de lançamento: 11 Jan 2012
Ver vídeo HD
Conteúdo transferível para este produto
Acerca do Jogo
Em Choplifter HD, os jogadores terão a oportunidade de desempenhar o papel de um piloto de salvamento que foi chamado para se juntar à elite, a equipa internacional de helicópteros de salvamento. Os pilotos serão treinados a pilotar diversos helicópteros em 30 missões diferentes. Os pilotos deverão virar, pairar, aterrar e, por vezes, sacudir zombies do seu helicóptero durante a descolagem de modo a conseguirem o salvamento e a completarem a sua missão.
Características principais:
Em Choplifter HD os jogadores são desafiados a arriscarem as suas vidas de modo a salvarem as de outros!
Os jogadores têm a oportunidade de pilotar diferentes helicópteros baseados no atuais modelos utilizados pelas forças militares.
Diversos e perigosos terrenos incluindo áreas urbanas, postos avançados na selva, bases no ártico e instalações no deserto, com missões que decorrem a todas as horas do dia e da noite.
Pilota uma variedade de helicópteros colocados em 30 missões diferentes que vão desde a extração de um prisioneiro militar capturado ao salvamento de sobreviventes de surtos de vírus.
Manobra, dispara e extrai sob condições perigosas para conseguires executar os salvamentos.
Dan Gorlin, criador da série Choplifter original, como consultor de design.
Requisitos do Sistema
OS: Windows XP
Processor: 2 Ghz Dual-Core CPU
Memory: 2 GB RAM
Hard Disk Space: 2GB Free HD Space
Video Card: Graphics Card with Shader Model 3 support, 256 MB video memory
DirectX®: 9.0c
Sound: DirectSound-compatible sound device
Choplifter™ HD © 2011 inXile Entertainment Inc. Choplifter HD, inXile Entertainment and related logos are registered trademarks or trademarks of inXile Entertainment Inc. in the U.S. and/or other countries.
Análises úteis de clientes