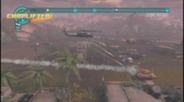 Bank, hover, touch-down & sometimes even shake zombies from their chopper during lift-off in order to make your rescue & complete your mission.
Data wydania: 11 Sty 2012
Obejrzyj film HD
This item does not have support for your local language. Please review the supported language list before purchasing
Zawartość do pobrania dla tej gry
Informacje o grze
In Choplifter HD, players take on the role of an up-and-coming rescue pilot asked to join the elite, international helicopter rescue team. Pilots will be trained to command a variety of helicopters deployed on 30 different missions. Pilots must bank, hover, touch-down and sometimes even shake zombies from their chopper during lift-off in order to make their rescue and complete their mission.
Key Features:
Choplifter HD dares players to risk their lives in order to save others!
Players pilot many different helicopter types inspired by current military models
Varied and dangerous terrain including urban areas, jungle outposts, arctic bases, and desert compounds with missions taking place at all hours of the day and night.
Command a variety of helicopters deployed on more than 30 different missions ranging from captured military prisoner extraction to saving survivors of viral outbreaks
Maneuver, fire, and extract under perilous conditions in order to carry out rescues
Original Choplifter franchise creator Dan Gorlin serving as design consultant
Wymagania systemowe
System operacyjny: Windows XP
Procesor: dwurdzeniowy procesor 2 GHz
Pamięć: 2 GB RAM-u
Grafika: karta graficzna z 256 MB pamięci VRAM i kompatybilna z Shader Model 3.0
Dźwięk: karta dźwiękowa kompatybilna z DirectSound
DirectX®: 9.0c
Dysk twardy: 2 GB wolnego miejsca na dysku twardym
Choplifter™ HD © 2011 inXile Entertainment Inc. Choplifter HD, inXile Entertainment and related logos are registered trademarks or trademarks of inXile Entertainment Inc. in the U.S. and/or other countries.
Pomocne recenzje klientów