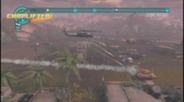 Stuur, vlieg, land, en schud soms zelfs zombies van je helikopter om de redding uit te voeren en je missie te voltooien.
Releasedatum: 11 jan 2012
HD-video bekijken
Downloadbare inhoud voor dit spel
Info over het spel
In Choplifter HD kruip je in de huid van de piloot van een reddingshelikopter die wordt gevraagd om mee te doen aan een internationaal elite-reddingsteam. De piloten ontvangen de training om verschillende helikopters te besturen en 30 verschillende missies uit te voeren. De piloten moeten sturen, hoveren, landen en soms zelfs zombies van hun helikopter afschudden om de redding uit te voeren en de missie te voltooien.
Belangrijkste mogelijkheden:
Choplifter HD daagt spelers uit hun leven op het spel te zetten voor dat van anderen!
Spelers vliegen vele verschillende helikoptertypen, geïnspireerd door de huidige militaire helikopters.
Gevarieerd en gevaarlijk terrein, onder ander in stadsgebieden, jungles, woestijnen en zelfs de noordpool met missies die op elk moment van de dag plaats kunnen vinden.
Bestuur verschillende helikopters die meer dan 30 verschillende missies moeten vliegen, van het bevrijden van een krijgsgevangenen tot het redden van overlevenden van pandemieën.
Vlieg, schiet en red in gevaarlijke omstandigheden.
De originele maker van Choplifter, Dan Gorlin, heeft meegedacht over het onderwerp.
Systeemeisen
OS: Windows XP
Processor: 2 Ghz Dual-Core CPU
Memory: 2 GB RAM
Hard Disk Space: 2GB Free HD Space
Video Card: Graphics Card with Shader Model 3 support, 256 MB video memory
DirectX®: 9.0c
Sound: DirectSound-compatible sound device
Choplifter™ HD © 2011 inXile Entertainment Inc. Choplifter HD, inXile Entertainment and related logos are registered trademarks or trademarks of inXile Entertainment Inc. in the U.S. and/or other countries.
Nuttige klantrecensies