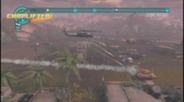 Schütteln Sie manchmal sogar Zombies von Ihrem Helikopter, um Ihren Rettungsauftrag zu erfüllen und die Mission abzuschließen.
Veröffentlichung: 11 Jan. 2012
HD-Video ansehen
Inhalte zum Herunterladen für dieses Spiel
Über das Spiel
In Choplifter HD übernimmt der Spieler die Rolle eines aufstrebenden Rettungspiloten, der gerade Mitglied einer internationalen Eliteeinheit geworden ist. Das Trainingsprogramm umfasst 30 verschiedene Missionen und eine Auswahl unterschiedlichster Helikoptertypen. Der Pilot muss abrupte Schwenkmanöver und Landungen durchführen können, die Maschine im Schwebeflug halten und in manchen Situationen sogar während des Abhebens noch Zombies abschütteln können.
Hauptmerkmale:
In Choplifter HD riskiert der Spieler sein Leben für die Rettung anderer!
Zur Auswahl stehen viele verschiedene Helikopter, die an aktuelle Militärvehikel angelehnt sind.
Die Missionen finden zu jeder Tages- und Nachtzeit und von urbanen Regionen über Urwaldstützpunkten, arktischen Basisstationen bis hin zu geheimen Wüstenkomplexen an jedem erdenklichen Ort statt.
Befehligen Sie eine Vielzahl von Helikoptern in 30 verschiedenen Missionen, die von der Befreiung militärischer Gefangener bis hin zur Rettung Überlebender einer Virus-Epidemie reichen.
Lernen Sie, selbst unter gefährlichsten Bedingungen präzise zu manövrieren und zielgenau zu schießen, um die fordernden Rettungsmissionen zu bewältigen.
Der Schöpfer des Choplifter-Franchise Dan Gorlin stand bei der Gestaltung und Umsetzung des Spiels Pate.
Systemvoraussetzungen
Betriebssystem: Windows XP
Prozessor: 2 GHz Dual-Core CPU
Speicher: 2 GB RAM
Festplatte: 2 GB frei
Grafikkarte: Grafikkarte mit Shadermodel 3 Unterstützung, 256 MB Speicher
DirectX®: 9.0c
Sound: DirectSound kompatibel
Choplifter™ HD © 2011 inXile Entertainment Inc. Choplifter HD, inXile Entertainment and related logos are registered trademarks or trademarks of inXile Entertainment Inc. in the U.S. and/or other countries.
Hilfreiche Kundenreviews