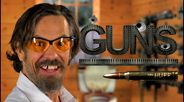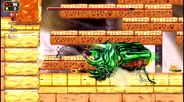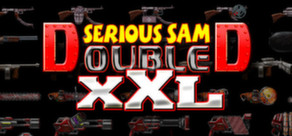 Rassemblez toute votre puissance de feu avec le Gunstacker révolutionnaire et faite feu de toutes vos armes en même temps, dans une symphonie de destruction !
Date de parution: 30 août 2011
Regarder les 2 vidéos
Acheter Serious Sam Double D
Packages qui comprennent ce jeu
Acheter Serious Sam Complete Pack
Inclut les 11 articles suivants : Serious Sam HD: The First Encounter, Serious Sam Classic: The First Encounter, Serious Sam Classic: The Second Encounter, Serious Sam 3: BFE, Serious Sam Double D XXL, Serious Sam: The Random Encounter, Serious Sam 2, Serious Sam HD: The Second Encounter - Legend of the Beast DLC, Serious Sam HD: The Second Encounter, Serious Sam 3: Jewel of the Nile, Serious Sam 3: BFE Bonus Pack
Articles
"Mommy's Best Games' 2D shooter est super fun du début à la fin."
7/10 – IGN

"Le shooter 2D les plus frappé de cette année, si ce n'est de tous les temps."
85/100 –
Strategy Informer

"Le plaisir des yeux avec ces combats qui sentent bon la poudre et la justice."
7/10 –
Destructoid

"Laissez votre cerveau au vestiaire, relaxez-vous et appréciez le carnage. Cela vaut le coup, sérieusement."
8/10 –
Worth Playing
Mise à jour
Two-Player Local Cooperative Play - Serious Sam can pair up with his new buddy Huff to slaughter Mental's horde together in an orgy of violence and destruction!

Gunstacker Upgrades – Over 30 new guns to mix and match in towering stacks of awesome! Shotguns that fire a horde of bees, prism lasers, the return of Serious Sam's trademark cannon and more! Exclamation point!

New Campaign and Challenge Missions – Tackle new missions and take to the air in your very own missile-loaded Pterosaur or roll through your foes on a dynamite-powered unicycle!

New and Upgraded Enemy Classes - The new Torcher Kitty, Explosion Eater and the Armored Gnaar are all stepping into the arena to wreck havoc the heroic Serious Sam!
À propos du jeu
Serious Sam va exploser en 2D et combattre les hordes de Mental dans Serious Sam Double D, un jeu de tir dessiné à la main à l'ancienne avec de l'action furieuse et chaotique dans la plus pure lignée des Serious Sam. Cumulez les armes avec le système révolutionnaire Gunstacker et faites feu de toutes vos armes en même temps pour une symphonie destructrice. La différence entre la victoire et l'annihilation est un homme droit dans son t-shirt et ses jeans qui a une grosse pile d'armes.
Série indie des Serious Sam
La série indie des Serious Sam est un programme extraordinaire lancé par Croteam et Devolver Digital pour créer un partenariat avec des développeurs indépendants afin de créer différents styles et genres de Serious Sam.
Comprend
Serious Action : Déversez une pluie de balles et de flammes sur les hordes démoniaques de Mental. Combattez son armée dans 18 niveaux et 3 mondes : des pyramides à Pompeii en passant par une jungle préhistorique.

Système de cumul d'armes, Gunstacker, révolutionnaire : Avoir une arme dans chaque main est démodé. Dans Serious Sam Double D vous aurez accès à la combinaison possible de nombreuses armes : 2 fusils à pompe avec laser et lance-grenade... pas de problèmes ! 4 tronçonneuses et un lance-flammes... oui merci.

Des légions de bêtes bizarres : Kamikazes sans têtes, Gnaar et Biomechanoids sont au menu. Les Chimputees, Vuvuzelators et les surprenantes et sexy Femikazes le sont aussi. Prouvez que vous êtes un héros en affrontant des boss impitoyables.

Pièces de Challenge et pièces secrètes : Des pièces où vous affronterez des vagues incessantes. Découvrez des douzaines de pièces secrètes disséminées de par les mondes !
Configuration requise
Système d'exploitation : Windows XP, Vista, 7

Processeur : 2.0 GHz ou plus rapide (Double cœur recommandé)

Mémoire vive : 1 Go de RAM

Disque dur : 500 Mo d'espace disque disponible

Carte graphique : Carte comportant 128 Mo de mémoire vidéo avec support Shader Model 2.0

DirectX® : 9.0c

Son : Carte son compatible DirectX 9.0c

Additionnel : Manette de Microsoft Xbox 360 ou manette XInput
Évaluations intéressantes des utilisateurs
Titre:
Serious Sam Double D XXL
Genre:
Action
,
Indépendant
Développeur:
Mommy's Best Games
Éditeur:
Devolver Digital and Croteam
Date de parution:
30 août 2011
Langues:
| | Interface | Son | Sous-titres |
| --- | --- | --- | --- |
| Français | | | |
| Anglais | | | |
| Allemand | | | |
| Italien | | | |
| Espagnol | | | |