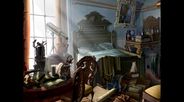 Erkunden Sie eine fantastische Sicht auf das Viktorianische Zeitalter in The Clockwork Man, einem epischen Spiel voller versteckter Gegenstände.
Veröffentlichung: 10. Aug. 2011
HD-Video ansehen
Pakete, die dieses Spiel enthalten
The Clockwork Man Bundle kaufen
Beinhaltet: The Clockwork Man und The Clockwork Man: The Hidden World
Über das Spiel
Entdecke eine fantastische Sicht auf das viktorianische Zeitalter in The Clockwork Man, einem epischen hidden-object Spiel. Zur Jahrhundertwende, in einer sich verändernden Zeit, haben dampfgetriebene Technologien sich in allen Bereichen des Lebens durchgesetzt.
Als Jüngste einer langen Linie von Technikern und Erfindern, hatte Miranda Calomy schon immer eine Gabe für das kreative Lösen von Problemem. Als ein seltsamer Brief von ihrem Großvater in ihrer Londoner Wohnung ankommt, schiebt Miranda all ihre Pläne beiseite und geht an Bord eines weltumspannenden Abenteuers. Schafft sie es, die Teile der weltweit großartigsten Erfindung rechtzeitig zusammenzufügen, bevor es zu spät ist?
Begleite Miranda und Sprocket auf einer aufregenden Reise von hidden-object Herausforderungen und verblüffenden Puzzles in einer Steampunk Umgebung.
Besondere Features:
Prachtvolle scroll- & zoombare Szenen
Hunderte handbemalte viktorianische Gegenstände
Abenteuer & Logik Puzzles
Ein innovatives Hinweissystem : Sprocket, der Roboter!
Spielen Sie ihre Lieblingslevel wieder und wieder im Freeplay Modus
Positionsänderung von Objekten in Replays
Atmosphärischer Soundtrack und Synchronsprecher
Systemvoraussetzungen (PC)
Betriebssystem: Windows XP, Vista, 7
Prozessor: 1.6 GHz oder besser
Speicher: 512 MB oder mehr
Festplatte: 150 MB
Grafikkarte: 32-bit DirectX 7.0 kompatibel Grafikkarte oder höher
DirectX®: 7.0
Systemvoraussetzungen (Mac)
Betriebssystem: OS X Version Leopard 10.5.8, Snow Leopard 10.6.3 oder besser.
Prozessor: 1.6 GHz oder besser
Speicher: 512 MB oder mehr
Festplatte: 150 MB
Systemvoraussetzungen (Linux)
OS: 32-bit Ubuntu 6+ or Fedora 6 / Open Suse 10.2 / Mandriva 2007 (Kernel 2.6, GLIB 2.4, GTK 2)
Processor: 1.6 GHz
Memory: 512 MB
Hard Drive: 130 ΜΒ
Hilfreiche Kundenreviews
Titel:
The Clockwork Man
Genre:
Indie
,
Gelegenheitsspiele
Entwickler:
Total Eclipse
Publisher:
Total Eclipse
Veröffentlichung:
10. Aug. 2011
Sprachen:
| | Oberfläche | Ton | Untertitel |
| --- | --- | --- | --- |
| Deutsch | | | |
| Englisch | | | |
| Niederländisch | | | |
| Französisch | | | |
| Italienisch | | | |
| Japanisch | | | |
| Koreanisch | | | |
| Portugiesisch | | | |
| Spanisch | | | |
| Schwedisch | | | |
Alle 10 unterstützten Sprachen anzeigen