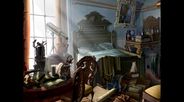 Tutki viktoriaanisen aikakauden näyttäviä alueita The Clockwork Manissa, joka on eeppinen esineidenmetsästyspeli.
Julkaisupäivä: 10. elo, 2011
Katso HD-video
Paketit, jotka sisältävät tämän pelin
Osta The Clockwork Man Bundle
Includes: The Clockwork Man and The Clockwork Man: The Hidden World
Tietoja pelistä
Tutki fantastista näkemystä viktoriaanisesta ajanjaksosta The Clockwork Manissa, uskomattoman syventävässä "löydä-piilotetut-esineet"-pelissä. Vuosisadan vaihteessa vierekkäisellä aikajanalla omastamme, höyrykäyttöisestä teknologiasta on tullut valtaava osa jokaisen jokapäiväistä elämää.
Nuorin keksijöiden ja teknikoiden joukossa, Miranda Calomy on aina ollut hyvä ratkomaan luovuutta vaativia ongelmia. Kun salaperäinen kirje hänen isoisältään saapuu Mirandan Lontoon asuntoon, hän unohtaa suunnitelmansa ja matkaa maailmanlaajuiseen seikkailuun. Ehtiikö hän koota maailman suurimman keksinnön kasaan ennen kuin on liian myöhäistä?
Liity Mirandan ja Sprocketin seuraan tälle mahtavalle matkalle, jolla ratkotaan kummastuttavia pulmia Steampunk-tyylisessä maailmassa.
Pääpiirteet:
Mahtavat vieritettävät & zoomattavat näköalat
Satoja käsinmaalattuja Viktoriaanisia esineitä
Seikkailu- ja logiikkapulmia
Innovatiivinen vihjejärjestelmä : Robotti Sprocket!
Pelaa suosikkitasojasi uudestaan ja uudestaan Vapaapeli-tilassa
Esineiden olinpaikka vaihtuu uudelleenpelatessa
Tunnelmallinen musiikki ja ääninäyttely
Järjestelmävaatimukset (PC)
Käyttöjärjestelmä: Windows XP, Vista, 7
Prosessori: 1.6 GHz tai parempi
Muisti: 512 Mt tai enemmän
Kiintolevy: 150 Mt
Näytönohjain: 32-bittinen DirectX 7.0 -yhteensopiva tai parempi näytönohjain
DirectX®: 7.0
Järjestelmävaatimukset (MAC)
Käyttöjärjestelmä: OS X -versio Leopard 10.5.8, Snow Leopard 10.6.3, tai uudempi.
Prosessori: 1.6 GHz tai parempi
Muisti: 512 Mt tai enemmän
Kiintolevy: 150 Mt
Järjestelmävaatimukset (Linux)
OS: 32-bit Ubuntu 6+ or Fedora 6 / Open Suse 10.2 / Mandriva 2007 (Kernel 2.6, GLIB 2.4, GTK 2)
Processor: 1.6 GHz
Memory: 512 MB
Hard Drive: 130 ΜΒ
Hyödylliset arvostelut
Nimi:
The Clockwork Man
Lajityyppi:
Indie
,
Rennot
Kehittäjä:
Total Eclipse
Julkaisija:
Total Eclipse
Julkaisupäivä:
10. elo, 2011
Kielet:
| | Käyttöliittymä | Puhe | Tekstitykset |
| --- | --- | --- | --- |
| englanti | | | |
| hollanti | | | |
| ranska | | | |
| saksa | | | |
| italia | | | |
| japani | | | |
| korea | | | |
| portugali | | | |
| espanja | | | |
| ruotsi | | | |
Näytä kaikki 10 tuettua kieltä