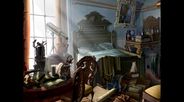 Explore a fantastic vision of the Victorian era in The Clockwork Man, an epic hidden-object game.
Utgivelsesdato: 10. aug, 2011
Se HD-video
Pakker som inkluderer dette spillet
Kjøp The Clockwork Man Bundle
Includes: The Clockwork Man and The Clockwork Man: The Hidden World
Om spillet
Utforsk en fantastisk visjon av viktoriatiden i The Clockwork Man, et episk skjult objekt-spill. Ved århundreskiftet, i en alternativ tidslinje, har damp-drevet teknologi blitt dominerende i nesten alle samfunnslag.
Miranda Calomy, den siste i en lang linje av ingeniører og oppfinnere, har alltid hatt en evne til kreativ problemløsning. Når et merkelig brev fra bestefaren hennes ankommer leiligheten hennes i London, legger Miranda vekk planene og legger ut på et globalt eventyr. Kan hun klare å samle sammen delene til verdens største oppfinnelse før det er for sent?
Bli med Miranda og Sprocket på en fantastisk reise av skjulte objekt-utfordringer og forvirrende puslespill i en Steampunk-setting
Nøkkelfunksjoner:
Nydelig scrolling & zoombare scener
Hundrevis av håndtegnede viktorianske gjenstander
Eventyr- & logikk-puslespill
Et innovativ hint-system : Sprocket, roboten!
Spill favorittbanene dine om og om igjen med Freeplay-modus
Objektenes posisjoner endres på gjenspilling.
Atmosfærisk musikkspill og stemmeskuespill.
Systemkrav (PC)
OS: Windows XP, Vista, 7
Processor: 1.6 GHz or better
Memory: 512 MB or more
Hard Disk Space: 150 MB
Video Card: 32-bit DirectX 7.0 compatible video card or higher
DirectX®: 7.0
Systemkrav (MAC)
OS: OS X version Leopard 10.5.8, Snow Leopard 10.6.3, or later.
Processor: 1.6 GHz or better
Memory: 512 MB or more
Hard Disk Space: 150 MB
Systemkrav (Linux)
OS: 32-bit Ubuntu 6+ or Fedora 6 / Open Suse 10.2 / Mandriva 2007 (Kernel 2.6, GLIB 2.4, GTK 2)
Processor: 1.6 GHz
Memory: 512 MB
Hard Drive: 130 ΜΒ
Hjelpsomme kundeanmeldelser
Tittel:
The Clockwork Man
Sjanger:
Indie
,
Avslappet
Utvikler:
Total Eclipse
Utgiver:
Total Eclipse
Utgivelsesdato:
10. aug, 2011
Språk:
| | Grensesnitt | Full lyd | Teksting |
| --- | --- | --- | --- |
| Engelsk | | | |
| Nederlandsk | | | |
| Fransk | | | |
| Tysk | | | |
| Italiensk | | | |
| Japansk | | | |
| Koreansk | | | |
| Portugisisk | | | |
| Spansk | | | |
| Svensk | | | |
Se alle 10 støttede språk