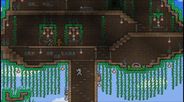 Dig, fight, explore, build! Nothing is impossible in this action-packed adventure game. Four Pack also available!
Release Date: May 16, 2011
Watch all 3 trailers
Buy Terraria 4-Pack
Includes four copies of Terraria - Send the extra copies to your friends
September 13
Good day Terrarians!

We are very excited to announce the unveiling of the new Terraria.org – the Official Site for Terraria! Much as 1.2 evolved Terraria in a big way, the team has worked tirelessly to transform the more basic site we have had since launch into a more immersive experience that truly represents the world of Terraria.

Come check out the new look at http://terraria.org/, and pick up some prelaunch information about our new Official Terraria Community Forum while you are there – which is coming soon!
100 comments
Read more
May 15
Greetings Terrarians! Version 1.2.4.1 is now out. This is mostly bug fixes from the last update. You can read more about it @ http://www.terrariaonline.com/threads/1-2-4-1-changelog.145100/
295 comments
Read more
About the Game
Dig, Fight, Explore, Build: The very world is at your fingertips as you fight for survival, fortune, and glory. Will you delve deep into cavernous expanses in search of treasure and raw materials with which to craft ever-evolving gear, machinery, and aesthetics? Perhaps you will choose instead to seek out ever-greater foes to test your mettle in combat? Maybe you will decide to construct your own city to house the host of mysterious allies you may encounter along your travels?
In the World of Terraria, the choice is yours!
Blending elements of classic action games with the freedom of sandbox-style creativity, Terraria is a unique gaming experience where both the journey and the destination are completely in the player's control. The Terraria adventure is truly as unique as the players themselves!
Are you up for the monumental task of exploring, creating, and defending a world of your own?
Key features:
Sandbox Play

Randomly generated worlds

Free Content Updates

System Requirements
OS: Windows Xp, Vista, 7

Processor: 1.6 Ghz

Memory: 512MB

Hard Disk Space: 200MB

Video Card: 128mb Video Memory, capable of Shader Model 1.1

DirectX®: 9.0c or Greater

Helpful customer reviews