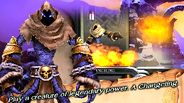 This role-playing game, set in an alternate medieval Europe, combines poker mechanics with power ups and collectible cards.
Ημερομηνία κυκλοφορίας: 20 Ιουλ 2011
Δείτε βίντεο υψηλής ευκρίνειας
Σχετικά με το παιχνίδι
Runespell: Overture είναι ένα παιχνίδι ρόλων το οποίο συνδιάζει τεχνικές ποκερ με ενδυναμώσεις και συλλεκτικές κάρτες. Ο κόσμος τίθεται σε μια διαφορετική μεσαιωνική Ευρώπη συνδέοντας ιστορικούς χαρακτήρες με την Σκανδιναβική μυθολογία και Σάγκα. Ο παίκτης παίρνει τον ρόλο του Changeling , γιο ενός τερατώδης θεού , στην αναζήτηση του για την νέμεση του.
Κύρια Χαρακτηριστικά:
Καινοτόμων και μυθικό σύστημα χρησιμοποιώντας τεχνικές ποκερ για να αντιμετώπησει τους αντιπάλους του.
Ξεκλίδωσε ενδυναμώσεις και ειδικές κινήσεις , οι οποίες είναι διαθέσιμες ως συλλεκτικές κάρτες στο παιχνίδι.
Συνδύασε στις ικανότητες σου σε μικρές εκρήξεις ενεργού παχνιδιού ή μεγάλες περιόδους αναζητήσεων και μαχών.
Νίκησε περισσότερα από 30 τύπους τεράτων , το καθένα με μια μοναδική κάρτα και μοναδικό τρόπο επίθεσης
Νίκησε εχθρούς και κάνε τους κατοικίδια ή συμμάχους σου.
Ξεκλίδωσε νέες τοποθεσίες μαχών αναζητώντας.
Ανάμιξη όμορφων , βαμμένων με το χέρι σκηνικών και υποβλητικών 3D χαρακτήρων.
Μια επιτακτική και ιδιόμορφη ιστορία σε μια διαφορετική μεσαιωνική Ευρώπη.
Τοπική και διαδικτυακή κατάταξη.
20 Έπαθλα Steam.
Απαιτήσεις συστήματος PC
OS: XP / Vista / 7
Processor: 2 GHz Intel Pentium 4 / AMD Athlon 64
Memory: 1GB RAM
Hard Disk Space: 350 MB
Video Card: 256 MB Shader Model 2.0 (Geforce 6 series, Radeon X1000 series)
DirectX®: DirectX® 9.0c
Sound: DirectX® 9.0c compatible sound card
Απαιτήσεις συστήματος Mac
OS: OS X version Snow Leopard 10.6.3, or later
Processor: 1.8 GHz Intel CPU
Memory: 1 GB RAM
Hard Disk Space: 350MB
Video Card: GMA 950 or Dedicated Video Card w/ 128MB of Video Memory and Shader Model 2.0
Χρήσιμες κριτικές χρηστών