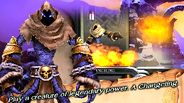 This role-playing game, set in an alternate medieval Europe, combines poker mechanics with power ups and collectible cards.
Data de lançamento: 20/jul/2011
Assistir ao vídeo em HD
Sobre o jogo
Runespell: Overture é um jogo de RPG que combina as mecânicas de pôquer com melhorias e cartas colecionáveis. O mundo se passa em uma Europa medieval alternativa, ligando personagens históricos com mitologia Nórdica e sagas. O jogador toma o papel de Changeling, o filho de um deus monstro, na busca do seu nêmesis.
Recursos-Chave:
Inovador sistema de pôquer mítico, usando mecânicas do pôquer para lutar contra seus oponentes
Desbloqueie melhorias e ataques especiais, disponíveis como cartas colecionáveis no jogo
Combine suas habilidades em pequenas partidas de jogo ativo ou longas sessões de jornadas e batalhas
Derrote mais de 30 tipos de monstros, cada qual com cartas e estilos de ataque únicos.
Derrote inimigos e faça deles seus animais ou aliados.
Desbloqueie novos locais de batalha por meio de jornadas
Mistura de belos panos de fundo e evocativos personagens em 3D
Uma história persuasiva e original, passada em uma Europa medieval alternativa
Placar local e online
20 Conquistas do Steam
Requisitos do sistema – PC
OS: XP / Vista / 7
Processor: 2 GHz Intel Pentium 4 / AMD Athlon 64
Memory: 1GB RAM
Hard Disk Space: 350 MB
Video Card: 256 MB Shader Model 2.0 (Geforce 6 series, Radeon X1000 series)
DirectX®: DirectX® 9.0c
Sound: DirectX® 9.0c compatible sound card
Requisitos do sistema – Mac
OS: OS X version Snow Leopard 10.6.3, or later
Processor: 1.8 GHz Intel CPU
Memory: 1 GB RAM
Hard Disk Space: 350MB
Video Card: GMA 950 or Dedicated Video Card w/ 128MB of Video Memory and Shader Model 2.0
Análises úteis de usuários