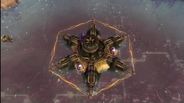 En tant que commandant d'un destroyer, mener vos troupes au combat en surface comme sous les océans !
Date de parution: 25 mai 2011
Visionner la vidéo HD
À propos du jeu
Dans un univers fantastique victorien, la guerre fait rage entre des super-puissances industrielles. En tant que capitaine d'un destroyer, il est de votre devoir de détruire les unités ennemies dans une vaste campagne. Si vous souhaitez être vainqueur, vous devez mener vos troupes et combattre les vagues d'assaut ennemies.
Comprend :
Destructif : De nombreuses armes avec leurs améliorations
Compréhensif : Grande variété d'unités ennemies avec vaisseaux, sous-marins, avions et véhicules futuristes
Explosif : Mesurez-vous à vos amis en mode multijoueur ou jouez avec eux contre l'ordinateur en mode coopération
Impressionnant : Une histoire ciselée avec des graphismes sensationnels et des scènes cinématographiques pour un maximum de plaisir
Configuration requise
Système d'exploitation : Windows XP SP3, Windows Vista, Windows 7
Processeur : Intel ou AMD double-cœur (1.9 GHz) ou meilleur
Mémoire vive : 2 Go de RAM
Disque dur : 1.5 Go d'espace disque
Carte graphique : NVIDIA Geforce GTS250 / ATI Radeon HD4800 ou meilleure
DirectX® : DirectX 9.0c
Son : Compatible DirectX 9.0c
© Games Distillery s.r.o. All rights reserved. © 2011 Just A Game GmbH. All rights reserved. All brand names and trademarks are property of their respective owners.
Évaluations intéressantes des utilisateurs