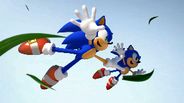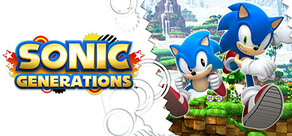 Vier 20 jaar Sonic in een compleet nieuw avontuur met een geweldige ervaring voor jonge en oude Sonic-fans!
Releasedatum: 3 nov 2011
HD-video bekijken
Pakketten die deze game bevatten
Sonic Hits Collection kopen
Bevat 17 items: Sonic & SEGA All-Stars Racing, Sonic 3D Blast™, Dr. Robotnik's Mean Bean Machine™, Sonic Spinball™, Sonic the Hedgehog, Sonic the Hedgehog 2, Sonic 3 and Knuckles, Sonic Adventure DX, Sonic Generations - Casino Nights DLC, Sonic CD, Sonic Generations, Sonic the Hedgehog 4 - Episode I, Sonic the Hedgehog 4 - Episode II, Sonic & All-Stars Racing Transformed, Sonic Adventure 2, SONIC ADVENTURE 2: BATTLE, Sonic and All-Stars Racing Transformed: Metal Sonic & Outrun DLC
Downloadbare inhoud voor dit spel
Info over het spel
Sonic Generations, de ultieme viering van 20 jaar Sonic-gaming, geeft de definitieve ervaring voor nieuwe en oude Sonic-fans.
Sonics universum wordt in een chaos geworpen wanneer een mysterieuze nieuwe kracht tevoorschijn komt en 'time holes' creëert die Sonic en zijn vrienden terug de tijd innemen. Terwijl ze daar zijn, ontmoet Sonic een paar karakters van zijn verleden waaronder een jongere versie van hemzelf! Nu moeten ze samenwerken om hun vijanden te verslaan, hun vrienden te redden, en uit te vinden wie hier allemaal achter zit.
Belangrijkste kenmerken:
Twee keer zoveel lol - Speel als Classic Sonic en Modern Sonic in de ultieme Sonic-ervaring. Beheers de bewegingen van elk karakter als ze door elke omgeving heen racen op speciaal voor hun ontworpen parcoursen.

De beste beetjes zijn nog beter geworden - Iconische omgevingen van gamegeschiedenis komen tot leven in prachtig HD voor het ultieme Sonic-avontuur, waarvan elk opnieuw bekeken, nagemaakt en herdacht is met verbazingwekkende resultaten.

Splinternieuwe ervaring - Speel sommige van gamings meest iconische omgevingen op een nieuwe manier met beroemde Sonic-levels gepresenteerd in prachtig nieuw stereoscopisch 3D.

Ontgrendel nieuwe avonturen - Nadat je elk level hebt verslagen en Sonics vrienden hebt bevrijdt, kan je teruggaan een meer uitdagingen aangaan met hen aan je zij.

Beruchte bazen en rivalen - Strijd tegen een paar van de meest beruchte karakters van Sonics verleden terwijl je vecht voor ultieme oppermacht.

Beheers je bewegingen - Beheers Classic Sonics beroemde spin-dash-aanval en gebruik Modern Sonics 'Boost' terwijl je splinternieuwe parcoursen voltooit.
Systeemeisen
Minimum:


OS: Microsoft Windows 7/Vista/XP

Processor: Intel Pentium Dual-Core T4200 (2x2.0GHz) or AMD equivalent

Memory: 2GB RAM (XP)/3GB RAM (Windows 7 / Vista)

Graphics: NVIDIA GeForce 8800 (512MB) / ATI Radeon HD 2900 (512MB)

DirectX®:

Hard Drive: 11 GB free hard drive space

Sound:

Recommended:


OS: Microsoft Windows 7

Processor: Intel Core i5 @ 2.66 GHz / AMD Phenom II X4 @ 3.0 GHz

Memory: 3GB RAM

Graphics: NVIDIA GeForce GTX 460 (1GB) / ATI Radeon HD 5850 (1GB)

DirectX®:

Hard Drive: 11 GB free hard drive space

Sound:

© SEGA. SEGA, the SEGA logo and SONIC GENERATIONS are either registered trademarks or trademarks of SEGA Corporation. All rights reserved.
Nuttige klantrecensies