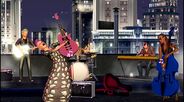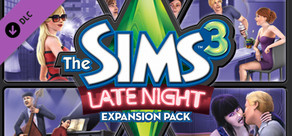 Tämä sisältö vaatii emopelin The Sims™ 3 Steamissä toimiakseen.

Julkaisupäivä: 26. loka, 2010
Katso HD-video
Lisäsisältö
Tämä sisältö vaatii emopelin The Sims™ 3 Steamissä toimiakseen.
Osta The Sims 3 Late Night
Tietoja pelistä
Saa Simillesi VIP-lippu kaupungin kuumimpiin menomestoihin. Kiemurteletpa julkkisten ympärillä tai nautitpa rennosta illasta kavereidesi kanssa, Simisi saa potkua sosiaaliseen elämäänsä! Mutta pidä mielessä, että kaikkiin paikkoihin ei noin vain päästä, joten varmista, että Simisi omaa hyvät yhteydet kaupungin kermaan päästäkseen portsareiden ohi drinksubaareihin. Minne ikinä Simisi meneekin, hän löytää elämälleen uuden suunnan - ihailtuna julkkiksena, kovan luokan bilehileenä, karskina bändiläisenä tai seksikkäänä vampyyrinä. Mikä puoli Simistäsi paljastuukaan pimeän tullen?
Avainominaisuudet:
Hengaa kaupungin kuumimmissa menomestoissa, lähibaareista tanssikerhoihin, ja sieltä aina klubien aateliin, unohtamatta portsareita.
Saa mainetta ja kunniaa bändin jäsenenä, mehumestarina, ohjaajana tai lööppijulkkiksena.
Tutki kaupungin pimeitä puolia yön pimeydessä ja saatat tahtomattasi päätyä vampyyrin pimeään elämään.
Ansaitse pääsy parhaimpiin paikkoihin ja nauti julkisuuden eduista, kuten kattohuoneistoista, luksusporeammeista ja -autoista.
Online Disclaimer:
INTERNET CONNECTION AND ACCEPTANCE OF END USER LICENSE AGREEMENT REQUIRED TO PLAY THE SIMS 3 DIGITAL DOWNLOAD PRODUCT. ACCESS TO ONLINE SERVICES REQUIRES AN INTERNET CONNECTION, EA ACCOUNT AND GAME REGISTRATION WITH THE PROVIDED ONE-TIME USE SERIAL CODE. REGISTRATION IS LIMITED TO ONE EA ACCOUNT PER SERIAL CODE AND IS NON-TRANSFERABLE. EA ONLINE PRIVACY POLICY AND TERMS OF SERVICE CAN BE FOUND AT www.ea.com. YOU MUST BE 13+ TO REGISTER FOR AN EA ACCOUNT. MAC USERS MUST UPDATE TO THE LATEST VERSION OF THE SIMS 3 LAUNCHER TO ACCESS ONLINE SERVICES, INCLUDING SIMPOINTS AND DOWNLOADS. INCLUDES SOFTWARE THAT COLLECTS DATA ONLINE NECESSARY TO PROVIDE AND ACTIVATE IN-GAME ADVERTISING FOR ALL THE SIMS 3 PRODUCTS PREVIOUSLY OR HEREAFTER INSTALLED.
EA MAY RETIRE ONLINE FEATURES AFTER 30 DAYS NOTICE POSTED ON www.ea.com/2/service-updates.
Järjestelmävaatimukset
OS: XP SP2 / Vista SP1 / Windows 7
Processor: For XP 2.0 GHz P4 processor or equivalent; For Windows Vista and Windows 7 2.4 GHz P4 processor or equivalent
Memory: For XP 1 GB RAM / Windows Vista and Windows 7 1.5 GB RAM*
Graphics: 128 MB Video Card with Pixel Shader 2.0 support.
DirectX®:
Hard Drive: At least 500 MB** of free space with at least 1 GB of additional space for custom content and saved games.
Sound:
Supported Video Cards: Nvidia GeForce series: FX5900 or better, and all NVidia G, GT, GTS, and GTX video cards. ATI Radeon™ series card 9500 series or better, X300, X600, X700, X800, X850, X1300, X1600, X1800, X1900, X1950, 2400, 2600, 2900, 3450, 3650, 3850, 3870, 4850, 4870, 4890 series or better; Intel® Graphics Media Accelerator (GMA): GMA 3-Series, GMA 4-Series * For NVIDIA ION™ computers, the game requires at least 2.0 GB RAM. ** 9.6 GB of hard drive space if installing with The Sims 3. Please note that the GeForce 6100 and 7100 cards are not supported. The NVIDIA GeForce FX series is unsupported under Vista.
Tälle tuotteelle ei ole vielä julkisia arvosteluja
Voit kirjoittaa tälle tuotteelle arvostelun jakaaksesi kokemuksesi yhteisön kanssa. Käytä tällä sivulla ostamispainikkeiden yläpuolella olevaa kenttää kirjoittaaksesi arvostelusi.