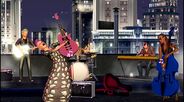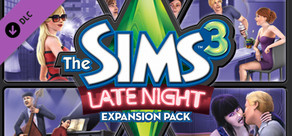 Om dit spel te kunnen spelen moet je het originele spel The Sims™ 3 hebben.

Releasedatum: 26 okt 2010
HD-video bekijken
Downloadbare inhoud
Om dit spel te kunnen spelen moet je het originele spel The Sims™ 3 hebben.
The Sims 3 Late Night kopen
Info over het spel
Get your Sims an all-access pass to the hottest spots in town. Whether they mingle with celebrities or enjoy a casual night with friends, your Sims' social lives are getting a boost! But keep in mind that some scenes are more exclusive than others, so make sure your Sims have the right connections to get past the bouncers at the hottest clubs. Wherever your Sims go, they'll discover new things to become—adored celebrities, all-night partiers, rowdy bandmates, or sexy vampires. What will your Sims get up to after dark?
Key features:
Hang out at the hottest spots in town, from dive bars to dance clubs to chic lounges, complete with bouncers.
Gain fame and fortune as a member of a music band, mixologist, director, or local celebrity.
Explore certain areas of town in the thick of the night and you may be initiated into the dark life of a vampire.
Gain access to exclusive areas and enjoy celebrity perks like penthouse living, luxury hot tubs and cars.
Online Disclaimer:
INTERNET CONNECTION AND ACCEPTANCE OF END USER LICENSE AGREEMENT REQUIRED TO PLAY THE SIMS 3 DIGITAL DOWNLOAD PRODUCT. ACCESS TO ONLINE SERVICES REQUIRES AN INTERNET CONNECTION, EA ACCOUNT AND GAME REGISTRATION WITH THE PROVIDED ONE-TIME USE SERIAL CODE. REGISTRATION IS LIMITED TO ONE EA ACCOUNT PER SERIAL CODE AND IS NON-TRANSFERABLE. EA ONLINE PRIVACY POLICY AND TERMS OF SERVICE CAN BE FOUND AT www.ea.com. YOU MUST BE 13+ TO REGISTER FOR AN EA ACCOUNT. MAC USERS MUST UPDATE TO THE LATEST VERSION OF THE SIMS 3 LAUNCHER TO ACCESS ONLINE SERVICES, INCLUDING SIMPOINTS AND DOWNLOADS. INCLUDES SOFTWARE THAT COLLECTS DATA ONLINE NECESSARY TO PROVIDE AND ACTIVATE IN-GAME ADVERTISING FOR ALL THE SIMS 3 PRODUCTS PREVIOUSLY OR HEREAFTER INSTALLED.
EA MAY RETIRE ONLINE FEATURES AFTER 30 DAYS NOTICE POSTED ON www.ea.com/2/service-updates.
Systeemeisen
OS: XP SP2 / Vista SP1 / Windows 7
Processor: For XP 2.0 GHz P4 processor or equivalent; For Windows Vista and Windows 7 2.4 GHz P4 processor or equivalent
Memory: For XP 1 GB RAM / Windows Vista and Windows 7 1.5 GB RAM*
Graphics: 128 MB Video Card with Pixel Shader 2.0 support.
DirectX®:
Hard Drive: At least 500 MB** of free space with at least 1 GB of additional space for custom content and saved games.
Sound:
Supported Video Cards: Nvidia GeForce series: FX5900 or better, and all NVidia G, GT, GTS, and GTX video cards. ATI Radeon™ series card 9500 series or better, X300, X600, X700, X800, X850, X1300, X1600, X1800, X1900, X1950, 2400, 2600, 2900, 3450, 3650, 3850, 3870, 4850, 4870, 4890 series or better; Intel® Graphics Media Accelerator (GMA): GMA 3-Series, GMA 4-Series * For NVIDIA ION™ computers, the game requires at least 2.0 GB RAM. ** 9.6 GB of hard drive space if installing with The Sims 3. Please note that the GeForce 6100 and 7100 cards are not supported. The NVIDIA GeForce FX series is unsupported under Vista.
Er zijn nog geen openbare recensies voor dit product
Je kunt je eigen recensie voor dit product schrijven om je ervaring met de community te delen. Gebruik het gebied boven de aankoopknoppen op deze pagina om je recensie te schrijven.