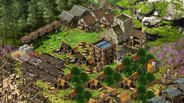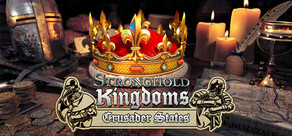 Live the life of a medieval lord in Stronghold Kingdoms, the world's first persistent Castle MMO.
Release Date: Feb 27, 2012
Watch HD video
Downloadable Content For This Game
September 4
New Outfits Added!
Sire, I have some troubling news. Your peasants have had the gall to discuss your current attire amongst themselves... Rumour has it that your majestic clothing is outdated! While we of course disagree with such contumelious talk and would rather have everyone hanged, we do need workers. So we have ordered some new clothes for you to try on, my Lord! The newest Stronghold Kingdoms updates adds 29 unseen garments and accessories to your wardrobe, bringing new style to the Kingdom! Entertain your sedulous and loyal troops by wearing turquoise bunny ears on the battlefield, let a scar across your battle-hardened face send shivers of terror through your enemies' veins or demonstrate your fearlessness by walking on a bed of ravaging flames. Create one of 4,608 new avatars as you please (Not counting colour variations) or let us put together a random unique outfit for you to try on.
With larger updates scheduled for the next few months we are thankful for your continued support, providing us with a steady flow of new ideas and suggestions. Don't forget to visit the forums and submit your unique suggestions and make your mark on the Kingdoms experience, allowing you to be an active participant in the transformation of our Castle MMO. We already have a list of surprises lined up for you, large and small, which we can't wait to share!
Players can discuss the new update here -
Update Forum Thread
3 comments
Read more
August 29
USA 2
We have opened a new game world accurately recreating a quasi-medieval present day map of North America! Players from all across the Kingdom are invited to start their adventurous First Age journey through
USA 2
, one of the largest maps in
Stronghold Kingdoms
. Join thousands of other settlers seeking control over an untouched piece of American paradise and battle your way to glory, making the most of what the land has to offer along the way. Grow your population, raise an unstoppable army and seat yourself on one of 11 in-game thrones.
With more than 10 unique world maps based on the real world geography of more than 40 countries within Europe and the Americas,
USA 2
continues
Stronghold Kingdoms
' tradition of allowing players to expand their virtual empire in a familiar environment and settle close to their real life homes. The addition of a new USA server allows both new and experienced players to settle in a yet unpopulated world and take control over 11 different kingdoms, stretching from the shores of Pennsylvania to the grand Sierra Nevada in California.
Fair conquering, My Lord!
2 comments
Read more
About the Game
Update 14: Strategy Cards
More than 20 new strategy cards have been added to Stronghold Kingdoms. Aimed at both new and veteran players, our August update affects all areas of gameplay from taxation to honour and warfare. These new cards, which can either be bought or acquired through gameplay, come in a variety of different flavours. Heavy Haulage boosts production of raw materials, Super Tax provides access to extra tax bands and Renown Philosopher instantly completes a large amount of research. Whether you're a card collector aiming to complete the Kingdoms deck or a warlord looking to deliver the killing blow, this new update has something for everyone.
Improvements have also been made to the attacks system, allowing players to set a list of rival targets through the world map and prepare more effectively timed attacks. Finally a Shield of the Week gallery has been created on the official Stronghold Kingdoms website, collecting and immortalising the years of work players have put into their in-game Coat of Arms.
Game Description
Live the life of a medieval lord in Stronghold Kingdoms, the world's first persistent castle MMO. A unique PC Strategy game, Stronghold Kingdoms brings together online interactivity and community, with a richly-depicted medieval world and thousands of real world players.
Besiege the castle that's never been taken, overthrow ruthless tyrants, bankroll your faction's war effort, pillage your neighbour's resources, peacefully raise cattle or do it all! A range of stats, rankings and achievements gives every player something to aim for, from 'Banquet King' and 'Peacebringer' to 'Besieger of the Month' and 'Lionheart'! Factions, elections, liege lords and their vassals all provide a real sense of structured community, with many different ways to chat with other players, discuss strategies and build allegiances.
While an impregnable castle should be at the heart of any lord or lady's domain, you can also specialise with a vast research tree. Starting as a humble peasant, each promotion brings with it valuable research points to spend on trading, diplomacy, warfare, farming, religion and more. Be aware though, as your power grows so does your responsibility. Your vassals and parishioners will look to you for guidance and leadership. You may find yourself fighting for the crown itself!
Key Features
Build Your Online Stronghold – Crush the invading hordes with impenetrable castle defences. Then launch a counterattack!

Plot the Perfect Village – Plan your village layout, arrange buildings for maximum productivity and watch it come to life.

Explore a Vast Research Tree – Are you a farmer, trader, diplomat or warlord? Research new technology to specialise and gain the edge.

Fight For Your Faction – Join a faction, attack its enemies and return triumphant with their captured banners!

Play for Free! – Stronghold Kingdoms is free to play, so no subscription or upfront payment is required.
System Requirements
OS: Windows XP SP2, Windows Vista SP1 or Windows 7 (Windows Update Recommended)

Processor: 1GHz or Faster

Memory: 512Mb RAM for Windows XP (1GB for Windows Vista & 7)

Hard Disk Space: 150 Mb of Hard Drive Space

Video Card: DirectX 9 Compatible Graphics Card

©2014 FIREFLY STUDIOS LIMITED. All rights reserved. Stronghold Kingdoms and FIREFLY STUDIOS LIMITED are trademarks or registered trademarks of FIREFLY HOLDINGS LIMITED.
Helpful customer reviews