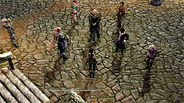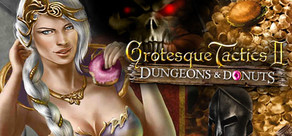 In dieser Fortsetzung zum ausgezeichneten RPG-Parodiespiel 'Grotesque Tactics' werden Sie eine ironisches RPG mit humorvollen Dialog-Puzzlen im Stil von Monkey Island vorfinden.
Veröffentlichung: 21. Nov. 2011
HD-Video ansehen
Pakete, die dieses Spiel enthalten
Über das Spiel
Grotesque Tactics 2: Dungeons & Donuts ist der Nachfolger zur gefeierten Rollenspiel-Parodie Grotesque Tactics. Erleben Sie ein ironisches, handlungsorientiertes Rollenspiel mit humorvollen Dialogen im Stil von Monkey Island, als auch ein strategisches Kampfsystem, in dem Gruppenmitglieder gleichzeitig kontrolliert werden.
Unsere Geschichte beginnt, als die Bürger des Kingdom of Glory ihren Sieg über die Dark Church feiern. Während sie in den Katakomben ihrer ehemaligen Feinde den Sieg feiern, werden sie von einem plötzlich auftauchenden Nebel gestört. Bürger, die von diesem Nebel verschlungen werden, verschwinden schreiend im Nichts. Diejenigen, die diesen seltsamen Angriff überlebten, verbarrikadieren sich in den Tiefen der Katakomben. Während die Zeit vergeht wird das Essen rar und die Einwohner des Kingdom of Glory beginnen zu realisieren, das ihr Ableben unmittelbar bevor steht. Die 'heldenhaften' Knights of Glory, die zwielichtigen Söldner und die arroganten Hochelfen verbinden sich zu Gilden, um die nasskalten Katakomben zu überleben. Dummerweise sind die Gilden viel zu sehr auf ihre Abneigung zueinander konzentriert und sind sich des Erwachen dunkler Mächte in den umliegenden Verließen nicht bewusst…
Besondere Eigenschaften:
Erleben Sie spannende, tödliche und manchmal humorvolle Kämpfe.
Verbünden Sie sich mit Kampfgenossen und gründen Sie Ihre eigene Gilde, sodass Sie mächtige Endgegner besiegen können.
Spielen Sie Babysitter, in dem Sie Streit zwischen Ihren Gruppenmitgliedern schlichten, so dass Sie den Gegner mit vereinten Kräften stellen können und sich nicht gegenseitig angreifen.
Jedes Gildenmitglied hat einen Talentbaum, in dem Sie Fähigkeiten gemäß Ihrem Spielfortschritt verbessern und spezialisieren können.
Sie können zwischen drei verschiedenen Fraktionen wählen. Die Hochelfen, die Söldnergilde oder das Kingdom of Glory.
Jede Fraktion hat ihren eigenen alternativen Spielausgang, der durch Entscheidungen im Spiel beeinflusst wird.
Die Geschichte parodiert das Rollenspielgenre und weitere berühmte Spiele, wie beispielsweise Oblivion, Gothic oder der Herr der Ringe.
Werden Sie ein erfolgreicher Gildenmeister, indem Sie Gold sammeln und Ihr Ansehen Verbessern.
Nahrung ist die neue Währung – sammeln Sie Nahrung, lernen Sie zu Kochen und umwerben Sie Überlebende auf Ihre Seite mit köstlichen Gerichten wie der Hippie-Made, Spinnen-Salami oder dem Zombie-Cocktail!
Verschiedene Schwierigkeitsgrade stellen sicher, dass sowohl Anfänger als auch Profis das Spiel genießen werden.
Systemvoraussetzungen
Betriebssystem:Windows® XP / Vista™ / Windows® 7
Prozessor:2.0 GHz CPU
Speicher:1 GB
Festplatte:1 GB
Grafik:Direct X 9.0c kompatibel mit Shadermodel 2.0 (nVidia GeForce 5/FX/ATI Radeon 9500 Serien/ATI X700 oder besser)
Sound:Soundkarte mit DirectX 9.0c Unterstützung
DirectX®: DirectX® 9.0c
2011 © Meridian4. All rights reserved. Grotesque Tactics 2 – Dungeons and Donuts is a trademark of Silent Dreams. All rights reserved. All other trademarks and copyrights are the properties of their respective owners.
Hilfreiche Kundenreviews
Titel:
Grotesque Tactics 2 – Dungeons and Donuts
Genre:
Abenteuer
,
Strategie
,
RPG
,
Indie
Entwickler:
Silent Dreams
,
Headup Games
Publisher:
Meridian4
Veröffentlichung:
21. Nov. 2011
Sprachen:
| | Oberfläche | Ton | Untertitel |
| --- | --- | --- | --- |
| Deutsch | | | |
| Englisch | | | |