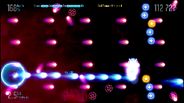 Zeit² brings a new twist to the traditional side-scrolling, 2D, shoot-'em-up game sporting a unique time travel feature never seen before in this genre.
Utgivningsdatum: 12 Jan 2011
Se HD-film
Om spelet
Zeit²™ is a traditional side-scrolling, 2D, shoot-'em-up game that brings unprecedented elements to the game experience. Zeit²'s unique time travel feature has yet to be seen in this genre even after decades of great games.
Intuitive controls allow players to move forward and backward in time making it possible for the player to combine shots and power, and even be assisted by a shadow version of yourself. Blast away swarms of enemies, get the highest score and discover how you can assist yourself in new exciting ways by warping time at will.
Key Features
Time Travel: Assist yourself and perform stunning moves by interacting with your time shadow when travelling back in time. Pace the game and gain extra points by speeding up time. Balance your time travel and life energy to master the game through 70 challenges.
8 Epic Bosses Battles: Discover the potential of your arsenal of powerful moves while fighting over a dozen different enemies and defeating the eight massive bosses.
Weapon Upgrades: Your main weapon can be upgraded three times and you will feel the striking force of your additional weapon systems including Beam-Shot, Chain-Shot and Shockwave. The bonus system gives you extra score multipliers as long as you don't miss out on shooting all enemies.
6 Challenging Game Modes: Go on a journey through 20 chapters of action and variety in the Arcade mode. Challenge others for the highest score in the other modes: Score Attack, Survival, Wave, Time Limit and Tactics. All modes are well integrated with leaderboards and unlockable achievements.
Easily accessible for the casual player and yet challenging for the hardcore gamer.
Systemkrav
Operativsystem: Windows XP, Vista, och 7
Processor: Minst 2.13 Ghz Intel Core 2 Duo eller motsvarande
Minne: 2GB
Grafik: Minst Geforce 79XX eller motsvarande med DirectX 9, Shader Model 3.0, 256 MB VRAM, VGA-upplösning
DirectX®: DirectX 9
Hårddisk: 1 GB ledigt diskutrymme
© 2010 Ubisoft Entertainment. All Rights Reserved. Zeit² logo, Ubisoft and the Ubisoft logo are trademarks of Ubisoft Entertainment in the US and/or other countries. Software platform logo (TM and ©) EMA 2006
Hjälpsamma kundrecensioner
3 av 3 personer (100%) fann denna recension hjälpsam
179 produkter på kontot
4 recensioner
4.2 timmar totalt
An exquisite rendition of a bioluminscent trip down neon lane. Quite expensive but in my opinion well worth the asking price. A quality title; slick, polished and demonstrates there is a whole lot more than learning enemy patterns. The time travelling element has been implemented well and adds to the dymanic bells and whilstles. Yes Sir/Madame, I wholeheartly loved my time spent with Zeit Squared.
2 av 2 personer (100%) fann denna recension hjälpsam
173 produkter på kontot
5 recensioner
4.7 timmar totalt
Ez to learn, hard to master...

Zeit 2 is a great game for just a few bucks, its fast paced arcade style gameplay reminds of alot of the old rail shooters back in the day of arcade gaming.

If you have a few mins to kill, or just want to test your reflexes, give Zeit 2 a try.