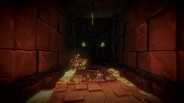 Dungeon-Crawling First Person Shooting at its finest! Fast-paced combat! Dozens of perks, spells and enemies! Level ups! Random Dungeons! Traps! Badass bosses! Carrots!
Release Date: Aug 14, 2014
Watch all 2 trailers
Early Access Game
Get instant access and start playing; get involved with this game as it develops.
Note: This Early Access game may or may not change significantly over the course of development. If you are not excited to play this game in its current state, then you may want to wait until the game progresses further in development. Learn more
What the developers have to say:
Why Early Access?
"We want to make sure that Ziggurat offers a balanced, varied and fun experience, so we are asking the community for opinions and feedback on the general game idea.

So far we have received lots of suggestions and many of them have already been added to the game, and we hope to receive even more!"
How long will this game be in Early Access?
"Our target is to stay on Early Access until mid Q4 2014. We don't have an specific date, we'll keep working on new game features, as well as improving the current ones based on community feedback.

Anyway, we plan to keep adding more content to the game on a regular basis once the game is finally released."
How is the full version planned to differ from the Early Access version?
"The full version will be more polished and balanced, and feature more content, but the core experience (movement, shooting, game structure) is well defined and won't change much.

Some examples of things we are working on: New enemies, perks and weapons, new room types, temporary power ups, combat modifiers..."
What is the current state of the Early Access version?
"The game is very stable (we may have skipped some bugs here and there), and most of its content is well balanced. It should be perfectly playable and enjoyable in its current state.

However, its still lacking some content compared to what we have in mind for the final release."
Will the game be priced differently during and after Early Access?
"The game price will be slighty lower during Early Access."
How are you planning on involving the Community in your development process?
"We're eager to listen to your suggestions in the forums, and will do our best to ensure Ziggurat ends up being an even greater game!

We are very active on the discussion forums and will try to keep a weekly update schedule, including also a small briefing of what we're working on." Read more
September 19
New update! The main changes are the new Shrine rooms, the state effects for some weapons, and new perks and amulets.


New room type: Shrine rooms. On these rooms, you may pray the gods for assistance, and offer a health / mana sacrifice.

Added state effects, such as freeze, poison, fire, etc. to some weapons.

New perks and amulets

Flying enemies now use pathfinding, they shouldn't get stuck that usually.

Increased the amount of perks initially unlocked.

Added more achievements.

Reduced a bit New Game+ difficulty

Changed "New Game+" to Hard, to better reflect its actual meaning.

Improved visuals of Skeletons.

Amulets have now its own 3D model.

Changed amulet icons on the HUD so they are similar to the weapon icons.

Improved boss intros with particle effects and sounds.

Added a few new rooms.

Fixed minor issues with the amulet HUD

Added new Lore texts
5 comments
Read more
September 12
This update fixes most issues found in the release from yesterday


Fixed "Out of breath" & "Adrenaline rush" room modifier texts being mixed up.

Fixed "Red/Blue/Green crystal" room modifier effect not working properly

Fixed "Doppleganger" room modifier effect not working properly

Fixed "Hatchery" room modifier effect causing for some enemies to stay out of attack distance.

Fixed pathfinding issues that caused FPS drops on the new bridge rooms

Sprint can be cancelled by pressing A/D (or equivalent)

Fixed character selection screen not working properly

Improved Shielded Skeleton graphics

Serpent Staff - Reduced a bit projectile speed, Increased a bit shot spread

Fire Mortar - Increased shot range

Skull of Xanatos - Decreased mana usage

Skeleton - Increased a bit threat value to match its actual performance

Red skeleton - Increased a bit threat value to match its actual performance

Shielded skeleton - His attack is now a bit faster (still easy to dodge if you have the space).
1 comments
Read more
About the Game

Dungeon-Crawling First Person Shooting at its finest! Fast-paced combat! Dozens of perks, spells and enemies! Level ups! Random Dungeons! Traps! Badass bosses! Carrots! Ziggurat is the best combination of FPS Shooter and Rogue-LITE you have ever seen.
Become a neophyte sorcerer, and get ready for your rite of passage: Enter the labyrinth and face dangerous challenges to prove your worth and become a powerful wizard!
The game features a dark fantasy setting, inspired in the classic games Heretic/Hexen, with original gameplay mechanics and unlockable weapons/perks that enhance replayability.

Fight allmighty bosses, get through rooms filled with traps, and treasures that may help you in your journey... Each game is a whole new experience!
Unlike most Rogue-thingies, on Ziggurat your combat skills will be the most important asset to keep advancing. Leveling up and random generated content is there to increase variety and make each game different, not to make the game a roll dice or an unbearable grind.
Most perks are designed to change the way you have to play or the weapons you'll want to use. Do you want more speed in exchange for less health, or maybe is better to have mana regeneration? Increase drop rate, or refill ammo here and now? No number game here, simple and direct choices.
We've also ensured that, as a proper FPS game, the experience is quick and direct. There's no inventory to manage or the need to compare two almost equal item drops, just weapon selection, and mana/health are usually the bargaining chip.
A whole arsenal of magic and alchemic weapons will be at your disposal. Wreak havoc among your enemies, but watch your mana reserves or you might regret it later!
Magic staves, spellbooks, magic wands... dozens of weapons with different attack strategies that help keeping the game fresh!
PC System Requirements
Minimum:


OS: Windows XP

Processor: Dual Core processor

Memory: 2 GB RAM

Graphics: DirectX 10 capable hardware

DirectX: Version 9.0c

Hard Drive: 800 MB available space
Recommended:


OS: Windows 7 or newer

Processor: Quad core processor

Memory: 4 GB RAM

Graphics: GeForce 460 or better

Hard Drive: 1 GB available space
Mac System Requirements
Minimum:


Memory: 2 GB RAM

Graphics: OpenGL 2 Graphics card

Hard Drive: 800 MB available space
Recommended:


Hard Drive: 1 GB available space
Linux System Requirements
Minimum:


OS: Ubuntu 12.10 or newer

Processor: Dual Core processor

Memory: 2 GB RAM

Graphics: OpenGL 2 Graphics card

Hard Drive: 800 MB available space
Recommended:


Processor: Quad Core Processor

Memory: 4 GB RAM

Graphics: GeForce 460 or better

Hard Drive: 1 GB available space
Helpful customer reviews
Title:
Ziggurat
Genre:
Action
,
Indie
,
RPG
,
Early Access
Developer:
Milkstone Studios
Publisher:
Milkstone Studios
Release Date:
Aug 14, 2014
Languages:
| | Interface | Full audio | Subtitles |
| --- | --- | --- | --- |
| English | | | |
| Spanish | | | |