The Escapists provides players the opportunity of experiencing a light-hearted insight into everyday prison life with the main objective being that of escaping!
Release Date: Aug 20, 2014
Watch all 2 trailers
Early Access Game
Get instant access and start playing; get involved with this game as it develops.
Note: This Early Access game may or may not change significantly over the course of development. If you are not excited to play this game in its current state, then you may want to wait until the game progresses further in development. Learn more
What the developers have to say:
Why Early Access?
"Early Access is the perfect fit for The Escapists! We've got all the lovely ingredients in there to mould it into a wonderful game and with continued commitment and listening to welcomed community feedback we know we'll produce something special."
How long will this game be in Early Access?
"By their very nature Early Access games don't have a set release date. The Escapists is already in a very playable state and plans are in place to add even more cool features. If you pressed me I'd say absolutely everything would be wrapped up by mid to end 2015."
How is the full version planned to differ from the Early Access version?
"The Early Access version of The Escapists includes an exclusive prison map - Fhurst Peak Correctional. The Early Access version and final release will be very different indeed. There'll be a ton more content, more escape routes, more crazy items, just more more and more! Oh, and a whole load more polish to boot."
What is the current state of the Early Access version?
"The current version is shaping up just nicely… We're pretty much at a point where we need players and feedback. Early access will allow us to sit and listen making future builds even better!"
Will the game be priced differently during and after Early Access?
"Yes, we're offering The Escapists at a special Early Access price as a thank you to all the inmates who start planning their route to freedom early."
How are you planning on involving the Community in your development process?
"Greatly… We're entirely open to any and all ideas. As far as The Escapists is concerned – it's all good. We'll be after all manner of ideas regarding the game as a whole and look forward to hearing from players. We'd like to encourage the community to be vocal - ideas matter and will help shape The Escapists into the best game we know it can be." Read more
September 10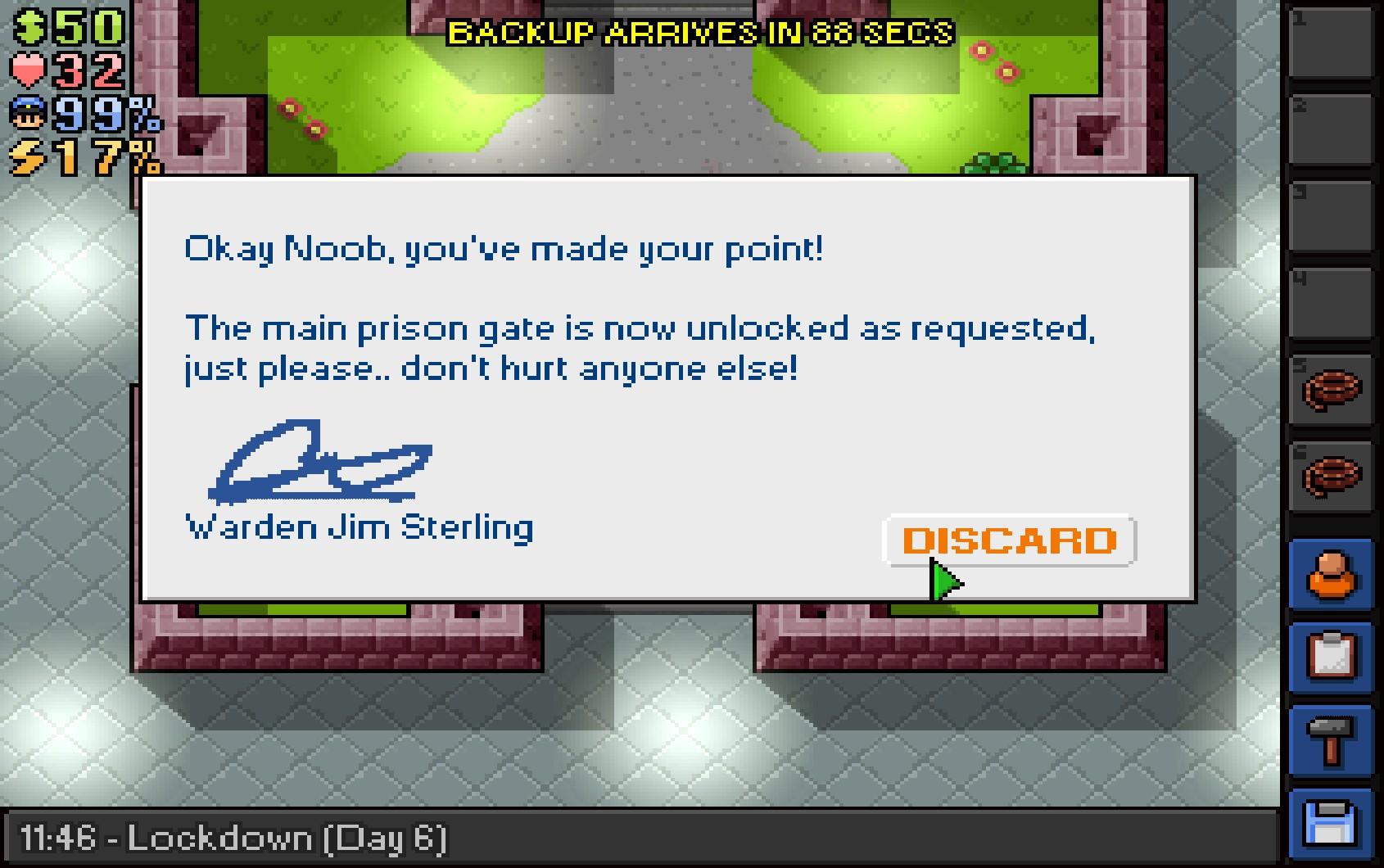 PRISONERS!

Warden MT17 here with another prison-wide update.

If you like this update, please Thumbs Up at the bottom of the announcement - that helps us get The Escapists onto all the best places on Steam!

Update #2 (build = 376911) adds a whole new prison for you to explore - Center Perks. This will be the very first prison in the game and security is extremely lax. If you've escaped Fhurst Peak you'll have no problem with this one at all. If you haven't managed it yet, this prison will teach you some of the basics.

We've also added new jobs for prisoners; help keep your jail-time germ free as a Janitor or deliver joy and fear as a mailman. But remember, you'll need to find a way to cause the currently employed inmate to hand in his notice....

You can read the full-blown changelog including tweaks and bug fixes over in the forums. Come and tell us about your escape plan!

MT17
53 comments
Read more
August 28


Prisoners!

A new update for The Escapists hits Steam today; holding new features, tweaks and bug fixes in custody. The full update details can be read and discussed here.

Here's the new stuff for those of you with a short sentence:

NEW: Remappable keys
NEW: Escape method: Take over the prison by knocking out all the guards!
NEW: Additional HUD icon appears showing amount of buddies following
NEW: Armoured outfits
NEW: 3 craftable outfits
NEW: Medikits item
NEW: inmates can now have weapons
NEW: Certain items increase underground light radius
NEW: Kitchen job active

Don't forget to thumbs up this announcement if you liked it, it helps us get exposure for The Escapists on Steam!

See you in the forums,

Mike_Team17
82 comments
Read more
Reviews
"The Escapists models the life of a prisoner fantastically, and provides the tools to live out your prison escape fantasy in a way that I haven't seen in a video game, ever. I highly recommend picking it up"
Indie Love

"As far as originality and fun factor go, The Escapists does a lot of things right, and things can only improve from hereon."
Hardcore Gamer

"The pixel art and excellent soundtrack do a great job in setting the atmosphere, and the game has a great base concept that encourages exploration and improvisation."
Strategy Informer

About the Game


The Escapists provides players the opportunity of experiencing a light-hearted insight into everyday prison life with the main objective being that of escaping! Players will have to keep in line and juggle their time sensibly as they form their personal plan of escape; working out potential routes to use as well as being incredibly smart and clever in using what seem like harmless items to craft and create various weaponry and escape tools which help aid the player in their ultimate goal of escaping.
Players are tasked with advancing their character's statistics through various means such as exercising regularly and ensuring to boost their intellect as well… Whilst remembering to attend roll call, hold down their job and keep the inmates on side if you're to be successful in trading with them and ultimately… Don't forget to escape!

2 Fully operational prisons complete with routines to give you a flavour of how it *really* is inside!

6 Separate job opportunities for you to sink your teeth into… If you have the knowledge to earn and hold down these employment paths of course!

100 + Unique Items for you to seek out and perhaps even craft useful items with. (Team17 fully endorse the use of various weapons such as 'shivs', 'nunchucks' and 'maces' – within a fictional setting of course!).

Various Favour types for you to tackle offered up by inmates – You wouldn't want to go upsetting them now, would you?

Highly opinionated and incredibly funny inmates and guards to keep you on your toes as well as providing entertainment!

Multiple escape routes for you to work out and achieve the title of 'The Escapist'!

Steam Leaderboard – Once you have escaped see how you fared against other successfully escaped players!
Prison Editor – Create from scratch your very own confinement masterpiece and share it with the community!

Differently laid out and themed prisons for you to attempt escaping from – including the P.O.W camp!

New items for you to track down and new craft-able items to work out!

More routes for you to figure out as you plot your escape!

More job roles to be provided for you to take up!

More customisation elements for your player avatar!

Increased number in save slots so you can have multiple escape attempts on the go!

System Requirements
Minimum:


OS: Windows XP

Processor: Dual Core CPU 2.4 gHz

Memory: 2 GB RAM

Graphics: Intel HD Graphics 4000, Nvidia GeForce 8000, ATI Radeon HD 4800 Series

Network: Broadband Internet connection

Sound Card: Windows Compatible Card

Additional Notes: In some instances, systems may require model specific drivers. If your system manufacturers no longer support hardware under this category, it may not be possible to run this title. Should this be the case, we are unable to assist you and recommend that you pursue support from your respective system manufacturer. This issue is most common in laptops and is prevalent with select products from most leading manufacturers.
The Escapists. Developed by Mouldy Toof Studios. © 2014. The Escapists and Mouldy Toof Studios are trademarks or registered trademarks of Mouldy Toof Studios. The Escapists published by Team17. © 2014. Team17 is a registered trademark of Team17 Digital Limited. All other trademarks, copyrights and logos are property of their respective owners.
Helpful customer reviews
Title:
The Escapists
Genre:
Action
,
Adventure
,
Indie
,
Simulation
,
Strategy
,
Early Access
Developer:
Mouldy Toof Studios
Publisher:
Team17 Digital Ltd
Release Date:
Aug 20, 2014
Languages:
| | Interface | Full audio | Subtitles |
| --- | --- | --- | --- |
| English | | | |
Awards