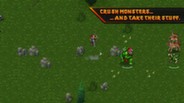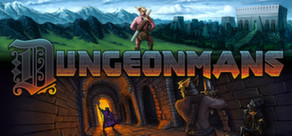 Crush monsters and get loots in the classic turn-based style of deep dungeons and high adventure! Grow the Dungeonmans Academy, a bastion of learning that expands as you play. Serious gameplay with a light-hearted atmosphere, combining the feel of history's great RPGs and dice-slinging adventures around the tabletop.
Release Date: May 28, 2014
Watch HD video
Early Access Game
Get instant access and start playing; get involved with this game as it develops.
Note: This Early Access game may or may not change significantly over the course of development. If you are not excited to play this game in its current state, then you may want to wait until the game progresses further in development. Learn more
What the developers have to say:
Why Early Access?
"Since the launch of the Kickstarter campaign in 2013, Dungeonmans has been an adventure that thrives and grows based on input and feedback from its players. As the project nears completion, I hope to engage more people in this process to help define and polish certain aspects of the game, specifically: UI and Gamepad Control, Steam Achievements, class balance, and what players feel would make the most rewarding end game and post-game content."
How long will this game be in Early Access?
"Ideally, the game will be in Early Access for a period of around three months. However, if the community feels that the game needs more time or polish, that time will be allowed."
How is the full version planned to differ from the Early Access version?
"In terms of gameplay, the full version will have gamepad control and ideally full Big Picture support, as well as a concrete progression structure where players can strive to achieve not only their own goals but a series of steps they can take to fight the greatest challenges and win the game. Design-wise, there are three dungeon locations that haven't been built, as well as the completion of high level enemies and weapons that aren't fully implemented yet. Finally, there's art content that needs to be upgrade and replaced, and the soundtrack will be completed as well."
What is the current state of the Early Access version?
"Playable and full of content! All the core classes are built and in-game, the Academy is full of function and can grow quite powerful. Enemies and loot abound, 80% of the overworld is ready to explore and there are dungeons, caves, roadblocks, towers, forest camps and swamps-- encounters everywhere!"
Will the game be priced differently during and after Early Access?
"The target price for the game is $15.00, both now and upon release."
How are you planning on involving the Community in your development process?
"The community has always been a part of the game. From a technical standpoint, there is a feedback window in game that allows players to point out in game issues without leaving the program. They can specify a category if they like, write whatever feedback they please, and even include an email address if they want a reply; the resulting feedback goes directly to my inbox. Steam statistics (and eventually, achievements) will be used to help guide and balance the economy and gear/stat progression over the levels. Finally, I've taken great care over the last ten months to be super accessible and engage with the fans, via Twitter, reliable Kickstarter/Website updates, and a weekly Twitch.TV stream where players can watch development live." Read more
Buy Dungeonmans
Early Access to Dungeonmans.
Buy Dungeonmans Champion Edition
Early Access to Dungeonmans, the Dungeonmans Soundtrack, and the Dungeonmans Almanac: a combination art book and game guide being developed alongside the game in Early Access.
Buy Dungeonmans - Champion Edition Upgrade
Upgrade to the Champion Edition and get Early Access to the Dungeonmans Soundtrack and the Dungeonmans Almanac: a combination art book and game guide being developed alongside the game.
July 15th, 2014
Dungeonmans Early Access build 1.3 Patch Notes
Hats and Gloves
Items have been added to the game that can be worn in your head slot, and hand slot.

Hats and Gloves do not count as any particular Armor type. There are no restrictions to wearing these items.

They do not (in most cases) provide Armor or Dodge.

Gloves are designed to help you hit harder. They can give additional Spellpower, Armor Penetration, or Defeat Parry and Block.

Hats are designed to support you in combat. They can lower the cost of spells, powers, and increase your base health.
Power Modifiying Items
Tech has been introduced that allows items and status effects to change the way your powers work.

This build has three such items, gloves that modify the behaviors of Bolt of Foom and Power Drive.

This will be a pretty important part of late game content, as it will allow for power progression outside of leveling up.
Temple Dungeons
Temples are massive dungeons built on one floor, full of traps and an extra helping of treasure.

Work your way around the outside ring to find the Temple Guardian and defeat them to access the inner sanctum, an area two levels higher in difficulty.

Temples contain traps which hurt both you and your enemies. Currently there are two trap types with more in the works.

There are lots of nooks and crannies in Temples, all of them full of Treasure Chests. Explore!

Temple bosses aren't functional yet, but there is a reward for reaching the center of a Temple.
Fallen Dungeonmens
You should be able to find the pyres of dead Dungeonmens in every dungeon location now.

More than one pyre will be available in a given dungeon floor if you have multiple deaths there.

Every dead Dungeonmans should be recoverable! If you find this is not the case, please let me know what the circumstances are.
Ice Blocks
Conjure Ice Block now conjures a cross-shaped collection of ice blocks! Blocking enemy advances will be much easier.

Enemies can now attack Ice Blocks and other obstacles in an effort to get through to you.
Other Changes
Fix for certain Dungeonmans grave monuments not drawing correctly, and ghosts not drawing correctly.

Barricades no longer bleed, and shooting them with arrows doesn't cause the arrow to fly off into 0,0.

Crash from Big Bamf in overworld fixed.

Lots of little fiddly edge cases and typos fixed.
3 comments
Read more
About the Game
Crush monsters and get loots in the classic turn-based style of deep dungeons and high adventure! Serious gameplay surrounded by a light-hearted atmosphere, designed to evoke the feel of history's great RPGs and dice-slinging adventures around the tabletop.
True roguelike adventure: turn-based, tough but fair, countless combat options.

More than 75 unique player abilities.

12 different styles of Dungeons and Battlefields with more on the way.

Six class archetypes to mix and match.

50+ enemies, including the fearsome Triger!

The Dungeonmans Academy, your home base that grows with each play.

A world-class soundtrack brimming with music straight from the era of RPG classics.
In an untamed wilderness, where civilization lives in the shadow of fearsome beasts and lawless villainy, the only light against the darkness are the courageous Dungeonmens! With cunning minds, mighty thews and iron wills, these great heroes and heroines are dedicated toward exploring the unknown, taming the wild, and crushing the fiercest of beasts.
Adventure begins at the Dungeonmans Academy, an ever-growing bastion of learning that expands and evolves based on the efforts of its graduates. As heroes return from their journeys burdened by giant piles of precious loot and ancient wisdom, the Academy grows and future graduates are able to take advantage of this knowledge, starting with a leg up on their quest to avenge the bold graduates who fell in previous battles.
The vast overworld teems with adventure! There are indeed dungeons deep and plentiful, but also dripping swamps, deathless crypts, huddled warrens, forest camps of bandits and highwaymen, ancient towers ruled by powerful despots, and even more terrible dangers waiting in the darkest shadows. A Dungeonmans rises to the challenge with a healthy mix of Skills and Masteries, fighting up close, at range, with steel and spell alike. Unfettered by "class restrictions", a Dungeonmans chooses the right tools for the battles ahead.
System Requirements
Minimum:


OS: Windows 7, Windows Vista, Windows XP

DirectX: Version 9.0c

Hard Drive: 500 MB available space
Helpful customer reviews
Title:
Dungeonmans
Genre:
Adventure
,
Indie
,
RPG
,
Strategy
,
Early Access
Developer:
Adventurepro Games LLC
Publisher:
Adventurepro Games LLC
Release Date:
May 28, 2014
Languages:
| | Interface | Full audio | Subtitles |
| --- | --- | --- | --- |
| English | | | |