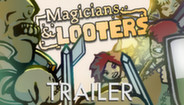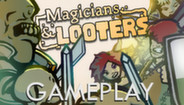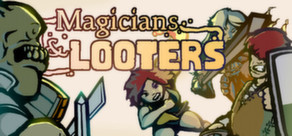 Guide three sociopathic apprentices through an open world filled with caves, castles and underground cities as you search for your kidnapped teacher. Discover countless secrets, loot hidden treasure troves, and decapitate your enemies. Or immolate them. Or smack them in the face with fruit.
출시 날짜: 2014년 7월 1일
모든 2 예고편 보기
2014년 7월 2일
Hey there folks,

It's been an amazing last day. We've been tuned into Twitter, email, and the forums here on Steam. We're getting a lot of great feedback and it's been a pleasure to read

For those of you running into technical problems (bugs) with the game, we'd first like to apologize for those. We did do a lot of testing, but there's always room for improvement :) The options menu being buried is a great example of something we can do better; I don't think was completely obvious to us. For any issues, we'd like to ask...

* If you've already reported a bug via the forums, we'll update the status if/when we get a chance to fix this OR if there's a temporary work-around.

* If you haven't reported the bug yet, please consider either looking for a similar issue on the forums and posting a "hey me too" (or create a new post if the issue hasn't been discovered yet) OR email a brief description of the problem (along with screenshots, those would be helpful!) to bugs@morgopolis.com

Magicians and Looters is a labor of love. Even if we only have two programmers, we intend to look at each and every one of these bugs. Your patience is greatly appreciated!

Thanks again! Keep the forum posts, screenshots, Let's Plays, and more coming! Whether you love it, hate it, or just think "meh", we love reading everybody's feedback

-Brian
댓글 3 개
더 읽어보기
2014년 7월 1일
First off, ehem, MAL IS HERE!!!!!!!!!!!!! (and on sale)
Second, we are incredibly sorry for the delay. However, Magicians and Looters is finally available and we can't wait for everyone to enjoy it!
If you got something on your mind or want to swap tips on how to defeat the Red Warlock with other players please visit the officially official MAL forums
here
.
Happy Looting!
댓글 7 개
더 읽어보기
게임 정보
High above the lame Mortal Realm rests the cloud-wreathed towers of the Wizard Keep.
It is a place where robes never go out of style, and beards are totally awesome.
But then the badguys attack, and Versimos is
kidnapped!
Luckily for Versimos, he has three students who will stop at nothing to get a passing grade, and if that means rescuing their teacher from the treacherous Morg Mountains, then so be it.
Brent
- Wields a sword. Kind of boring.
Nyn
- Wields two swords. Awesome.
Vienna
- Commits murder with her bare hands. Talks to cats. Doesn't wear shoes.

Leveling system built around exploration, not grinding.

Abridged Mode will abbreviate all the game's dialogue, keeping the focus on the action.

Completionist-friendly loot system. All weapons/items have a reserved slot in your inventory and a hint as to their general location.

Equipment possesses both benefits and drawbacks. Creative combinations yield the best results.
시스템 요구 사항
Minimum:


OS: Windows XP or newer

Memory: 600 MB RAM

Graphics: 1280 x 720 resolution or better

Hard Drive: 1500 MB available space
유용한 고객 평가