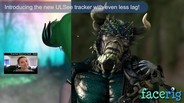 FaceRig is a program that aims to enable anyone with a webcam to digitally embody awesome characters. The output can be recorded as a movie or streamed to Skype, Twitch, Hangouts or any service that traditionally uses a webcam in real time. FaceRig is currently still in development.
Release Date: Dec 2014
Watch HD video
Pre-Purchase FaceRig
PROMOTIONAL PRICE! Offer ends December 1
Downloadable Content For This Game
September 11
Hello Awesome People!

Before proceeding to the change-log of the latest update, please remember that FaceRig is at this time still in Beta state. It is fun and functional (mostly), but it still has crashes and bugs. Read this announcement for more info about what that means and a link to the EULA before pre-ordering FaceRig.


A new program update just went live on the experimental "nextversion" branch! If you are not feeling adventurous is better to switch back to the default version at this time, until the "nextversion" Beta branch is more thoroughly tested and we propagate the fixes on the main Beta branch.

Change log, 0.72b (build 284) "nextversion" Beta branch.

* added Export As Movie feature. Export as Movie takes a .rpl (Pre-recorded FaceRig Performance File) and transforms it into a .webm video file (can be played with VLC and other video players).
Note: If you do not see the movie export button as being active please Delete the contents of the following folder:
"<steam_library_folder>\FaceRig\Mod\VP\PC_DataCache\facerig\dx9_target_dx9\Interface\Scripts\GuiMainMenu\" . Then restart Facerig. This is needed only once and will be fixed in future updates.

* added auto-blink feature to avatars, option present in Avatar Customization Dialog > Special Actions tab
* The FaceRig logo can now be hidden, the option is present in General Options Dialog > Preferences tab
* added "Props Adv" tab in the Avatar Customization dialog. Props here can be attached freely to any bone in the avatar skeleton.

The latest props mode addition allows you to stack a high number of props on any avatar, linked to any of the animation bones (not just in pre-set slots, as it was so far) so you can apply if you like outer eyebrow piercings that move with the outer eyebrow and 50 mustaches if you feel so inclined. Fair warning if you use this mode: the bones are many and have funky names. It may take some trial and error until you find the name for the bone you are seeking. Reviewing the custom model import documentation provided with the program will help you in this regard :). Also if you put a lot of work in a prop setup, rememeber to save it using the "Save Customization" button.


For those who do encounter crashes still that are hard to reproduce on other machines: fixing those will require us making some very special password protected FaceRig builds that we will share ONLY with the people affected by said crashes. We will ask them to run them and return us some files created by those builds. It will not be a fast process though and it will require many visits to the Bug & Troubleshooting section of the forum.


How to change Beta branches:

1. Open Steam Client. Go to Library -> Software
2. Right mouse click on FaceRig -> Properties
3. Go to BETAS tab, click in the drop down, select the beta you would like to test.
4. Close window



That's about it for now. Let us know what you think :).


We wish you an awesome week,
The FaceRig Team.
31 comments
Read more
September 4
Hello awesome people!
We have went live with the "nextversion" beta branch, for the ones who use Manycam (and encounter a crash on start-up), and for anyone wanting to test the latest fixes ahead of time.

On this branch we will always have the very latest updates, though these latest updates can generate surprising new bugs sometimes (which is precisely why we are not going live with them on the main branch right away). To use this version instead of the regular public one please follow these steps:

1. Open Steam Client. Go to Library -> Software
2. Right mouse click on FaceRig -> Properties
3. Go to BETAS tab, click in the "Select the beta you would like to opt into:" drop down, select "nextversion"
4. Close window. The FaceRig program will update to the "nextversion" branch.

Here is the change-log of the build currently on the "nextversion" branch.
* switched hand - face masks on Midori-Chan
* minor changes to splash and tutorial screens ("Spazzing out" was apparently a slur in UK - we didn't know, sorry about that).
* fixed audio device list issue. Refreshing the audio devices always listed default ones before, now it should work as intended.
* performance optimizations: main loop rate is default at 60 fps, face tracking at 30 fps and lipsync at 30 fps
* additional lipsync optimizations
* fixed crash with changing webcams. This does not fix crashes related to unsupported webcams (see http://steamcommunity.com/app/274920/discussions/3/613935404021759925/)


The Octodad and Floran free avatars are now ready to be deployed as free DLC.
If you are on the experimental "nextversion" Beta branch and don't see the two new avatars in FaceRig, just go back to the default branch, update, then switch back to "nextversion":) . It should work without this being needed ( at least in theory), but some users have told us that this is what it took for them to see the two new avatars provided as Free DLC on the "nextversion" branch.
They won't work with the old "previousversion" branch, that version is already too old.

UPDATE: After the weekend we have pushed the fixes from the "nextversion" branch on the official branch, as many of you have tested them and told us they are definitely improving their experience. :).

We wish you a kick-ass end of the week
The FaceRig Team
22 comments
Read more
Pre-Purchase Offer
Pre-Purchase and receive access to the beta plus 33% off!
About the Software
FaceRig is a program enabling anyone with a webcam to digitally embody awesome characters. It is currently in development and we estimate the public Beta to become available on the 29'th of August 2014 (and the final version to be ready in December 2014). It is meant to be an open creation platform so everybody can make their own characters, backgrounds or props and import them into FaceRig.
FaceRig is being developed by Holotech Studios and the image based face tracking SDK being used is provided by Visage Technologies. If you want to independently test the Visage Technologies face tracker you can do so by visiting the following link on an HTML5 enabled browser
http://www.visagetechnologies.com/HTML5/beta/Samples/FaceTracker/sampleTracker.html
FaceRig has three versions:
FaceRig (or Facerig Classic) is the base version. It is meant for home non-commercial use on PC.

FaceRig Pro is obtainable by purchasing the optional FaceRig Pro upgrade DLC. It is the same as Classic feature-wise except unlike Classic it allows for the generated content to be monetized online (with strict limitations - please read the EULA for details - http://store.steampowered.com//eula/274920_eula_1, especially if you want to license it as a business or to use it for profit). The limitations are ok for typical monetization scenarios on YouTube and TwitchTv (it is ok for Youtubers and Streamers).

FaceRig Studio targeted at the professional market. This one is estimated to be available much later, in 2015.
We believe that FaceRig will entertain many gamers, modelling and animation artists, members of various fandoms, streamers, web casters, YouTubers and their audiences.
For now we're focusing on just tracking and rendering the portrait with its expressions, but we aim to do more in the future. The FaceRig end goal is to provide a full featured real time digital actor set for home use.
Key Features:
Real time head and expression tracking in an input video stream, (also with audio analysis).

Combining tracked data with additional virtual puppeteer-ing input.

On-the-fly animation re-targeting for the tracked data and applying the animation on a user selected 3d model, with audio processing (voice alteration)

Rendering and lighting the animated model in real time, in a user selected background.

Encoding the rendered video and sending it further as output from a virtual webcam (it basically intercepts webcam input, and swaps the images captured by your real webcam with the fantastic content before sending it further).

Provide the interface for tuning the parameters of all operations above.

Customizable avatars

Open creation platform: you can make your own models (outside of FaceRig), import and use them as your avatars. The models need to be created according to a set of published specs.
Notes:
Voice alteration will not be available at the start of Beta except as a local effect (it will not be streamed out). You can test streaming it out ahead of time if you use a third party virtual microphone driver).
Numeric export of the tracked expression data (exporting the motion capture data to use in other applications) will be a feature reserved for the Studio version. FaceRig Classic and Pro only output already rendered video and audio.
FaceRig is an indie initiative, and its development so far has been successfully crowd-funded through Indiegogo. A warm thank you goes to our amazing backers for their support and enthusiasm.
System Requirements
Minimum:


OS: Windows® 7 or later

Processor: Intel® Core™ i3-3220 or equivalent

Memory: 2 GB RAM

Graphics: NVIDIA GeForce GT220 or equivalent

DirectX: Version 9.0

Hard Drive: 2 GB available space
Recommended:


OS: Windows® 7 or later

Processor: Intel® Core™ i5-4570 3.20GHz or equivalent

Memory: 4 GB RAM

Graphics: NVIDIA GeForce GTX560 or equivalent

DirectX: Version 9.0

Network: Broadband Internet connection

Hard Drive: 4 GB available space
Helpful customer reviews
Software Details
Title:
FaceRig
Genre:
Animation & Modeling
,
Video Production
Developer:
Holotech Studios
Publisher:
Holotech Studios
Release Date:
Dec 2014
Languages:
| | Interface | Full audio | Subtitles |
| --- | --- | --- | --- |
| English | | | |