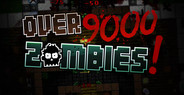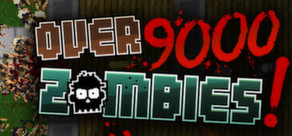 This is Over 9000 Zombies, the game that uses special mathematical technologies to squeeze the maximum amount of undead chaos out of your PC. Experience top-down arcade action blown out of all reasonable proportions. How long can you survive against the unending zombie swarm ?
Release Date: Jul 2, 2014
Watch HD video
Early Access Game
Get instant access and start playing; get involved with this game as it develops.
Note: This Early Access game may or may not change significantly over the course of development. If you are not excited to play this game in its current state, then you may want to wait until the game progresses further in development. Learn more
What the developers have to say:
Why Early Access?
"Over 9000 Zombies! is a game about surviving and battling massive hordes of the undead and the best way to know if the game is on the right track is by player feedback. Guns could be rubbish, excessively powerful or too few in numbers and the players are always the best judges of this. This will allow us to maximize the amount of joy one can take from slaying the crowds of the zombies."
How long will this game be in Early Access?
"A few months? This is a hard question to answer as it will depend on the kind of features players want in the game and how long it takes for them to be implemented properly. The current plan would be 2-3 months."
How is the full version planned to differ from the Early Access version?
"More stuff. By the time Over 9000 Zombies! exits Early Access it should include things already planned like: more maps, vehicles, expanded multiplayer, plus anything else that people suggest during Early Access. The game currently has lots of room for growth and added depth!"
What is the current state of the Early Access version?
"Over 9000 Zombies! is technically still in Alpha but already has plenty of content to satisfy one's zombie killing desires. Single player is well established, including 20+ weapons, 6 defensive turrets to help battle the unending hordes. Two player online co-op is also in, although this is still very early so you can expect a few bugs with this initially."
Will the game be priced differently during and after Early Access?
"While in Early Access the price will be lower, it's only fair when there might be some bugs along the way. Once out of Early Access the price will go up."
How are you planning on involving the Community in your development process?
"Ideas, balancing, general improvements, anything to make your zombie killing experience more enjoyable. Over 9000 Zombies! is a game that can expand in various directions and the best way to get the right direction is to listen to the people playing and enjoying the game." Read more
Buy Over 9000 Zombies! 2 Pack
July 16th, 2014
Patch Notes - Local Cooperative play!
4 Player Local cooperative play has been added! Features a new build interface and more.


Globably lowered volumes and adjusted levels to make sound more controllable for varying audio set ups.

Fixed some sound effect issues where volumes on certain sounds weren't being properly adjusted according to the options.

Fixed an issue where quitting to the main menu immediately started a new game

Fixed some other miscellaneous issues with menus

Improved some network performance issues


Local cooperative play now allows you and up to 3 other friends (4 players total) to play Over 9000 Zombies! using Xbox game-pads. The game plays similarly to a multiplayer game. Players respawn after a given amount of time after dying and if all players are simultaneously dead, then it is officially game over and a new game will start. Resources are shared among players, otherwise it would be optimal for a single player to do all the collecting of scrap metal. This way all players that seize an opportunity to collect items benefit each other. Weapon unlocks are still individually acquired. Power-ups when collected, power up your entire squad.

If you encounter any issues or bugs please feel free to post them in the game's discussion forum! All suggestions are welcome as well:

Discussion Forum

- Loren Lemcke
@LorenLemcke
Over 9000 Zombies! Official Website
1 comments
Read more
July 3rd, 2014
Patch Notes:

new Sound Options menu. You can now adjust the levels of the music and sound effects.


Fixed a font issue where certain characters were causing the game to crash.

Fixed an issue where Turret related Achievements were not being properly unlocked.

Fixed some typos here and there.

Fixed an issue with the build menu not displaying the proper text when using the gamepad.

Day Timer no longer continues to count while player is dead to prevent abuse.

Fixed a bug where the player pointing arrow in multiplayer would appear in single player.


Increased weapon Drop rate by about double.

Weapons already obtained will no longer drop in single player. They will continue to drop in multiplayer because the other player may not have acquired the weapon. Weapons already acquired cannot be picked up.
If you feel any of these fixes did not go through properly please feel free to post here on the discussion forum:
http://steamcommunity.com/app/273500/discussions/
0 comments
Read more
About the Game
This is
Over 9000 Zombies!
the game that uses special mathematical technologies to squeeze the maximum amount of undead chaos out of your PC. Experience top-down arcade action blown out of all reasonable proportions. How long can you survive against the unending zombie swarm?

No precision aiming needed here but you will need a variety of guns! To aid you in your fight against the undead there is a selection of 20+ weapons to enjoy. Burn'em, Shoot'em, Blow'em up, however you prefer to kill your undead, we have just the right solution for your zombie extermination requirements.

Standing around in the open is a good way to die in a zombie apocalypse, which is why you have some options to defend yourself.
Collecting scrap metal from corpses will allow you to build makeshift defensive walls and engineer automated turrets to help you cut down the crowds of zombies.

Sometimes you want to bring a friend along to an apocalypse, right? Well now you can. You and a friend can team up and battle the hordes via the power of the internet in 2 player co-op.
Prefer to play in the safety of your own home, then we have you covered with 4 player local co-op.
Nothing goes better with the sounds of death and guns than a rocking soundtrack, the intense electro-rock soundtrack from Clearside Music will keep you battling through the waves of undead.

As each day and night goes by the hordes of undead increase in numbers, ferocity and variety, who said trying to survive was going to be easy?

System Requirements
Minimum:


OS: Windows XP (SP3), Windows Vista (SP2), Windows 7, Windows 8

Processor: 2.0 GHz Dual Core Processor

Memory: 2 GB RAM

Graphics: GeForce 8800 or equivalent.

DirectX: Version 9.0c

Network: Broadband Internet connection

Hard Drive: 200 MB available space

Sound Card: DirectX 9.0c compatible.
Helpful customer reviews
Title:
Over 9000 Zombies!
Genre:
Action
,
Indie
,
Early Access
Developer:
Loren Lemcke
Publisher:
Mastertronic
Release Date:
Jul 2, 2014
Languages:
| | Interface | Full audio | Subtitles |
| --- | --- | --- | --- |
| English | | | |