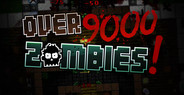 This is Over 9000 Zombies, the game that uses special mathematical technologies to squeeze the maximum amount of undead chaos out of your PC. Experience top-down arcade action blown out of all reasonable proportions. How long can you survive against the unending zombie swarm ?
Release Date: Jul 2, 2014
Watch all 2 trailers
Early Access Game
Get instant access and start playing; get involved with this game as it develops.
Note: This Early Access game may or may not change significantly over the course of development. If you are not excited to play this game in its current state, then you may want to wait until the game progresses further in development. Learn more
What the developers have to say:
Why Early Access?
"Over 9000 Zombies! is a game about surviving and battling massive hordes of the undead and the best way to know if the game is on the right track is by player feedback. Guns could be rubbish, excessively powerful or too few in numbers and the players are always the best judges of this. This will allow us to maximize the amount of joy one can take from slaying the crowds of the zombies."
How long will this game be in Early Access?
"A few months? This is a hard question to answer as it will depend on the kind of features players want in the game and how long it takes for them to be implemented properly. The current plan would be 2-3 months."
How is the full version planned to differ from the Early Access version?
"More stuff. By the time Over 9000 Zombies! exits Early Access it should include things already planned like: more maps, vehicles, expanded multiplayer, plus anything else that people suggest during Early Access. The game currently has lots of room for growth and added depth!"
What is the current state of the Early Access version?
"Over 9000 Zombies! is technically still in Alpha but already has plenty of content to satisfy one's zombie killing desires. Single player is well established, including 20+ weapons, 6 defensive turrets to help battle the unending hordes. Two player online co-op is also in, although this is still very early so you can expect a few bugs with this initially."
Will the game be priced differently during and after Early Access?
"While in Early Access the price will be lower, it's only fair when there might be some bugs along the way. Once out of Early Access the price will go up."
How are you planning on involving the Community in your development process?
"Ideas, balancing, general improvements, anything to make your zombie killing experience more enjoyable. Over 9000 Zombies! is a game that can expand in various directions and the best way to get the right direction is to listen to the people playing and enjoying the game." Read more
Buy Over 9000 Zombies!
WEEK LONG DEAL! Offer ends in
Buy Over 9000 Zombies! 2 Pack
WEEK LONG DEAL! Offer ends in
September 15
Over 9000 Zombies! is going to see a few fundamental changes in this patch as well as new content. The immediate changes players will see are those to the map. The world map is now much more concentrated and will focus on the player defending a particular structure. This leads to other design changes related to the mechanics of the map as well. For instance, given sufficient time, the structures themselves can now be completely torn down by the horde of zombies. The player will also find that it is their responsibility to create barricades to keep zombies from wreaking havoc on their gun positions and portions of the structure. Players will have to keep exits clear should the need arise to abandon their position, since player created structures now act as barriers for both the player and the zombies. The map is more focused and concentrated, so zombies now spawn outside the bounds of the compound as opposed to scattered around the players location.

In between the waves of zombies players will discover that they are allowed to upgrade one of four select attributes to aid them in their zombie slaying. The first is Durability, which will increase the player's maximum hit points as well as regenerate a small amount of health points regularly over time. Durability is key to staying alive for as many days as possible and can be critical to recovering hit points when trapped by the zombie horde. The attribute Carnage, will increase the players damage as well as lower their reload time. Carnage's effects will especially be noticeable on certain guns where the reload time is the main bottleneck to dishing out damage. Such is the case for the shotgun, M-16 and grenade launchers for example. Resourcefulness increases the players ability to salvage scrap metal, increases the hitpoints recovered from health packs and increase the number of grenades collected. This will allow the player to construct a fortified base much more quickly, receive a large cache of hit points from key health pickups and keep their grenade habit well fed. The final attribute is Engineering, which upgrades the player constructed turret's rate of fire and their damage. As the zombie horde grows larger, players will become more reliant on their turrets to dish out more damage, so investing in engineering will prove useful to survival.

Players will also discover some new content as well as various other changes. They will find a new Damage Per Second and Kills Per Second visual meter on their screen as well as some associated Steam Achievements. To aid the player in their survival three new constructible turrets have been added, including a rail gun, a white phosphorous launcher and a plasma projector. Turrets also now emit their own source of light so they do not get misplaced and lost in the dark. There have also been various balancing related changes made across the board, some visual improvements and several bug fixes.

Full change log:

New attribute system!

4 new achievements

KPS / DPS Meter

New Turret: Rail gun turret!

New Turret: Plasma Projector Turret!

New Turret: White Phosphorous launcher!

Changed the stats on various weapons to adjust for balance

Turrets now act as their own light source

Players are no longer able to walk through player constructed turrets and walls.

Zombies now spawn off the map as opposed to randomly around the players

The maps starting environments walls are changed in design and size. They are also all now vulnerable to zombie attacks

Improved animations on Zombie Ravens.

Changed item indicator rings

Changed Fire spitting zombies to fire just 1 fireball at a time.

Adjust Zombie counts on various days and zombie hp to adjust for difficulty.

Flame throwers and Flame Turrets now have increased base damage and slightly increased rate of fire.

The save/load game feature has been phased out.

Ambient objects are no longer just randomly spread about the map

A new smaller, but more focused and dynamic map has been implemented.

Floating combat text has changed in scale and color to make damage more visible.

Some minor changes in sound design

Turrets have improved Line of Sight detection

Various bug fixes, including collecting items after death, broken counters, etc

Map editor coming soon!
If you discover any new bugs please make a post about it in the game's discussion forum. Also feel free to share your thoughts on the new update!
Loren Lemcke
@LorenLemcke
http://www.over9000zombies.com
3 comments
Read more
July 16
Patch Notes - Local Cooperative play!
4 Player Local cooperative play has been added! Features a new build interface and more.


Globably lowered volumes and adjusted levels to make sound more controllable for varying audio set ups.

Fixed some sound effect issues where volumes on certain sounds weren't being properly adjusted according to the options.

Fixed an issue where quitting to the main menu immediately started a new game

Fixed some other miscellaneous issues with menus

Improved some network performance issues


Local cooperative play now allows you and up to 3 other friends (4 players total) to play Over 9000 Zombies! using Xbox game-pads. The game plays similarly to a multiplayer game. Players respawn after a given amount of time after dying and if all players are simultaneously dead, then it is officially game over and a new game will start. Resources are shared among players, otherwise it would be optimal for a single player to do all the collecting of scrap metal. This way all players that seize an opportunity to collect items benefit each other. Weapon unlocks are still individually acquired. Power-ups when collected, power up your entire squad.

If you encounter any issues or bugs please feel free to post them in the game's discussion forum! All suggestions are welcome as well:

Discussion Forum

- Loren Lemcke
@LorenLemcke
Over 9000 Zombies! Official Website
2 comments
Read more
About the Game
This is
Over 9000 Zombies!
the game that uses special mathematical technologies to squeeze the maximum amount of undead chaos out of your PC. Experience top-down arcade action blown out of all reasonable proportions. How long can you survive against the unending zombie swarm?

No precision aiming needed here but you will need a variety of guns! To aid you in your fight against the undead there is a selection of 20+ weapons to enjoy. Burn'em, Shoot'em, Blow'em up, however you prefer to kill your undead, we have just the right solution for your zombie extermination requirements.


Standing around in the open is a good way to die in a zombie apocalypse, which is why you have some options to defend yourself.
Collecting scrap metal from corpses will allow you to build makeshift defensive walls and engineer automated turrets to help you cut down the crowds of zombies.
Sometimes you want to bring a friend along to an apocalypse, right? Well now you can. You and a friend can team up and battle the hordes via the power of the internet in 2 player co-op.
Prefer to play in the safety of your own home, then we have you covered with 4 player local co-op.


Nothing goes better with the sounds of death and guns than a rocking soundtrack, the intense electro-rock soundtrack from Clearside Music will keep you battling through the waves of undead.
As each day and night goes by the hordes of undead increase in numbers, ferocity and variety, who said trying to survive was going to be easy?

System Requirements
Minimum:


OS: Windows XP (SP3), Windows Vista (SP2), Windows 7, Windows 8

Processor: 2.0 GHz Dual Core Processor

Memory: 2 GB RAM

Graphics: GeForce 8800 or equivalent.

DirectX: Version 9.0c

Network: Broadband Internet connection

Hard Drive: 200 MB available space

Sound Card: DirectX 9.0c compatible.
Helpful customer reviews
Title:
Over 9000 Zombies!
Genre:
Action
,
Indie
,
Early Access
Developer:
Loren Lemcke
Publisher:
Mastertronic
Release Date:
Jul 2, 2014
Languages:
| | Interface | Full audio | Subtitles |
| --- | --- | --- | --- |
| English | | | |