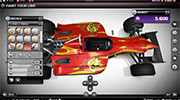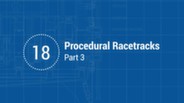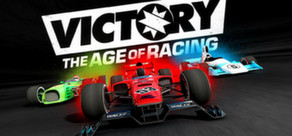 Victory ist ein einzigartiges und von verschiedenen Zeitalter begeistertes Racing Game mit beispiellosen Autobehandlungen und Autos. Victory schlägt eine spannende Rennenerfahrung durch einen multiplayer Wettbewerb vor und Fahrers sind stark mit einer erzeugenden Teamslaufbahn beschäftigt.
Veröffentlichung: 10 Feb. 2014
Alle 3 Trailer ansehen
Early Access-Spiel
Erhalten Sie sofortigen Zugang und bringen Sie sich in die Entwicklung des Spiels ein.
Hinweis: Dieses Early Access-Spiel könnte sich im Entwicklungsverlauf erheblich verändern. Wenn Ihnen das Spiel im aktuellen Zustand nicht gefällt, sollten Sie warten, bis das Spiel einen fortgeschritteneren Entwicklungsstand erreicht hat. Mehr erfahren
Was die Entwickler zu sagen haben:
"Early Access gibt dir die Gelegenheit Victory auf die beta Version zu erfahren und tätig seiner Entwicklung zu ertragen. Victory wurde von Anfang an gestaltet um mehr Inhalte zu haben und später die gameplay Eigenshaften allmählich hinzufügen. Scrolle die Seite nach unten um alle Deteils über unseren ehrgeizigen Entiwicklungsplan zu entdecken. Während der nächsten Monate werden wir die Kerneigenschaften und die Grafik verbessern, wir werden eine volle Steam Integration hinzufügen und neue Eigenschaften wie die Einzelspielerlaufbahn und die Verfahrensrennenstrecke einführen.

Die Kernspielerfahrung ist schon am Platz um das Spiel zu vergnügen. Du kannst auch uns Defekte berichten und uns helfen um das Spiel zu verbessern, deshalb bietet wir es zum Verkauf an Early Access an. Wir geben zu, dass du die endgültige Ausführungen des Spiels ohne Bezahlung bekommen wirst.

Du kannst eine vollständige Liste der laufenden und bevorstehenden Spieleigenschaften in der Spielbeschreibung unten finden." Weiterlesen
Victory: The Age of Racing - Steam Founder Pack kaufen
Victory: The Age of Racing - Steam Founder Pack Deluxe kaufen
Inhalte zum Herunterladen für dieses Spiel
19 Juni 2014


We are facing one of the major challenges of racing games: being able to create unlimited race tracks having both a proper functionality and a great visual impact.


Check out a "leaked" video of our engine:
http://youtu.be/WWU6Oy0MxVY

Our R&D team is working on a procedural algorithm that randomly creates straight lines, chicanes, sharp turns, Esses, hairpins, etc. opening the way to structured weekly events based on always different tracks where players handle tires consumption, pit stops, weather conditions and limited car damages.

We called this new procedural track generation engine "RaceCraft" and we'll release it as a free demo for Victory: The Age of Racing in the coming weeks.

Given an initial seed and custom parameters, RaceCraft creates race tracks designed for sim and mid-sim players, with dynamic placement of all the objects needed on the track (starting grid, pit lane, fences, gaps, aprons, curbs, buildings, billboards, etc...).

In the current version you're already able to generate different seeds and then modify the tracks created on that seed by modifying various parameters.

We're now finishing our work on our updated graphic engine (shaders, etc) and creating lots of more objects to be placed on the procedural tracks created by RaceCraft.

The final engine will support race track themes and more parameters to play with to create your ideal racetrack.

Victory: The Age of Racing is now available on Steam:
http://store.steampowered.com/app/264120/
4 Kommentare
Weiterlesen
15 April 2014
ːvictoryː XInput compatibility and new supported devices
Hey guys! still working hard on controllers support: we've improved our calibration, introduced better compatibility with XInput (now the 360 controller has dual axis support!) and we now support a larger variety of devices, including external pedals and less supported steering wheels!
Improved calibration

Better compatibility with XInput

New supported devices (pedals and wheels)
Please continue to feedback us on the forums, we're working with you testers to improve the game, as always!
6 Kommentare
Weiterlesen
Steam Greenlight

Über das Spiel
Victory ist ein einzigartiges und von verschiedenen Zeitalter begeistertes Racing Game mit beispiellosen Autobehandlungen und Autos. Victory schlägt eine spannende Rennenerfahrung durch einen multiplayer Wettbewerb vor und Fahrers sind stark mit einer erzeugenden Teamslaufbahn beschäftigt.
Du kannst ein unbarmherziger Fahrer sein und dein Rennenauto bis zum Äußersten treiben. Du kannst ein talentierter Designer sein und einzigartige von den Benutzern eingebrachte Autos gestalten. Sei ein erfahrener technischer Direktor, erhöhe die Leistung deiner Autos und rüste es mit einer entwickelten Einstellung aus. Nehme an dem Wettbewerb teil und siege beim Rennen in Victory.

Trete Steam Early Access an Victory bei, ertrage die Spielentwicklung beim Kaufen ein Steam Founders Pack zum Verkauf.
Du kannst spielen, die häufige Updates aufnehmen, die neue Eigenschaften prüfen und neue exklusive Inhalte bekommen:
-
Steam Founder Basic Pack

Der Eingang für jeden Steam Spieler, dieser Pack enthält:
Der Zugang zu Victory Early Access

7500 Gears Credits (eine Menge um deine multyplayer Laufbahn zu starten oder ein neues Racing Auto zu erschaffen)
-
Steam Founder Deluxe Pack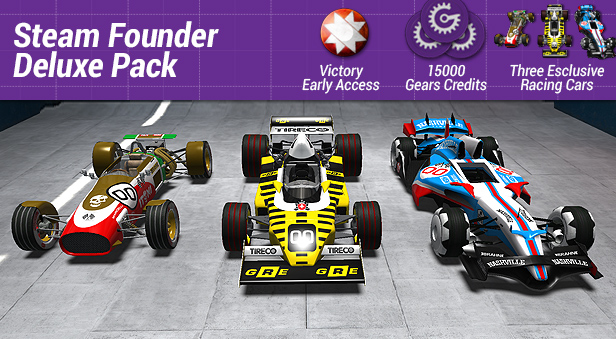 Dieses Deluxe Pack gibt dir mehr Gears Credits und ein exklusives, einzigartig und superschnelles Rennenauto, das du auf Rennenstrecke und auch von euch herausgebrachten Early Access Wettbewerbe fahren kannst. Dieser Pack enthält:
Der Zugang zu Victory Early Access

15000 Gears Credits (eine Menge um deine multiplayer Laufbahn voranzukommen oder ein neues Racing Auto zu erschaffen)

3 Special Deluxe Founder Rennenautos (superschnelle 60PI Autos, 1 Legend Auto, 1 Classic Auto und 1 Formula Auto. Dieses Angebot gibt dir den Zugang zu reservierte Veranstaltungen)

Wir sind ein selbständiges Game Studio, unser Spiel war schon kostenlos auf eine lange Beta Version um unser beta tester community zu errichten.
Dank Steam Early Access und deiner Stütze haben wir die Gelegenheit Online Rennen auf eine neue Stufe zu heben um das Spiel, das wir beide möchten, erschaffen zu können.
Unser größtes Ziel ist die Erschaffung einer Streusandbüchse der Rennenwelt, in der man neue Autos, Streke, Meisterschaften, Live- Events erschaffen kann... Das gibt dir die Freiheit ein Fahrer, einen technischen Direktor, einen Designer, einen Erbauer, einen Team Manager zu sein. Es liegt an dir, wie weit wir gehen können.
-
Procedural Racetracks
Wir beschäftigen uns mit einer der größten Herausforderung der Rennspiele: die Erschaffung von unbegrenzten Rennstrecken mit einem richtigen Funktionalismus und einem großem Sehauftreten.
Unser R&D Team arbeitet an einen Algorithmus, der gerade Linien, Schikanen, sharfe Kurve und Haarnadelkurve erschäfft. Da sind wöchentliche Live-Events auf immer verschiedene Rennstrecke wo die Spieler Pit stops, die Reifenabnutzung, das Wetter und die Autoschaden behandeln können.
Wir arbeiten an einen Rennstreckeherausgeber, mit dem Spielers viele und immer verschiedene Rennstrecke erschaffen können. Diese Rennstrecke können auch auf das Spiel und auf Steamworkshop verteilt werden.
-
Constructor Expansion and Steam Workshop integration
Victory wird mit Steamworks Eigenschaften integriert. Wir fügen Bestätigungen für Steam Errungenschaften hinzu, und wir integrieren sie mit unserem Errungenschaftsystem, das schon auf das Spiel ist.
Wir fügen Steam Leaderboards und Freundesystem hinzu und wir stemmen unser customization tool um Constructor Expansion zu erschaffen. So können Spieler mehr Autos erschaffen um sie auf das Spiel und auf Steam Workshop verkaufen.
-
League Manager
Rennenevents sind den Kern von Motorsport Spiele: wir entwerfen ein einfach League Manager, sodass Spieler custom events mit Autoklasse, Rennstrecke, hotlap, Ausscheidungsrunde und Rennen erschaffen können. Dieses enthält auch no collision modi, handicap modi, last car standing und fixed PP. Alle Events werden geplannt und mit Steam und auf Facebook geteillt.
-
Brand New Graphics
Wir werden die Struktur, 3D Muster und Shaders aller Autoblöcke, Zubehörteile und Rennstrecke aktualisieren. Die Erfolge sind erstaunlich und sie werden die Grafik des Spiels verbessern
Was du siehst in dem Bild hier unten ist kein high- poly 3D Muster wie denjenigen man benutztz um Garageschirme auf anderen Spiele zu laden.Das ist ein konkreter Automuster, den du auf die Rennstrecke in Victory benutzen kannst.
Wir versuchen die vollendete Stelle zwischen Realismus und Leistungen zu finden und jetzt bringen die neue shader Muster die beide: Aufkleber und angebliche Gestalten sind besser gestattet, die Stoffe sind realistischer und es gibt ein besserer und tieferer Gesichtfeld.
Der auf den neuesten Stand gebrachte Motor wird eine bessere Grafik und eine bessere Leistung bringen: wir fördern mehr Autos auf die Strecke während eines Rennens und das Spiel läuft besser und schneller. Dieses Update wird bald verfügbar sein!
-
Polishing and Optimization
Wir haben auch die kleinen Bugs und die Speicherfehler beseitigt und, nachdem wir die letzte Eingeschaften geendet haben, werden wir die letzten Beseitigungen machen, sodass das Spiel am Ende der Steam Early Access Zeit fehlerfrei sein wird.
-
Single player career
Wir möchten Victory als Einzelspieler und Mehrspieler vergnügen: wir entwickeln mehrere Einzelspielermodi um eine Laufbahn, jedes Mal du gegen einen AI Fahrer rennen möchtest, zu erschaffen.
-

Victory ist ein multiplayer Online Rennspiel, worüber du dich in verschiedenen Arten amüsieren kannst. Hier ist was man bekommt mit dem Zugang zu Early Access: Wir arbeiten auch an neue Eigenschaften, so kontrolliere die Entwicklungskarte unten.

Rennenautos in Victory können User Generated sein: das gibt die Spieler die Freiheit von Autoblöcke, Autoteile, Farben, Aufkleber zu wählen um das Auto individuell zu errichten. Wir haben auch das Block System erfindet sodass du die Autoblöcke wechseln kannst, um deines Lieblingsauto zu erschaffen.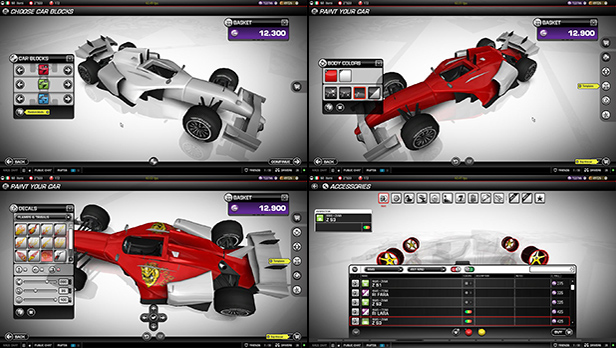 Du kannst zwischen Gamepad, Tastatur, Lenkrad oder das Maus als Hauptgesteuertgerät in Victory wählen.
Tastatur- Kontroller mit Hilfslenkung

Gamepad- Kompatibilität (Xbox 360, PS3, Logitech pads und mehr) mit force feedback Untrestützung

Voll Lenkrad Kompatibilität mit force feedback Unterstützung

Maus Kontrolle (um Lenken, links/rechts klicken zum Beschleunigen und Bremsen)

Oculus Rift support (coming soon)
Das gibt das Spiel große Vielseitigkeit, sodass du kein Gamepad immer mit dir haben musst. Wir haben stark gearbeitet um das beste auf dem Markt verfügbare Tastierungkontrolle für Rennspiele zu erschaffen: eine eingebaute künstliche Intelligenz kann dir lenken, bremsen und beschleunigen helfen. Sie kann auch die Analogkontrolle simulieren, wenn du mit einer Digitalkontrolle wie die Tastatur spielst.

Wir bieten eine realistische Autophysik um dir eine beispiellose Autobehandlung und eine süchtige Rennenerfahrung zu geben. Wir entwickelten einen ausgezeichneten Motor mit Stefano Casillo, der Autor vom berühmtesten Rennsimulationspiel "Assetto Corsa". Dann legten wir den Fahrbeistand bei, sodass du mit oder ohne Fahrbeistand, und so wie du willst, spielen kannst.

PvP Wettbewerbe mit verschiedenen Spielmodi und multiplayer Wettbewerbe gestaltet für umsatzlose Spieler.

Wettbewerbe, Meisterschaften, tägliche Rennen, veschiedene Spielmodi... das ist alle in Echtzeit erschaffen und gegründet auf das Status von Online- Spieler. Ein Hauptserver kontrolliert wer ist Online und was man macht um neue Live- Events, die auf deinem Bildschirm auftauchen, zu erschaffen.
In Victory kannst du geschäftig teilnehmen oder nur warten auf neue Rennen, die dir das Spiel vorschlägt.
Spielmodi
Hotlap (Einzelspieler)

Hotlap Party (multiplayer hot lap modus, bis zu 100 Spieler, gewöhnlich dauert es 1 Stunde)

Hotlap Meisterschaft(multiplayer hot lap modus, es kann mehr Tage dauern, es hat Online Rangliste in Echtzeit)

Quick Race (multiplayer Rennen), verschiedene Aufstellungen sind verfügbar:

Handicap Race (multiplayer Rennen, bekomme eine Vorgabe für das nächste Renne beim Gewinnen)

Wir unterstützen auch LAN modus: Renne mit deinen Freunden, erschaffe ein LAN Party!
Rennen Konfiguration
Collision modus: An, Aus,Verspätet

Zero PI modus: An, Aus (wenn an jedes Auto hat dieselbe Durchführungen beim Rennen)

Race Access: öffentlich, Passwordt geschützt

Race Restritionen (du kannst dein Rennen auf spezielle Autogruppe beschränken)

Startaufstellung: regelmäßig, zufällig, Rennen Resultaten, hängende Rennen Resultaten

Teilstrecke und Streckenrotation (folgend, zufällig, fest Rennstrecke)

Number of laps
Teilstrecken & Rennstrecken
3 verschiedene Teilstrecken um die ganz Welt

15 verschiedene Rennstrecken
Attributen des Auto, Autoanordung, verschiedene Motoren, Reifen, Zubehörteile und mehr: das ist wirklich dein Auto!
Jedes Auto in Victory hat 6 verschiedene Attributen: Gewicht, Aerodynamik, Zugleistung, Haftung, Bremsen und Leistung.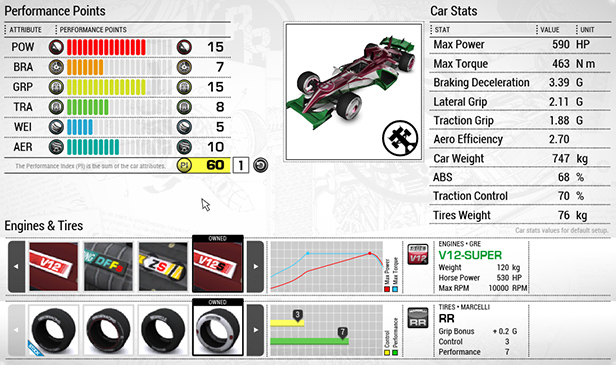 Als beim Rollenspielen, musst du Performance Points verwenden, um diese 6 verschiedene Attributen zu kaufen und Fahrstil und Rennenbedingugen deines Autos zu verbessern. Du kannst auch mehr Autos haben und sie individuell herrichten, um sie auf verschiedenen Rennstrecken und Spielmodi zu fahren!

Wähle verschiedene offizielle Teams aus und starte deine Rennlaufbahn. Jede der 3 verschiedenen Klasse vom Spiel hat einen Meisterschaft, wo verschiedene Rennenteams auf der Suche nach dem besten Fahrer sind: bist du fertig um Gas zu geben und die Farbe deines Teams auf die Rennstrecke zu tragen?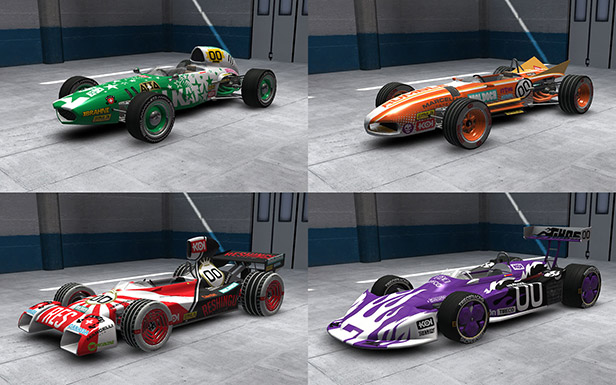 Jedes Team bietet dir verschiedene Rennautos an. Du musst Mehrspieler- Errungenschaften freigestalten um auf deine Rennlaufbahn weiterzugehen, neue Auto zu freigestalten und ein Spitzenspieler zu sein.
Errungenschaft System mit Belohnungen (Geld, Widgets, Fahrer Titel) und mehr als 300 verschiedene Errungenschaften zu freigestalten (bald werden sie mit Steam- Errungenschaften integriert)

Integriert Website mit in Echtzeit Rangliste und Statistiken: kontrolliere die Rangliste und die verschiedene Statistiken. Jedes Auto kann auf dem Spiel geteilt und gewählt werden.

Integrated Social Bar mit Rennen Chat und einloggen, "last played with" Abschnitt, Chat, Rennen Einladungen, integriertes Freunde- System, Online Status, Konfiguration und mehr!

7 verschiedene Spielkamera: wähle deine geliebte bei Spielen, jede Kamera hat verschiedene Effekte (shake, motion blur, helmet movement simulation usw.)
-
Systemvoraussetzungen
Minimum:


OS: Windows XP SP3, Windows Vista, Windows 7, Windows 8

Processor: Dual-core 2.0 GHz or Equivalent

Memory: 2 GB RAM

Graphics: DirectX(R) 9 Compatible Graphics Card with 512 MB RAM

DirectX: Version 9.0

Network: Broadband Internet connection

Hard Drive: 500 MB available space
Recommended:


OS: Windows 7, Windows 8

Processor: Quad-core 2.4 GHz or Equivalent

Memory: 4 GB RAM

Graphics: DirectX(R) 9 Compatible Graphics Card with 1 GB RAM

DirectX: Version 9.0

Network: Broadband Internet connection

Hard Drive: 500 MB available space
©2014 Vae Victis Srl. Victory and the Victory logo are trademarks and/or registered trademarks of Vae Victis Srl. in the U.S. and/or other countries.
Hilfreiche Kundenreviews
2 von 3 Personen (67%) fanden dieses Review hilfreich
566 Produkte im Account
21 Reviews
30.6 Std. insgesamt
Early Access-Review
Very nice Online Racing Game.

I have encounters no bugs or problems until now. I don´t know why it´s in Early Access, it looks pretty functional.
69 von 82 Personen (84%) fanden dieses Review hilfreich
189 Produkte im Account
8 Reviews
2.7 Std. insgesamt
Early Access-Review
My last review was negative and i decided to change it because (in a very fast way) developers decided to change the whole "buy gears" system they had in earlier versions back when the game was Free-to-Play.

The game is really nice; and best of all is that it is an Early Access and you'll probably see a lot of changes and improvements.

Keep up the good work and THANK YOU FOR LISTENING TO US!
48 von 65 Personen (74%) fanden dieses Review hilfreich
92 Produkte im Account
49 Reviews
31.4 Std. insgesamt
Early Access-Review
Grand Prix Legends meets TF2. Easy to get into, highly competitive but low numbers of players - A well balanced "simulation meets arcade" and the best parts of both stay in. Its not a hardcore racing sim, but there is something clever about the physics and the gameplay that makes it all come together very well for an early access game.

edited to add: There is now NO cash shop to buy stuff with the ingame currency "Gears", so its definitely not "Pay-2-Win". This followed the developers listening to the players and concerns from potential buyers during early access.

Used to be free to play, so previous F2P players can get a steam key.

Low player numbers is the only main concern, because there isn't any offline mode. This is an early release, so its a toss of a coin how or if the playerbase will grow. The game definitely deserves a chance.

Bristling with features and Italian flair. A super game. very stylish, fun racing. Best keyboard steering in the business, plus controller support, pleasing physics, nice community, its a hard one to put down.
Offers racing online with other players, hot lap events online, and you can create a public or passworded race, play on LAN as well, or single player hot lap challenges although this "single player" activity still requires you logged to the game servers online . You tweak your car till your eyes pop out :)

All the key features are there, matchmaking, friends list, race invites, stats, car customisation and setups and there is a track editor on the way plus procedurally generated tracks later, and probably steam workshop.

Some grim FPS issues in online races with some tracks/cars in the early access version.

Runs like a dream on a modest PC, although there is a bit of pop-up in the track scenery which is distracting and not what you expect from a race game in 2014.... maybe this will be fixed with the FPS issues when the game gets optimized. The online race modes works sweet as a nut, if you can find players wanting a race. A nice fast game browser, in game chat, in race chat, lobby automatically puts you in a queue if the race is full. Everything is well thought out and nicely implimented.
29 von 38 Personen (76%) fanden dieses Review hilfreich
311 Produkte im Account
29 Reviews
7.2 Std. insgesamt
Early Access-Review
I'm going to go ahead and say this from the start, if the thumbs up didn't indicate it already. I highly recommend this game. Granted only for certain people, I understand not everyone likes racing games, especially ones that have some simulation aspects to it. This is more of a simcade, and as people have said about this before, it's easy to get into, hard to master.

I do call it how I see it though, even though one of the devs asked for me to review, I have no issue with that, and no, I'm not getting any kind of reward for it nor do I care for one, I just want to see the game succeed and get more players. Starting on developers, they are awesome. I had one personally work with me to troubleshoot an issue I had with the game crashing, and come up with a fix for it, and provided me with a modified .dll file to get the game working until the patch was released the next morning. (this was LATE at night, almost morning when it happened)
The game doesn't have many issues for me, but whatever issues it does have are being worked on by the devs atm. They listen to feedback and issues that the community encounters. Like the FPS problems some people are having. I was talking to a dev last night and they have acknowledged the issue and are working to fix it. In that process though they broke cockpit view online, once they quickly found out about that from players, they fixed it the same day. This is what more games need, devs that listen and actually work to change/fix things. I can forgive games that are broken if the devs ACTUALLY TRY. (I'm not saying this game is broken by the way, it is far from it) If you can't at least respect a developer for that, I've got nothing for you.

The community of this game, so far, is all friendly. This can of course change, as people are people and the more people that play, the higher chance for bad people to show up, that's just life, don't fault a game for that. There's a MMO like chat ingame, you have a public chat for anyone to talk in, a race chat for a race you're in, and a friends list separate from Steam and a racers tab to show EVERYONE online. You can check out their rank, nationality, and private chat from there. Quite simple and functional.

The driving mechanics ingame are quite nice in my opinion. It's definitely not a sim like Assetto Corsa, but it's not super arcadey like Need for Speed games. There's a good balance of fun and realism, combined with the options of automatic gear changing, semi auto, and manual, and various assists you can enable and disable on the fly. The cars all feel nice to drive too, they have good weight to them, you can feel the cars grip (or lack thereof), the cars respond to different surfaces, and changing car setup makes thing vary quite a bit. Running the default setup will work fine but you certainly get an advantage if you take the time to set up your car properly for a certain track, be it the under/oversteer of the car, the suspension stiffness to help cornering, the downforce levels, front/rear brake bias, and even gear ratios, and it does it in a fairly simplified but useful way. Their are descriptions for the settings on the side to help explain, and instead of some settings like camber levels and toe, and ARB settings and spoiler and wing angles, it's simple clicks left and right toward a different setting. I'm a huge fan of racing games in general, arcadey and sim. My main issue with sims is a lot are just plain better when using a racing wheel, which makes me happy to say this works EXTREMELY well with a gamepad. This itself makes it more accessible, which isn't always a bad thing.

The amount of content ingame is something I can't comment on too well right now, as I haven't played for that long. The game is only about 500mb though, so keep that in mind. There's a decent amount of tracks from what I've seen, and they're all fun, for me at least. There are preset cars ingame to buy, quite a few for each career and team, and some on the market (using ingame money).
But then we get to the car creator. You can choose between the 3 car types, and the different performance groups, then mix and match between different front, middle, and rear pieces of the car, and then change the paint and decals, and choose between a lot of different cosmetics like exhausts, brakes, rims, mudguards, steering wheels, etc. And depending on the car chosen, you get a different amount of PI to spend on your car. These are basically skill points in an MMO, you put points into things like braking, power, grip, etc. And in the same area you can select different engines and tires that will also change the PI settings of your car a bit. This adds a lot of personalization to the game and makes everyones car feel different. So in that aspect, there's a lot of content, and I'm sure there's more to be added.
A thing I forgot to put in somewhere about the car types: They're all F1 cars. There are the older ones running V6's if I remember, the Classics. Then you have the Legendary cars, I think these are using V8's ingame, I forget. They are based off more modern looking F1 cars though. Then you have the Formula class, these are using V12's ingame, and are the most modern looking cars.

When it comes to graphics, not too much to say. They aren't bad, certainly not the worst. If you really judge a game based on that, well, I don't know what to tell you. The gameplay is very good, the graphics work well and don't detract from the game. Fairly straightforward here. The only thing negative I have to say about that is with the graphics quality, there shouldn't be performance issues, but there are. BUT, like I said earlier, the developers are working on this right now. Like literally now.

Regarding peoples butthurtness towards "in app purchases". Yes, there are some. You can pay real money to get ingame money from what I understand. But it's optional. There's literally nothing you can get from that, that you can't get ingame by just playing normally, and it DOES NOT make up for lack of skill.

Any of these things are subject to change, as this game is still in Early Access and is being worked on still. This was put up on 2-14-2014. If anything changes that makes any of my points irrelevant or outdated, I'll try to remember and edit this.
I'll say again, I highly recommend this game for just about every kind of racing fan, and definitely for people that like F1 cars.
It's quite accessible too, so not being the best isn't a reason to pass this by.
68 von 116 Personen (59%) fanden dieses Review hilfreich
198 Produkte im Account
1 Review
4.6 Std. insgesamt
Early Access-Review
A few things so far about Victory: The Age of Racing:
(This is not an actual review)

- The game menu looks quite satisfying and is clearly arranged.
- This game is definitely pay to win. Proof? The developers are presenting the "build your own car" thing as one of the main features. At the beginning you have already one car of each class so you can start right of racing. so far so good. to build your own car, you need at last (probably with extra parts and stuff a few 100 more) 5200 Gears Credits (the only ingame currency). If you win one of these early multiplayer races (don't know if its getting noticeably more when you progress) you get ~100 GC. So, to build your own the cheapest car of any class, without spending real money, wou have to win like 50 races. Races i've driven were appr. 4 - 6 minutes. In comparison: You can buy one of these predefined cars for the half of the price, which might be even a bit faster. So i think that the real money thing ones again ruins a game by slowing it down horribly, which equals pay to win to me.
- Gameplay is (after years of developement of this former-free-to-play game) like Mario Kart without Toads and bananas, but more buggy and erratic. But still quite fun to drive, a bit like trackmania. In conclusion this game is very arcadish, while it is published to have "realistic car physics".

One of the game developers once said in an interview with insidesimracing on Youtube (2012), that at the beginning, when they startet the title as free-to-play, they thought about not making one of these ptw games. Now the game is still in developement, is ptp and even ptw, too. I kind of regret buying it.

At the moment i have, to be honest, no MASSIVE complaint about the game how it is. It's okay, not more or less. But if you make the "mistake" to judge this game by what it pretends to be, it's absolutely not enough and seems like a bit of a hoax.

At the end i have to put a careful "YET", as the developers have time to and possibilities to fix these points, hopefully.
Titel:
Victory: The Age of Racing
Genre:
Early Access
,
Indie
,
Rennspiele
,
Simulation
,
Sport
Entwickler:
Vae Victis Games
Publisher:
Vae Victis Games
Veröffentlichung:
10 Feb. 2014
Sprachen:
| | Oberfläche | Ton | Untertitel |
| --- | --- | --- | --- |
| Deutsch | | | |
| Englisch | | | |
| Französisch | | | |
| Italienisch | | | |