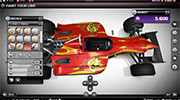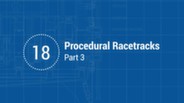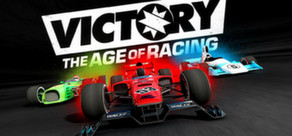 Victory is an unique online racing game with unprecedented car handling and user generated cars inspired from the different eras of racing. Victory proposes a thrilling racing experience through multiplayer events competition and get drivers involved in an addictive team career.
Releasedatum: 10 feb 2014
Alle 3 trailers bekijken
Vroegtijdige toegang
Ontvang onmiddellijke toegang en begin met spelen; raak betrokken bij dit spel terwijl het zich ontwikkelt.
Opmerking: Deze game in vroegtijdige toegang kan mogelijk erg veranderen gedurende het ontwikkelingsproces. Als je niet staat te springen om deze game in de huidige staat te spelen, kun je misschien beter wachten tot de ontwikkeling van de game is gevorderd. Meer informatie
Wat de ontwikkelaars zeggen:
"Early Access gives you the opportunity to experience Victory during its beta stage and to actively support its development. Victory was designed to have additional content and gameplay features added overtime. Scroll down the page to find out all the details of our ambitious Development Roadmap.

We didn't design Victory based on marketing research, we did it only following our passion and to create the racing game we have always dreamed about, our ultimate goal is to create a sandbox racing game.

During the next months we'll polish the core features and improve the graphics, add full Steam integration and introduce new features like single player career, procedural racetracks, constructors with Steam Workshop, a league manager and more.

The core game experience is already in place so you can enjoy the game along with reporting bugs and giving us precious suggestions to create the great racing game you want.

That's why we're offering you the game at a discounted price for Early Access, and grant you the final version of the game without any additional charge. Get a Founder Pack and be welcome aboard.

You can find a complete list of the game's current and upcoming features in the game description down below." Meer informatie
Victory: The Age of Racing - Steam Founder Pack kopen
Victory: The Age of Racing - Steam Founder Pack Deluxe kopen
Downloadbare inhoud voor dit spel
19 juni 2014


We are facing one of the major challenges of racing games: being able to create unlimited race tracks having both a proper functionality and a great visual impact.


Check out a "leaked" video of our engine:
http://youtu.be/WWU6Oy0MxVY

Our R&D team is working on a procedural algorithm that randomly creates straight lines, chicanes, sharp turns, Esses, hairpins, etc. opening the way to structured weekly events based on always different tracks where players handle tires consumption, pit stops, weather conditions and limited car damages.

We called this new procedural track generation engine "RaceCraft" and we'll release it as a free demo for Victory: The Age of Racing in the coming weeks.

Given an initial seed and custom parameters, RaceCraft creates race tracks designed for sim and mid-sim players, with dynamic placement of all the objects needed on the track (starting grid, pit lane, fences, gaps, aprons, curbs, buildings, billboards, etc...).

In the current version you're already able to generate different seeds and then modify the tracks created on that seed by modifying various parameters.

We're now finishing our work on our updated graphic engine (shaders, etc) and creating lots of more objects to be placed on the procedural tracks created by RaceCraft.

The final engine will support race track themes and more parameters to play with to create your ideal racetrack.

Victory: The Age of Racing is now available on Steam:
http://store.steampowered.com/app/264120/
4 opmerkingen
Meer informatie
15 april 2014
ːvictoryː XInput compatibility and new supported devices
Hey guys! still working hard on controllers support: we've improved our calibration, introduced better compatibility with XInput (now the 360 controller has dual axis support!) and we now support a larger variety of devices, including external pedals and less supported steering wheels!
Improved calibration

Better compatibility with XInput

New supported devices (pedals and wheels)
Please continue to feedback us on the forums, we're working with you testers to improve the game, as always!
6 opmerkingen
Meer informatie
Steam Greenlight
Info over het spel
Victory is an unique online racing game with unprecedented car handling and
user generated cars inspired from the different eras of racing
. Victory proposes a
thrilling racing experience
through multiplayer events competition and get drivers involved in an addictive
team career
.
You can be a ruthless driver pushing your car over the limits, a talented designer by creating unique user generated cars and a high skilled technical director by enhancing your car's performance and tackling advanced settings. Join the competition and get victorious by racing in Victory.
As it's completely cloud-based an internet connection is required to play this game.

Enter the Steam Early Access for Victory and support the development of the game by buying one of our Steam Founders Packs at a very discounted price.
You will be able to play the game, receive frequent updates, check out the new features before anyone else and get great exclusive content:
-
Steam Founder Basic Pack

The entry point for every Steam player, this pack includes:
Access to Victory Early Access program

7500 Gears Credits (enough to start your multiplayer career or create a brand new racing car from scratch)
-
Steam Founder Deluxe Pack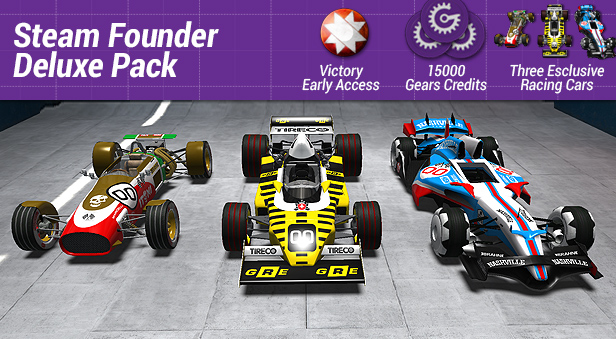 The Deluxe Pack gives you more Gears Credits and three exclusive cars that you can use on ordinary tracks or in dedicated and reserved events that we'll launch during the Early Access period. This pack includes:
Access to Victory Early Access program

15000 Gears Credits (enough to fast forward your multiplayer career or create some racing cars from scratch)

3 Special Deluxe Founder racing cars (super fast 60PI cars, 1 legend car, 1 classic car and 1 formula car, exclusive to this offer, also give you access to reserved events!)

We are an Independent Game Studio and we've already ran a long Beta period offering the game for free in order to build our first beta testers community.
Thanks to Steam Early Access and your support, we have now the opportunity to
take online racing to the next level
making the game that we want and you want.
Our ultimate goal is to create a sandbox racing game
, where you can create your cars, tracks, championships, live events... giving the player the freedom to be a racer, a technical director, a car designer, a team manager, a constructor. It's up to you guys how far we can go.
-
Procedural Racetracks
We are facing one of the major challenges of racing games:
being able to create unlimited racetracks
having both a proper functionality and a great visual impact.
Our R&D team is working on a procedural an algorithm that randomly creates straight lines, chicanes, sharp turns, Esses, hairpins, etc. opening the way to structured
weekly events based on always different tracks
where players handle tires consumption, pit stops, weather conditions and limited car damages.
A fully featured
race track editor
will be the next step, letting players to create endless and different race tracks to be shared in the game and on Steam Workshop as well.
-
Constructor Expansion and Steam Workshop integration
Victory is going to be fully integrated with Steamworks' features. We'll add support for Steam Achievements, integrating them with our own achievement system (already working in the game).
We'll also add Steam Leaderboards and Friend system support, Along with that, we are leveraging our great car customization tool to create a Constructor Expansion with superior cars development capabilities to allow players to create and sell powerful and fancy cars in the game and also on Steam Workshop.
-
League Manager
Racing events are the juice of motor-sport games: we're designing an easy to use
League Manager
to allow players to create custom events by choosing car classes, regular or random generated race tracks, hotlap, qualify, practice, races and having a full set of rules and modifiers such as no collisions, handicap mode, last car standing, fixed PP, etc. All the events will be scheduled by a calendar and shared with Steam and Facebook friends.
-
Brand New Graphics
We are currently updating the textures, 3D models and shaders of all the car blocks, accessories and race tracks in the game. The results are amazing and will hugely improve the graphic quality of the game.
What you see in the image below is not a high-poly 3D model like the ones used for loading/garage screens in other games, but it's the actual car model you will use on the tracks in Victory.
We're trying to find the perfect balance between realism and performance. With the new shader models we bring both of them to the game: stickers and colorable shapes are better rendered, materials are more realistic and a better depth of field is a joy for the eyes.
The updated engine will bring major improvements in terms of graphics and performance. We will be able to support more cars on the track during a race while the game will run smoother and faster.
This big update takes a very long time to be completed, but fortunately we started it months ago; we're now at 80% so we expect it to be available soon.
-
Polishing and Optimization
After the completion of the new graphics we'll proceed to eliminate every minor bug, memory leak and other annoyances still present in the game. Before proceeding to the final polishing, we need to complete every major feature, but rest assured that the final game at the end of the Steam Early Access period will be flawless.
-
Single player career
We want you to enjoy Victory both in multiplayer and in single player mode: We are developing various single player modes that will create a career you can enter whenever you want to race against AI drivers.
-

Victory is already a fully featured multiplayer online racing game that you can enjoy in multiple ways. Here's what you get right now by entering this Early Access. We're also working on some cool brand-new features, so be sure to
check out the development roadmap down below.

Racing cars in Victory can be
User Generated
: this gives the players an unprecedented level of freedom in choosing car blocks, parts, colors, decals and colorable shapes for their own customized car. We also created the
Block System
, where you can switch different body parts of your racing car to finally reach your favorite result.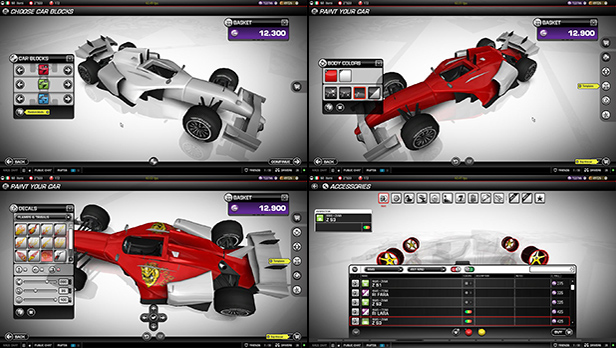 You can choose between
gamepad, keyboard, steering wheel
or even the
mouse
as the primary control method in Victory.
Keyboard controls with Assisted steering

Full gamepad compatibility (Xbox 360, PS3, Logitech pads and more) with force feedback support

Full steering wheel compatibility with force feedback support

Mouse controls (move the mouse to steer, left/right click to throttle and brake)

Oculus Rift support (coming soon)
This gives the game great versatility and doesn't force you to always have the gamepad with you. We've worked hard to create
the best keyboard controls
available on the market for a racing game: an integrated artificial intelligence helps you steering, braking and throttling simulating analog controls when you're using a digital one like the keyboard.

Victory is an arcade racer with
realistic physics
specifically tuned to give an unprecedented car handling and an addictive racing experience. We started with a top-notch car physics engine developed in collaboration with
Stefano Casillo
, the author of the acclaimed racing simulator,
Assetto Corsa
: we then added improved driving assistance systems so you can experience the game the way you want, enabling or disabling driving aids whenever you want.

PvP competitions
with
multiple game modes
and multiplayer
events
created live for inactive players.

Events, championships, daily races, different game modes... Everything is created in real time based on the status of connected players: a central server checks who's online and what he's doing, then creates live events that pop up on your main screen.
In Victory you can be active and choose what you want to do or just wait for the game to propose you new ways to race online and have fun.
Game Modes
Hotlap (single player mode)

Hotlap Party (multiplayer hot lap mode, up to 100 players, usually lasts 1 hour)

Hotlap Championship (multiplayer hot lap mode, can lasts for days, with online rankings in real time)

Quick Race (multiplayer race), various settings are available:

Handicap Race (multiplayer race, who wins get an handicap for the next one)

We also support LAN mode: race with your friends, create a LAN Party!
Race Settings
Collision mode: On, Off, Delayed

Zero PI mode: On, Off (once enabled every car will have the same performance in race)

Race Access: Public, Password protected

Race Restrictions (you can restrict your race only to particular performance groups of cars)

Grid Policy: Sorted, Random, Race Result, Race Result Inverted

Race Zone and Track rotation (sequential, random, fixed track)

Number of laps
Race Zones & Tracks
3 different racing zones around the world

15 different racing tracks

Car attributes, car setups, different engines, tires, accessories and more: It's your customized car!
Each car in Victory is described by six different attributes: Weight, Aerodynamics, Traction, Grip, Brakes and Power.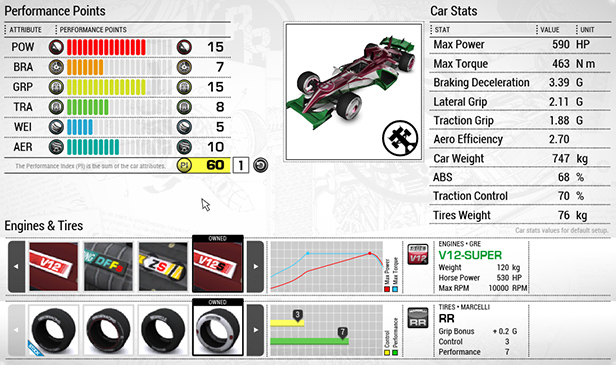 Like in a role playing game, you have to spend
Performance Points
in six different attributes to finally reach the perfect attributes combination for your driving style and racing conditions. You can have multiple cars in the game and customize them for different game modes or race tracks!

Choose from different official teams and start your racing career. Each of the three car classes in the game has a dedicated World Championship where different racing teams are looking for the best driver: are you ready to put the pedal to the metal and wear the colors of your team on the track?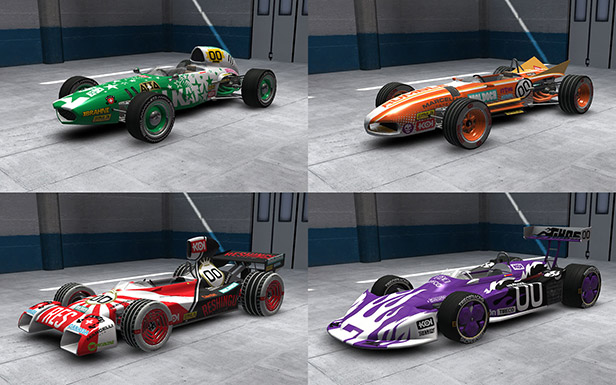 Each team will offer you different racing cars and you will have to unlock multiplayer achievements to progress in the team career, unlock new cars and reach the top of the rankings.
Achievement system with rewards (money, widgets, driver titles) and over 300 different achievements to unlock (soon to be integrated with Steam's achievements)

Fully integrated website with real time rankings and statistics of almost everything in game: check your rankings, different stats, every single car created in the game can be shared and voted!

Integrated Social Bar with race chat, race log, "last played with" panel, public chat, race invites, integrated friend system, online status settings and more!

7 different game cameras: choose your favorite one when playing, each camera got different effects (shake, motion blur, helmet movement simulation, etc.)

As it's completely cloud-based an internet connection is required to play this game.
-
Systeemeisen
Minimum:


OS: Windows XP SP3, Windows Vista, Windows 7, Windows 8

Processor: Dual-core 2.0 GHz or Equivalent

Memory: 2 GB RAM

Graphics: DirectX(R) 9 Compatible Graphics Card with 512 MB RAM

DirectX: Version 9.0

Network: Broadband Internet connection

Hard Drive: 500 MB available space
Recommended:


OS: Windows 7, Windows 8

Processor: Quad-core 2.4 GHz or Equivalent

Memory: 4 GB RAM

Graphics: DirectX(R) 9 Compatible Graphics Card with 1 GB RAM

DirectX: Version 9.0

Network: Broadband Internet connection

Hard Drive: 500 MB available space
©2014 Vae Victis Srl. Victory and the Victory logo are trademarks and/or registered trademarks of Vae Victis Srl. in the U.S. and/or other countries.
Nuttige klantrecensies
69 van de 82 mensen (84%) vonden deze recensie nuttig
196 producten op account
8 recensies
2.7 uur in totaal
Early Access Review
My last review was negative and i decided to change it because (in a very fast way) developers decided to change the whole "buy gears" system they had in earlier versions back when the game was Free-to-Play.

The game is really nice; and best of all is that it is an Early Access and you'll probably see a lot of changes and improvements.

Keep up the good work and THANK YOU FOR LISTENING TO US!
48 van de 65 mensen (74%) vonden deze recensie nuttig
92 producten op account
49 recensies
31.4 uur in totaal
Early Access Review
Grand Prix Legends meets TF2. Easy to get into, highly competitive but low numbers of players - A well balanced "simulation meets arcade" and the best parts of both stay in. Its not a hardcore racing sim, but there is something clever about the physics and the gameplay that makes it all come together very well for an early access game.

edited to add: There is now NO cash shop to buy stuff with the ingame currency "Gears", so its definitely not "Pay-2-Win". This followed the developers listening to the players and concerns from potential buyers during early access.

Used to be free to play, so previous F2P players can get a steam key.

Low player numbers is the only main concern, because there isn't any offline mode. This is an early release, so its a toss of a coin how or if the playerbase will grow. The game definitely deserves a chance.

Bristling with features and Italian flair. A super game. very stylish, fun racing. Best keyboard steering in the business, plus controller support, pleasing physics, nice community, its a hard one to put down.
Offers racing online with other players, hot lap events online, and you can create a public or passworded race, play on LAN as well, or single player hot lap challenges although this "single player" activity still requires you logged to the game servers online . You tweak your car till your eyes pop out :)

All the key features are there, matchmaking, friends list, race invites, stats, car customisation and setups and there is a track editor on the way plus procedurally generated tracks later, and probably steam workshop.

Some grim FPS issues in online races with some tracks/cars in the early access version.

Runs like a dream on a modest PC, although there is a bit of pop-up in the track scenery which is distracting and not what you expect from a race game in 2014.... maybe this will be fixed with the FPS issues when the game gets optimized. The online race modes works sweet as a nut, if you can find players wanting a race. A nice fast game browser, in game chat, in race chat, lobby automatically puts you in a queue if the race is full. Everything is well thought out and nicely implimented.
29 van de 38 mensen (76%) vonden deze recensie nuttig
313 producten op account
29 recensies
7.2 uur in totaal
Early Access Review
I'm going to go ahead and say this from the start, if the thumbs up didn't indicate it already. I highly recommend this game. Granted only for certain people, I understand not everyone likes racing games, especially ones that have some simulation aspects to it. This is more of a simcade, and as people have said about this before, it's easy to get into, hard to master.

I do call it how I see it though, even though one of the devs asked for me to review, I have no issue with that, and no, I'm not getting any kind of reward for it nor do I care for one, I just want to see the game succeed and get more players. Starting on developers, they are awesome. I had one personally work with me to troubleshoot an issue I had with the game crashing, and come up with a fix for it, and provided me with a modified .dll file to get the game working until the patch was released the next morning. (this was LATE at night, almost morning when it happened)
The game doesn't have many issues for me, but whatever issues it does have are being worked on by the devs atm. They listen to feedback and issues that the community encounters. Like the FPS problems some people are having. I was talking to a dev last night and they have acknowledged the issue and are working to fix it. In that process though they broke cockpit view online, once they quickly found out about that from players, they fixed it the same day. This is what more games need, devs that listen and actually work to change/fix things. I can forgive games that are broken if the devs ACTUALLY TRY. (I'm not saying this game is broken by the way, it is far from it) If you can't at least respect a developer for that, I've got nothing for you.

The community of this game, so far, is all friendly. This can of course change, as people are people and the more people that play, the higher chance for bad people to show up, that's just life, don't fault a game for that. There's a MMO like chat ingame, you have a public chat for anyone to talk in, a race chat for a race you're in, and a friends list separate from Steam and a racers tab to show EVERYONE online. You can check out their rank, nationality, and private chat from there. Quite simple and functional.

The driving mechanics ingame are quite nice in my opinion. It's definitely not a sim like Assetto Corsa, but it's not super arcadey like Need for Speed games. There's a good balance of fun and realism, combined with the options of automatic gear changing, semi auto, and manual, and various assists you can enable and disable on the fly. The cars all feel nice to drive too, they have good weight to them, you can feel the cars grip (or lack thereof), the cars respond to different surfaces, and changing car setup makes thing vary quite a bit. Running the default setup will work fine but you certainly get an advantage if you take the time to set up your car properly for a certain track, be it the under/oversteer of the car, the suspension stiffness to help cornering, the downforce levels, front/rear brake bias, and even gear ratios, and it does it in a fairly simplified but useful way. Their are descriptions for the settings on the side to help explain, and instead of some settings like camber levels and toe, and ARB settings and spoiler and wing angles, it's simple clicks left and right toward a different setting. I'm a huge fan of racing games in general, arcadey and sim. My main issue with sims is a lot are just plain better when using a racing wheel, which makes me happy to say this works EXTREMELY well with a gamepad. This itself makes it more accessible, which isn't always a bad thing.

The amount of content ingame is something I can't comment on too well right now, as I haven't played for that long. The game is only about 500mb though, so keep that in mind. There's a decent amount of tracks from what I've seen, and they're all fun, for me at least. There are preset cars ingame to buy, quite a few for each career and team, and some on the market (using ingame money).
But then we get to the car creator. You can choose between the 3 car types, and the different performance groups, then mix and match between different front, middle, and rear pieces of the car, and then change the paint and decals, and choose between a lot of different cosmetics like exhausts, brakes, rims, mudguards, steering wheels, etc. And depending on the car chosen, you get a different amount of PI to spend on your car. These are basically skill points in an MMO, you put points into things like braking, power, grip, etc. And in the same area you can select different engines and tires that will also change the PI settings of your car a bit. This adds a lot of personalization to the game and makes everyones car feel different. So in that aspect, there's a lot of content, and I'm sure there's more to be added.
A thing I forgot to put in somewhere about the car types: They're all F1 cars. There are the older ones running V6's if I remember, the Classics. Then you have the Legendary cars, I think these are using V8's ingame, I forget. They are based off more modern looking F1 cars though. Then you have the Formula class, these are using V12's ingame, and are the most modern looking cars.

When it comes to graphics, not too much to say. They aren't bad, certainly not the worst. If you really judge a game based on that, well, I don't know what to tell you. The gameplay is very good, the graphics work well and don't detract from the game. Fairly straightforward here. The only thing negative I have to say about that is with the graphics quality, there shouldn't be performance issues, but there are. BUT, like I said earlier, the developers are working on this right now. Like literally now.

Regarding peoples butthurtness towards "in app purchases". Yes, there are some. You can pay real money to get ingame money from what I understand. But it's optional. There's literally nothing you can get from that, that you can't get ingame by just playing normally, and it DOES NOT make up for lack of skill.

Any of these things are subject to change, as this game is still in Early Access and is being worked on still. This was put up on 2-14-2014. If anything changes that makes any of my points irrelevant or outdated, I'll try to remember and edit this.
I'll say again, I highly recommend this game for just about every kind of racing fan, and definitely for people that like F1 cars.
It's quite accessible too, so not being the best isn't a reason to pass this by.
68 van de 116 mensen (59%) vonden deze recensie nuttig
198 producten op account
1 recensie
4.6 uur in totaal
Early Access Review
A few things so far about Victory: The Age of Racing:
(This is not an actual review)

- The game menu looks quite satisfying and is clearly arranged.
- This game is definitely pay to win. Proof? The developers are presenting the "build your own car" thing as one of the main features. At the beginning you have already one car of each class so you can start right of racing. so far so good. to build your own car, you need at last (probably with extra parts and stuff a few 100 more) 5200 Gears Credits (the only ingame currency). If you win one of these early multiplayer races (don't know if its getting noticeably more when you progress) you get ~100 GC. So, to build your own the cheapest car of any class, without spending real money, wou have to win like 50 races. Races i've driven were appr. 4 - 6 minutes. In comparison: You can buy one of these predefined cars for the half of the price, which might be even a bit faster. So i think that the real money thing ones again ruins a game by slowing it down horribly, which equals pay to win to me.
- Gameplay is (after years of developement of this former-free-to-play game) like Mario Kart without Toads and bananas, but more buggy and erratic. But still quite fun to drive, a bit like trackmania. In conclusion this game is very arcadish, while it is published to have "realistic car physics".

One of the game developers once said in an interview with insidesimracing on Youtube (2012), that at the beginning, when they startet the title as free-to-play, they thought about not making one of these ptw games. Now the game is still in developement, is ptp and even ptw, too. I kind of regret buying it.

At the moment i have, to be honest, no MASSIVE complaint about the game how it is. It's okay, not more or less. But if you make the "mistake" to judge this game by what it pretends to be, it's absolutely not enough and seems like a bit of a hoax.

At the end i have to put a careful "YET", as the developers have time to and possibilities to fix these points, hopefully.
21 van de 31 mensen (68%) vonden deze recensie nuttig
570 producten op account
13 recensies
19.0 uur in totaal
Early Access Review
For those downvoting the review please keep in mind that I am reviewing the Early Access Game and as such and will update my review based on the current state of the game.

Feb 19th 2014: The game is brilliant! A couple of issues such as VERY LOW fps on races, where time trials are a blistering 60+ fps, and some black flags on corners being cut on very tight lines, but I understand early access. I got quite a few hours in yesterday with nothing game breaking happening. Such a great combination of simulation and arcade with such a community driven competitive component. This brings me back to the fun times I had with Hot Pursuit 2 2002.

With the developers actively engaging the community and updates coming in fast I am very excited to see where this game goes.

Feb 17th 2014: Game won't start for me. Stays on the splash screen with only an exit button. I'm all about supporting Early Access games but only if they actually provide, access.

Day 3 with no reply on this issue. I'm beginning to think a refund may be in order.
Titel:
Victory: The Age of Racing
Genre:
Vroegtijdige toegang
,
Indie
,
Race
,
Simulatie
,
Sport
Ontwikkelaar:
Vae Victis Games
Uitgever:
Vae Victis Games
Releasedatum:
10 feb 2014
Talen:
| | Interface | Spraak | Ondertiteling |
| --- | --- | --- | --- |
| Engels | | | |
| Frans | | | |
| Italiaans | | | |
| Duits | | | |