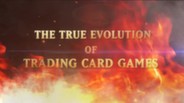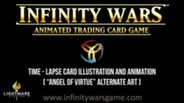 Infinity Wars is traditional trading card gaming completely reimagined as digital free to play for the PC, Mac, Android and iOS. Featuring every card fully animated, open player-to-player trading, modes eliminating pay to win and animated 3D battlefields. Conquer parallel realities with or against your mates now!
Release Date: Feb 12, 2014
Watch all 2 trailers
Early Access Game
Get instant access and start playing; get involved with this game as it develops.
Note: This Early Access game may or may not change significantly over the course of development. If you are not excited to play this game in its current state, then you may want to wait until the game progresses further in development. Learn more
What the developers have to say:
Why Early Access?
"After a successful Kickstarter in 2012 Infinity Wars launched its beta. Since our launch over 11 million games have been played. We have a functional game which though it still requires work is engaging, challenging and most importantly won't cost you a cent to play. Early Access gives Steam players a chance to become part of the Infinity Wars community and to see the game evolve."
How long will this game be in Early Access?
"Infinity Wars is set for release in Q3 2014"
How is the full version planned to differ from the Early Access version?
"The full version of Infinity Wars will build upon the work during the beta phase. Our focus is on providing a bug free experience with solid game play and smooth user interaction. The full version of the game will include UI enhancements, polish, and some added zing. Features such as a free weekly deck rotation, where each week players get the chance to play with an all new deck, will be added to the full release as well.

The full release of Infinity Wars is not the final release. We intend on adding new features to the game post-release to make a great game even better."
What is the current state of the Early Access version?
"Infinity Wars Beta is a fully playable game. As with any beta you may encounter issues and bugs. While we're working towards killing these bugs and creating a seamless game experience you may still encounter issues during play.

Currently in Infinity Wars you can play multiple game modes including tutorials, campaigns, PvP, draft mode and formats including merged deck and pauper."
Will the game be priced differently during and after Early Access?
"Infinity Wars will still be free to play. All purchases and cards earned during Beta will carry through to the full game."
How are you planning on involving the Community in your development process?
"To help polish and balance the game we are giving Early Access players the opportunity to have their say in how our game is shaped. Infinity Wars has a strong community focus and strives to give our community the power to enact change.

We're calling on the Steam community to have an early look and have a say in shaping the next generation of Trading Card Games. Whether you haven't played a Trading Card Game in 10 years, or you won your local tournament last week, we want you to be a part of building something epic!" Read more
Play Infinity Wars - Animated Trading Card Game
August 5th, 2014
Massive Infinity Wars Update!
Patch 0.98 is live! The Patch Notes are so massive, that they actually exceed the Character Limit in these discussion boards. So in this post I'm going to give you some highlights, and link you to the full post on our official forums here:
http://forum.lightmare.com.au/index.php?topic=62088.0
Patch Highlights!
Bugs Zapped!

Today's patch is a huge one, and we know you've all been waiting for it. We've given the game a nice facelift and we think you'll agree that it looks much nicer. This patch addresses lots of card bugs, client bugs and adds some new shiny things in.

Lots and lots of new things to look at here.


Shiny Things

- New Login Screen. We decided to update the login screen to fit the theme of Infinity Wars more.

- New Home Screen. Offers a new way to show you special offers, community content, dev blogs and more!

- New in-game UI. We have updated the in-game UI to make it more visually appealing and intuitive while playing.

- The deckbuilder has been revamped. This includes:
o Filters! Wonderful, fabulous filters. Name, purity, cost, artist, faction and more, they're all there.
o The ability to choose which faction multi purity commanders represent.
o New way to view soulbound vs unsoulbound cards

- New individual card effects, can you find them all?

- New Warpath campaign is here! Help Aleta save the Untamed World.

- New Exiles cardback for the fans of chaos out there.


Terminology Changes


Playing A Card

The way that abilities resolve has also had a bit of an optimization. As of this patch, when you activate an ability card in hand, it will now grey out in your hand instead of being sent directly to your graveyard. This allows us to keep more of the actual card movements to the resolution phase, which should help keep card complications down in the future.


Standardizing Ability Triggers

Abilities that trigger when a character comes into play now resolve in a more logical manner. Previously, come-into-play abilities that didn't require a target would resolve when the character came into play, but come-into-play abilities that did require a target would not resolve until activated abilities and ability cards resolved.


A huge amount of Client Bug fixes


An even larger amount of Card Bug fixes


Significant Balance Changes
We hope you continue to enjoy Infinity Wars, and help us spread the vision of the future of dTCG's! Thanks again.
For any bug reports, please ensure you utilize the help menu with Submit a Bug, this is now the primary method of reporting all bugs and is monitored heavily.
For any account issues, please email support@lightmare.com.au with as much detail as possible.
2 comments
Read more
July 1st, 2014
July 2nd 2014, Version 0.97.0
Today's patch is a simple bug fixing, and minor additions patch. Many of the changes listed below were implemented in hot-fixes when possible, since the last patch.
Keep your eyes on an e-mail we'll be sending out tonight with a DevBlog from Teremus regarding the Balance of Infinity Wars. We're trying to increase communication and transparency, so make sure to keep your eyes peeled on the e-mails attached to your accounts!
Change Log
Added a 'Add Friend' button to chat boxes.

Fixed a bug where when opening a card pack, the first card would display incorrectly.

Fix purity tooltip to correct Overseers faction name.

Fixed bug that caused the names of items in the store to overlap.

Fixed a bug that caused players to need to click 'Normal Play' twice to start a game.

Fixed a bug that caused Nature's Sanctuary battlefield to cause clipping issues with UI.

Fixed a bug that caused chat boxes to appear behind Global chat on the Match Result screen.

Fixed some spelling errors in the campaigns.

Demonize: Now correctly removes other sub-types when making you a Demon.

Eagle-Eye: Is now correctly affected by power buffs.

Humble: Now should work better with persistent effects like Pack Leader.

Engine of Reincarnation: No longer removes anything from the grave when creating tokens.

Kali(s): Should no longer immolate herself when she gets poisoned.

Suffering Verorian: Now actually turns into a Demon when deployed through exile.

Blood Arrow: Can now target your own characters.

Infect: The mouse over tooltip no longer references slow.

Agent Coyle, Soulseller: Now creates a 20/20 Dragon with Flying and Unstoppable.

Descension: Can now be played through exile with 6 base resources and a resource increasing effect such as Wealthy Noble. Also correctly creates a 20/20 Dragon with flying, unstoppable and consume 3.

Solace's Gate: Now removes untouchable correctly from characters when it is destroyed.

Gather Thoughts: Now correctly takes form the top, not the bottom of the Graveyard.

Sydern: Fixed so that now giving an opponent Sydern will properly stop their resources increase.

Tygrugh, the Insane: Now correctly increases his cost from your Hand, not your opponents.

Azael: No longer gives herself untouchable.

Hilderick: Now costs 15.
A lot of things are happening behind the scenes and we're very excited to bring you information in the near future, so stay tuned.
See you on the battlefield!
2 comments
Read more
Reviews
"[While at the Australian EB Expo] Nothing even came close to the level of quality of Infinity Wars. It almost shouldn't have been in the same area; it should have been in an open space, where everybody was guaranteed to walk by. The game deserved that level of foot traffic."
ABC Tech

"The game that will drag me away from League of Legends."
Half Decent

"I have been waiting for a TCG like this for a long time."
http://www.examiner.com/article/infinity-wars-hands-on-game-preview

About the Game
Infinity Wars is traditional trading card gaming completely reimagined as digital free to play for the PC, and Mac. Featuring every card fully animated, open player-to-player trading, modes eliminating pay to win and animated 3D battlefields. Conquer parallel realities with or against your friends now!
Long ago, the Old World was shattered by magic too powerful for reality to cope with. Reality was split into infinite mirror dimensions, each left to develop on its own path over millenia. In time, rifts between the dimensions started to appear, and thus began the Infinity Wars!
Infinity Wars is a game of unparalleled strategic depth. Collect cards, create your own decks, and battle against others to see who is the greatest strategic mastermind in Infinity Wars!
Features
Completely Free to Play: Every card is able to be earned in-game, absolutely free.

Animated Cards: Every card in Infinity Wars is animated; the beautiful evolution of trading card games to digital.

Simultaneous Turns: Turns are planned out simultaneously in Infinity Wars, with little-to-no waiting for the other player to finish their turn. Unique potential for outplaying your opponent is born, a master can perfectly predict an enemy's moves, dodging every spell played against them with Infinity Wars' unique positional based system.

New Cards Released Regularly: Nearly every week, we release a new card for players to create decks with. New sets of cards are released every few months.

Trading Cards: Any card you purchase through currency earned by simply playing the game can be traded to your friends.
PC System Requirements
Minimum:


OS: Windows XP or later

Memory: 512 MB RAM

Graphics: Graphics card with DirectX 9 capabilities.

Network: Broadband Internet connection

Hard Drive: 2 GB available space
Mac System Requirements
Minimum:


OS: Mac OS X 10.5 or later

Memory: 512 MB RAM

Graphics: Graphics card with DirectX 9 capabilities.

Network: Broadband Internet connection

Hard Drive: 2 GB available space
Helpful customer reviews
Title:
Infinity Wars - Animated Trading Card Game
Genre:
Free to Play
,
Indie
,
Massively Multiplayer
,
Strategy
,
Early Access
Developer:
Lightmare Studios
Publisher:
Lightmare Studios
Release Date:
Feb 12, 2014
Languages:
| | Interface | Full audio | Subtitles |
| --- | --- | --- | --- |
| English | | | |