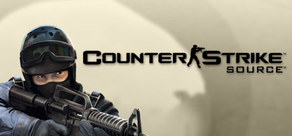 Just updated to include player stats, achievements, new scoreboards and more!
Releasedatum: 1 nov 2004
Pakketten die deze game bevatten
Info over het spel
DE VOLGENDE AFLEVERING VAN 'S WERELDS BESTE ONLINE ACTIEGAME
Counter-Strike: Source combineert de bekroonde teamactie van Counter-Strike met de geavanceerde technologie van Source™. Met de allernieuwste graphics, alle nieuwe geluiden en de introductie van fysica is Counter-Strike: Source een absolute must voor elke actiegamer.
Systeemeisen (PC)
Minimum: processor van 1,7 GHz, 512 MB RAM, grafische kaart op DirectX® 8.1-niveau (SSE-ondersteuning vereist), Windows® 7 (32/64-bit)/Vista/XP, muis, toetsenbord, internetverbinding

Aanbevolen: Pentium 4-processor (3,0 GHz of meer), 1 GB RAM, grafische kaart op DirectX® 9-niveau, Windows® 7 (32/64-bit)/Vista/XP, muis, toetsenbord, internetverbinding
Systeemeisen (Mac)
Minimum: OS X version Leopard 10.5.8, Snow Leopard 10.6.3, 1GB RAM, NVIDIA GeForce 8 or higher, ATI X1600 or higher, or Intel HD 3000 or higher Mouse, Keyboard, Internet Connection
Systeemeisen Linux
Minimum: 1.7 GHz Processor, 512MB RAM, Mouse, Keyboard, Internet Connection
Nuttige klantrecensies